BOOM! Studios Rushes Comic Shop-Exclusive Collection of
Acclaimed New Series
LOS ANGELES, CALIF. (October 24, 2017) – Due to popular demand, BOOM! Studios is proud to announce MECH CADET YU VOL. 1 DISCOVER NOW EDITION, arriving exclusively in comics shops January 2018. Collecting the first four issues of the acclaimed all-new series from the superstar team of writer Greg Pak (Hulk, Weapon X) and artist Takeshi Miyazawa (Ms. Marvel, Runaways), MECH CADET YU VOL. 1 DISCOVER NOW EDITION is the perfect jumping-on point for the series, which begins a new arc in January's Mech Cadet Yu #5.
MECH CADET YU is the story of Stanford Yu, a young janitor who is unexpectedly chosen to join the storied ranks of the Mech Cadets of the Sky Corps Academy. Once a year, giant robots from outer space come to Earth to bond with the cadets to defend the world from terrifying aliens known as the Sharg. After he unintentionally bonds with an off-course robot, Yu is thrown into training, hoping to prove he is worthy of being there at all.
"Given the tremendous response to Mech Cadet Yu from retailers, fans and press, we've decided to release a collection of the series much earlier than usual," said Filip Sablik, President of Publishing and Marketing, BOOM! Studios. "ThisDISCOVER NOW EDITION of the collection will be available exclusively in comic shops for over four months. Not only is your local comic shop the only place you can get Mech Cadet Yu every month, but also the place to find the limited-edition version of the collection before a standard release."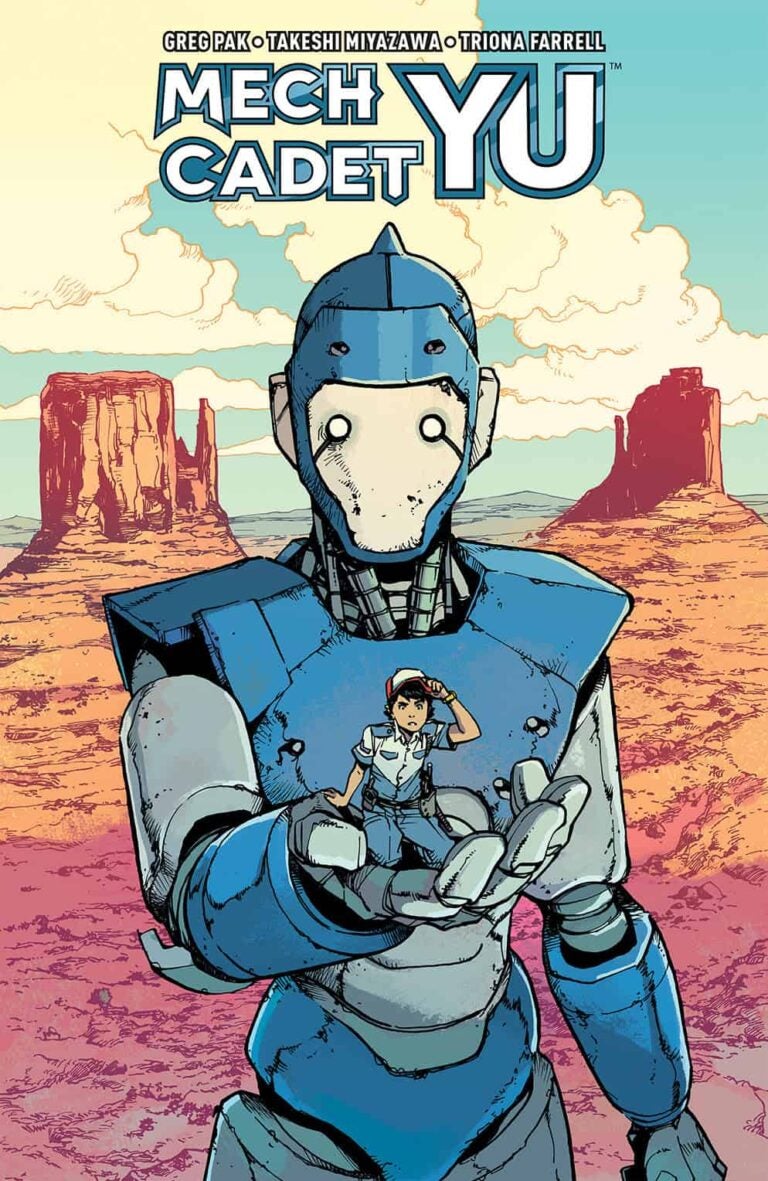 In May 2018, a standard edition of MECH CADET YU VOL. 1, featuring a different cover and including additional behind-the-scenes material, will be released to comic shops and bookstores worldwide, with the same MSRP of $14.99.
While the standard edition will remain in print, MECH CADET YU VOL. 1 DISCOVER NOW EDITION will be strictly limited to its initial print run and never reprinted.
Mech Cadet Yu is available for sale monthly at local comic book shops (use comicshoplocator.com to find the nearest one) or at the BOOM! Studios webstore. Digital copies are available to purchase on digital book marketplaces, including ComiXology, iBooks, Google Play, and the BOOM! Studios app.
Retailers, please note MECH CADET YU VOL. 1 DISCOVER NOW EDITION andMech Cadet Yu #5 arrive in comic shops on January 3rd, 2018, with a shared FOC date of December 11th, 2017.
For continuing news on MECH CADET YU and more from BOOM! Studios, stay tuned to www.boom-studios.com and follow @boomstudios on Twitter.