Discover the Unexpected Consequences of Long Buried Secrets Coming to Surface in July 2020
BOOM! Studios today announced the new original graphic novel THE DOWN RIVER PEOPLE— reuniting writer Adam Smith and artist Matt Fox, creative team of the Eisner and Harvey Award-nominated Long Walk to Valhalla, for a riveting new story about a man attempting to survive the complicated and dangerous web of his family's criminal ties with his soul intact, available in July 2020.
Myers Carpenter is a bootlegger who just inherited his family's bar, The Flatbed. Unsure of whether or not he even wants to keep the famous speakeasy, Myers is forced to find a new booze supplier when he burns his bridges at his long-time source in Mississippi. The only option he can turn to is his estranged mother—a woman he hasn't seen since he was a young boy—now running a fishing lodge for the wealthy; and a half sister he knew nothing about. As Myers becomes more entangled in the lives of his newfound family, he begins to learn the secrets of the lodge and the dark cult thriving just under the surface of wealth and opulence.
Adam Smith is the writer and co-creator of Eisner and Harvey Award- nominated Long Walk to Valhalla. He has also contributed to the Diamond Gem Award-nominated Labyrinth: Shortcuts, co-created the punk romance comix LoveRunRiot for Stela Comics, co-created At The End Of Your Tether for Oni Comics and contributed to the Dark Crystal universe in Jim Henson's Beneath The Dark Crystal. He lives and works in Kansas City, Missouri.
"THE DOWN RIVER PEOPLE is a book that's hard to compartmentalize: it's steeped in the horror and thriller genres while still being the most personal book I've written so far. It's a story about coming to terms with who you are and what you're afraid you could be." said writer Adam Smith. "I couldn't have a better partner in tackling those themes and ideas than Matt Fox and I'm elated to see the book we've made together out in the wild."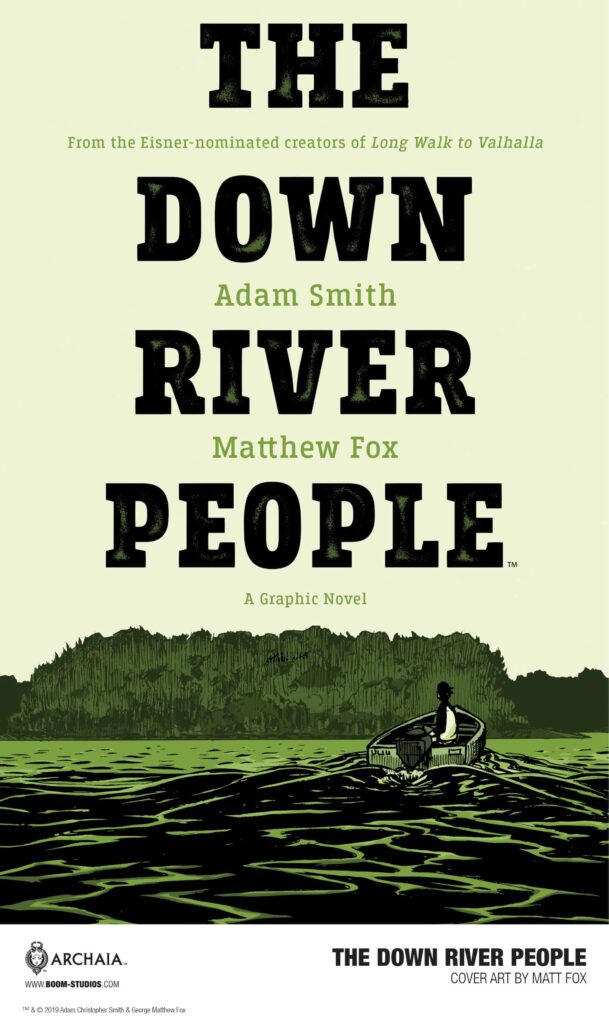 Matthew Fox is the artist and co-creator of the Eisner and Harvey Award-nominated graphic novel, Long Walk to Valhalla. The Down River People is his second graphic novel.
"This is the book we've wanted to make for a long time now," said artist Matthew Fox. "It's been exciting to dip my toes in the horror and thriller genres, and I can't wait to get it into readers hands."
THE DOWN RIVER PEOPLE is the latest release from BOOM! Studios' ambitious Archaia imprint, home to graphic novels such as Bolivar by Sean Rubin; Mouse Guard by David Petersen; Girl in the Himalayas by David Jesus Vignolli; Jane by Aline Brosh McKenna and Ramón Pérez; and licensed series including Lev Grossman's The Magicians: Alice's Story by Lilah Sturges and Pius Bak; Jim Henson's The Power of the Dark Crystal and Jim Henson's Labyrinth: Coronation.
"Adam and Matthew's new original graphic novel, THE DOWN RIVER PEOPLE, taps the southern gothic genre for a deeply moving and nuanced examination of the complicated relationships that bind us to family and how they define us and our choices…for better or worse,"said Matthew Levine, Editor, BOOM! Studios.
Print copies of THE DOWN RIVER PEOPLE will be available for sale in July 2020 at local comic book shops (use comicshoplocator.com to find the nearest one), bookstores or at the BOOM! Studios webstore. Digital copies can be purchased from content providers, including comiXology, iBooks, Google Play, and Madefire.