BOOM! Studios, under license by Hasbro, Inc., unveiled today a first look at MIGHTY MORPHIN POWER RANGERS #31, kicking off the highly-anticipated Power Rangers: Beyond The Grid epic from the new series creative team of award-winning writer Marguerite Bennett (Animosity) and artist Simone di Meo (Doctor Who: The Tenth Doctor).
After the stunning conclusion to the hit comic book event Power Rangers: Shattered Grid, an all-new, all-star team of Power Rangers is drawn together from across time and space to combat a never-before-seen evil. As they fight to prove to themselves and each other that they have what it takes to survive in a dangerous new environment, these iconic Power Rangers must defeat the onslaught of an unfamiliar, terrifying new villain.
This new team of Rangers includes The Ranger Slayer, an alternate universe version of Kimberly Hart, the original Mighty Morphin Pink Ranger who recently debuted in the pages of Saban's Go Go Power Rangers; Cameron Watanabe, the Green Ranger from Power Rangers Ninja Storm; Tanya Sloan, the Yellow Ranger from Power Rangers Zeo & Power Rangers Turbo; Andros, the Red Ranger from Power Rangers in Space; Mike Corbett, Magna Defender from Power Rangers Lost Galaxy; and the mysterious Dark Ranger, who is revealed to be Heckyl, from Power Rangers Dino Charge.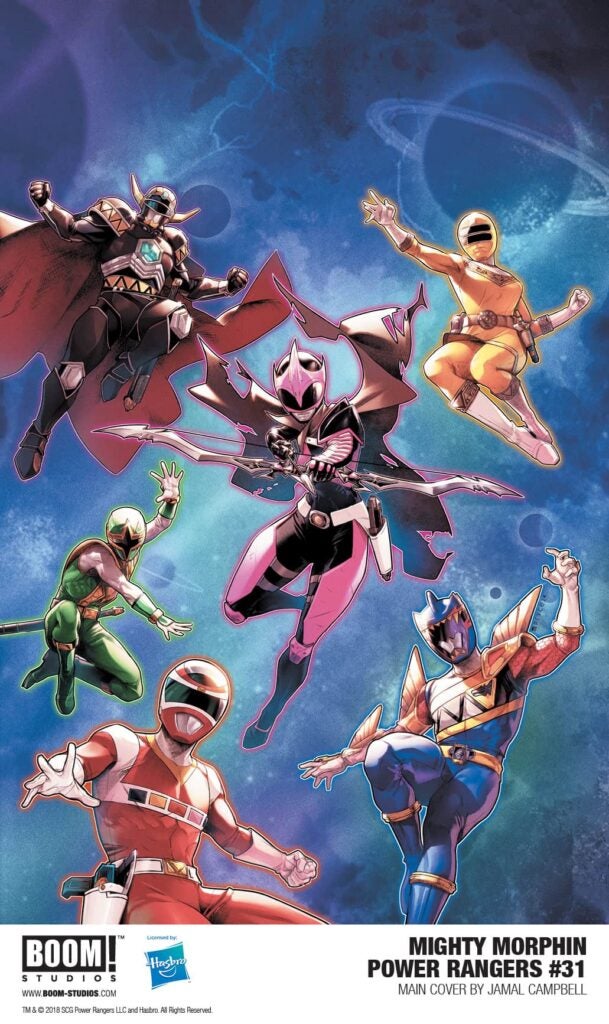 This issue features a main cover by Jamal Campbell (Green Arrow), along with variant covers by Jordan Gibson (America) and Joana LaFuente (Transformers: Last Light).
"Power Rangers: Beyond The Grid is about bringing lots of 'new' to the franchise – a new team, new enemies, and a new creative team – while also honoring the rich 25 year history of the brand," said Dafna Pleban, Senior Editor, BOOM! Studios. "Working with our partners at Hasbro, we're excited to peel back new layers of the Power Rangers mythology and dig deeper into some of the most iconic characters as they come together like never before."
"Bringing these historic Power Rangers together on a new team is an exciting new twist for fans and a story that we are particularly thrilled about telling in the medium of comics, which allows for rich character development and world building alongside gripping, high-stakes action," said Brian Casentini, SVP of Development & Production, Power Rangers. "Working with BOOM! Studios on this new arc has been a wonderful collaboration focused on breathing freshness into an already successful series, while ensuring that the epic scale, cleverness, and charm of the series to-date has not been lost."
Print copies of MIGHTY MORPHIN POWER RANGERS #31 will be available on September 26th, 2018 at local comic book shops (use comicshoplocator.com to find the one nearest you), or at the BOOM! Studios webstore. Digital copies can be purchased from content providers like comiXology, iBooks, Google Play, and the BOOM! Studios app.
Currently, Power Rangers is celebrating 25 continuous years on the air, making it one of the longest running kids live-action series in television history with nearly 900 episodes aired to date. Created by Haim Saban and launched in 1993 with Mighty Morphin Power Rangers, the franchise celebrates its milestone anniversary year with the 25th season, Power Rangers: Super Ninja Steel currently airing on Saturdays at 12 p.m. (ET/PT) on Nickelodeon in the U.S.