Red Omega Ranger VS Lord Zedd in First Look at MIGHTY MORPHIN POWER RANGERS #45
Discover the Shocking Actions of the Omega Rangers in New Chapter of Necessary Evil in November 2019
BOOM! Studios, under license by Hasbro, Inc. (NASDAQ: HAS), today revealed a new look at MIGHTY MORPHIN POWER RANGERS #45 by the all -star team of acclaimed writer Ryan Parrott (Go Go Power Rangers) and Shattered Grid artist Daniele di Nicuolo (Mighty Morphin Power Rangers), the essential next chapter in the epic POWER RANGERS event, Necessary Evil, arriving in November 2019.
After saving their former teammates on Earth, the ALL NEW OMEGA RANGERS decide to take the fight to Lord Zedd! But as they battle evil forces on the moon, it's Jason—now the Red Omega Ranger—who must face Lord Zedd alone! No matter who wins, nothing will ever be the same for any Power Ranger ever again.
MIGHTY MORPHIN POWER RANGERS #45 features a main cover by Jamal Campbell (Naomi), as well as a special foil variant of the iconic Helmet Covers featuring the Black Ranger by fan favorite artist Goñi Montes (Sandman Universe), a collectible Trading Card variant cover by Kris Anka (Runaways), an exclusive Story Variant cover written by Ryan Parrott and illustrated by Dan Mora (Buffy the Vampire Slayer), and more!
Now fans can collect each of the Mighty Morphin Power Rangers in a new set of Trading Card Variant covers, illustrated by Kris Anka and designed by Dylan Todd. The MIGHTY MORPHIN POWER RANGERS #45 cover by Anka features the Black Ranger, Adam Park, with an image of the Black Ranger in action on the front, and all stats on the back cover, including team name, alias, biography, and Alpha-5's assessment.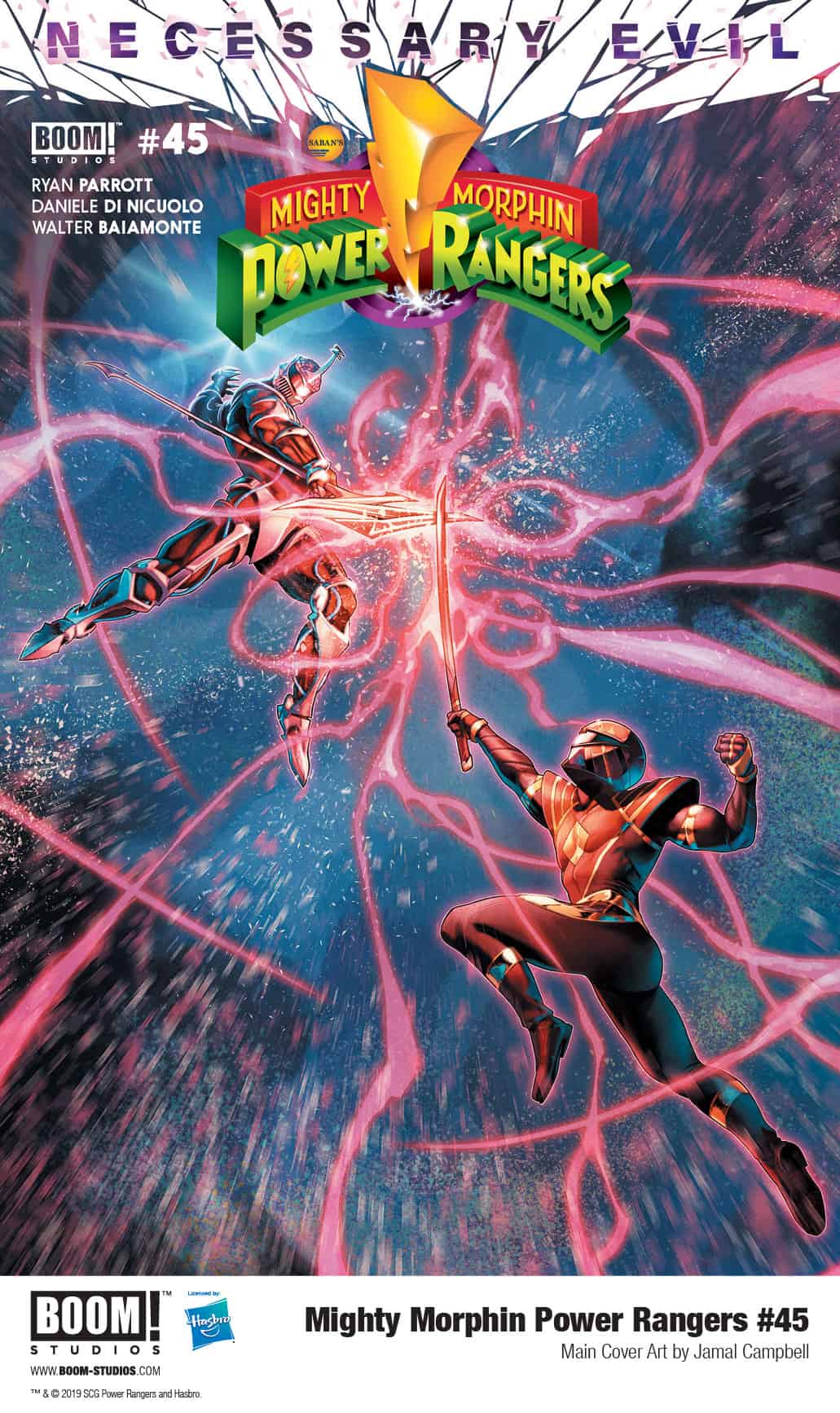 The MIGHTY MORPHIN POWER RANGERS #45 Story variant cover depicts the next essential chapter in an eleven-part series written by writer Ryan Parrott and illustrated by acclaimed artist Dan Mora, following the enigmatic, all-knowing Emissaries as they travel space and time, unearthing never-before-seen details of the immediate aftermath of the explosive events of Shattered Grid and changing the course of MIGHTY MORPHIN POWER RANGERS comic history forever.
Currently, POWER RANGERS is celebrating 26 continuous years on the air, making it one of the longest running kids' live-action series in television history with nearly 900 episodes aired to date. Created by Haim Saban and launched in 1993 with Mighty Morphin Power Rangers, the franchise celebrates its milestone anniversary year with the 26th season, "Power Rangers Beast Morphers" currently airing on Saturdays at 8 a.m. (ET/PT) on Nickelodeon in the U.S.
Print copies of MIGHTY MORPHIN POWER RANGERS #45 will be available on November 27, 2019 at local comic book shops (use comicshoplocator.com to find the one nearest you), or at the BOOM! Studios webstore. Digital copies can be purchased from content providers like comiXology, iBooks, Google Play, and the BOOM! Studios app. Softcover collections of MIGHTY MORPHIN POWER RANGERS, and other POWER RANGERS releases from BOOM! Studios are available now, everywhere books are sold.