THE MIGHTY MORPHIN POWER RANGERS & TEENAGE MUTANT NINJA TURTLES ARE BACK TOGETHER AGAIN!
Discover the Highly Anticipated Return of the Hit Crossover Comic Book Series in December 2022
Los Angeles (September 30, 2022)—BOOM! Studios, under license by Hasbro, Inc. and in partnership with IDW, Nickelodeon, and Paramount Consumer Products, is proud to announce MIGHTY MORPHIN POWER RANGERS/TEENAGE MUTANT NINJA TURTLES II, the highly anticipated sequel comic book series from acclaimed writer Ryan Parrott (Mighty Morphin Power Rangers, Rogue Sun) and fan-favorite artist Dan Mora (World's Finest, Once & Future). The sequel comic book series returns to the world of the hit crossover for an all-new adventure with fan-favorite teen fighting teams in December 2022.
In this sequel comic book series, several months have passed since the Teenagers With Attitude and the Heroes In A Half Shell teamed up to defeat the unholy alliance of Rita Repulsa and Shredder, but a new threat will force them to reunite in the crossover YOU demanded!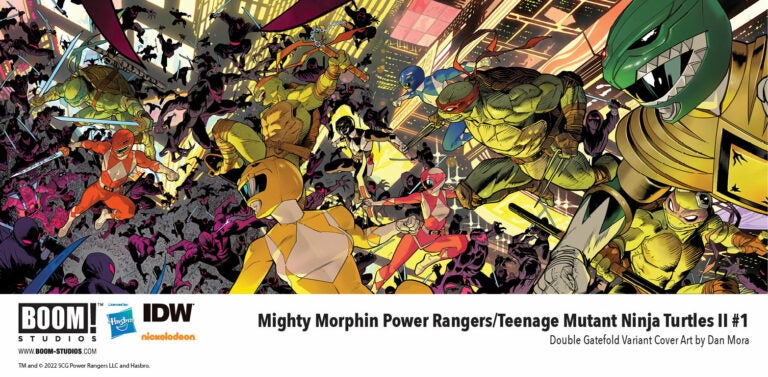 Between an invasion from beyond, old enemies teaming up with unlikely accomplices, and a threat to the Rangers' powers themselves, will the two teams survive the onslaught from a terrifying new foe or will they need help from the most unexpected ally imaginable?
MIGHTY MORPHIN POWER RANGERS/TEENAGE MUTANT NINJA TURTLES II #1 features main cover art by Dan Mora (Once & Future) and variant covers by acclaimed illustrators Bon Bernardo (Mighty Morphin), Miguel Mercado (Magic), Goñi Montes (Mighty Morphin Power Rangers), Simone Di Meo (We Only Find Them When They're Dead), Ejikure (Something is Killing the Children), Taurin Clarke (Grim), Jenny Frison (Wonder Woman), Bjorn Barends (Stuff of Nightmares), Tyler Kirkham (BRZRKR), InHyuk Lee (Venom), and more. 
Collect one issue with all four connecting main covers by Dan Mora, a very special double gatefold variant, and don't miss this collector's opportunity, as TMNT co-creator Kevin Eastman and acclaimed artist Freddie Williams II team up for a variant cover for every issue in this series!
But that's not all, a very special Deluxe Edition variant cover, with art by Williams II, will include 1 of 10 evenly intermixed trading cards and an exclusive print celebrating this epic crossover event!
Fans can also celebrate the return of the hit crossover comic book series with the MIGHTY MORPHIN POWER RANGERS/TEENAGE MUTANT NINJA TURTLES II #1 PACK, the ultimate collector set for the ultimate Mighty Morphin Power Rangers/Teenage Mutant Ninja Turtles fan, which includes the variant covers by Eastman, Frison, Bernardo, a Blank Sketch edition variant, and a rare variant cover by highly acclaimed illustrator Mike Del Mundo (Thor) exclusive to this pack.
"I think we can all agree that the Mighty Morphin Power Rangers and Teenage Mutant Ninja Turtles are a winning combination every time! The first time they teamed up, we got the Turtle Rangers, Green Ranger Shredder, and the Turtle Megazord!" said Dafna Pleban, Senior Editor, BOOM! Studios. "And if you think you can predict what'll happen this time around, boy, do we have some surprises in store for you!"
Print copies of MIGHTY MORPHIN POWER RANGERS/ TEENAGE MUTANT NINJA TURTLES II #1 will be available for sale in December 2022 at local comic book shops (use comicshoplocator.com to find the one nearest you) or at the BOOM! Studios webstore. Digital copies can be purchased from content providers like comiXology, iBooks, Google Play, and Kindle.
For continuing news on the MIGHTY MORPHIN POWER RANGERS series and more from BOOM! Studios, stay tuned to boom-studios.com and follow @boomstudios on Twitter.
For more on Power Rangers, please visit www.powerrangers.com and follow Power Rangers on YouTube, Facebook, Twitter and Instagram.
For more on the Teenage Mutant Ninja Turtles, please follow the Teenage Mutant Ninja Turtles on Facebook, Twitter, and Instagram. Also, for the latest TMNT comic book news, visit IDWpublishing.com and follow @IDWpublishing on Twitter.
---