Your First Look at David Petersen's MOUSE GUARD: THE OWLHEN CAREGIVER
Discover a Brand New Special Issue from the Creator of the Award-Winning Bestselling Series in July 2021
BOOM! Studios today revealed a first look at MOUSE GUARD: THE OWLHEN CAREGIVER, a special issue that collects three poignant tales that mark creator David Petersen's return to his beloved Eisner and Harvey Award-winning, New York Times bestselling series in this self-contained special, available in July 2021.
Which of life's biggest lessons can be learned from the smallest amongst us? A young mouse learns that compassion and kindness are the great virtues in The Owlhen Caregiver. Meanwhile, Piper the Listener finds a brave mouse venturing into wild country to learn the tongues of other beasts. And finally, a grizzled oldfur shares the lesson of putting a whisker out too far in The Wild Wolf.
Mouse Guard is a New York Times Bestselling, Eisner & Harvey Award winning comic book series written and illustrated by David Petersen. Digging into his love of animal stories and medieval role playing games, David created a fantasy adventure world of cloaked, sword wielding mice who protect the common mouse against threats of predator, weather, & wilderness. The stories are released as a series of miniseries available as individual comic issues first, and then collected into hardcover volumes.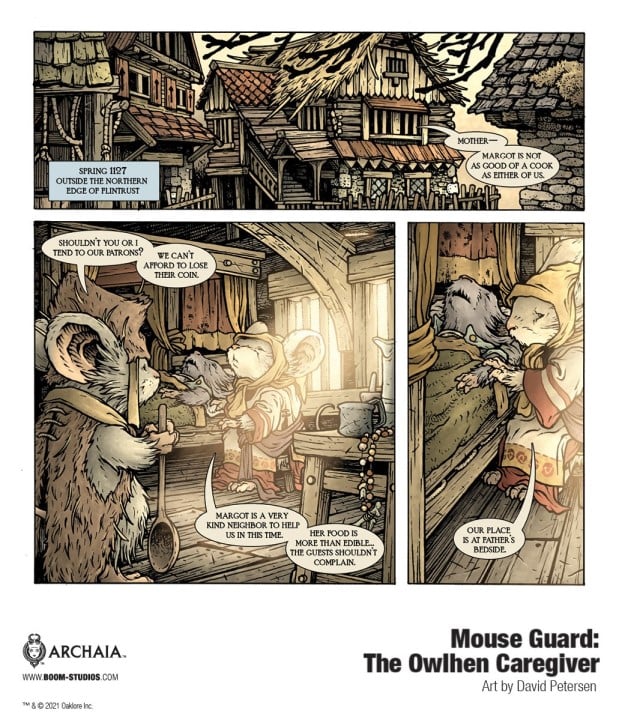 MOUSE GUARD is the latest release from BOOM! Studios' ambitious Archaia imprint, home to graphic novels such as Bolivar by Sean Rubin; Slaughterhouse-Five by Kurt Vonnegut, Ryan North, and Albert Monteys; The Sacrifice of Darkness by Roxane Gay, Tracy Lynne-Oliver, and Rebecca Kirby; Big Black: Stand at Attica by Frank "Big Black" Smith, Jared Reinmuth, and Améziane, We Served the People by Emei Burell, and licensed series including Lev Grossman's The Magicians by Lilah Sturges and Pius Bak, as well as Jim Henson's The Dark Crystal: Age of Resistance and Jim Henson's Labyrinth: Coronation.
Print copies of MOUSE GUARD: THE OWLHEN CAREGIVER, featuring cover art by Petersen, will be available for sale on July 14, 2021 exclusively at local comic book shops (use comicshoplocator.com to find the nearest one) or at the BOOM! Studios webstore. Digital copies can be purchased from content providers, including comiXology, iBooks, Google Play, and Kindle.