Buffy The Vampire Slayer  #13
Publisher: BOOM! Studios
Writer: Jordie Bellaire
Artist: Rosemary Valero-O'Connell
Cover Artists:
Kendra Main Cover: David López
     Buffy Main Cover: David López
     Fire Cover: Becca Carey
Incentive Cover: Mirka Andolfo
Unlocked Retailer Variant: Rosemary Valero-O'Connell
Price: $3.99
Synopsis: After the game-changing conclusion to Hellmouth, The Slayer must defend Sunnydale…AND IT'S KENDRA?
But as The New Slayer must confront an all-new threat to the ENTIRE WORLD, she'll need to pull the Scooby gang together once more after what happened to Buffy… WAIT…WHAT HAPPENED TO BUFFY?
The next era of the Whedonverse starts here!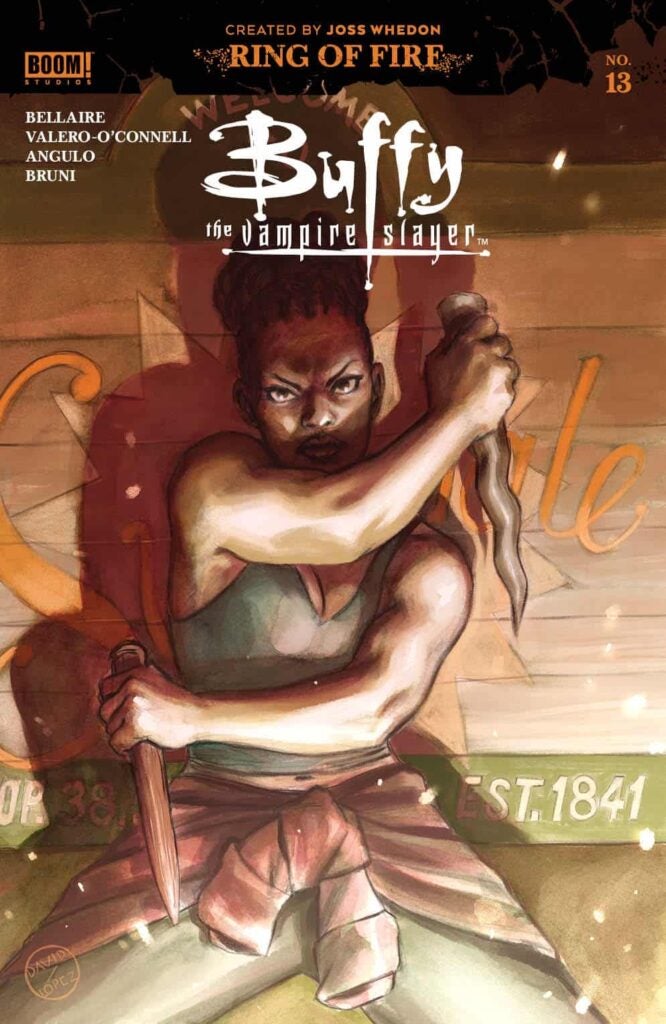 King of Nowhere #1
Publisher: BOOM! Studios
Writer: W. Maxwell Prince
Artist: Tyler Jenkins
Cover Artists:
Main Cover: Tyler Jenkins
     Variant Cover: Martín Morazzo
Unlocked Retailer Variant: Christian Ward
Price: $3.99
Synopsis: Eisner Award-nominated writer W. Maxwell Prince (Ice Cream Man) comes to BOOM! Studios with Eisner-nominated artist Tyler Jenkins (Grass Kings, Black Badge) for an unforgettable thriller that explores the miraculous, the mundane, and all the mysteries in between.
Lovable drunken lowlife Denis awakens on the outskirts of a mysterious village called Nowhere, home to a friendly populace of deformed, mutated, just-left-of-normal citizens—and he has no memory of how he got there.
But just when Denis starts to regain his memories, his past catches up to him… literally.
What at first seems like merely a bad trip quickly heightens into a drama of mistaken identities, small-town conspiracy, and high-stakes fantasy fulfillment.
The Magicians #5
Publisher: Archaia, an imprint of BOOM! Studios
Writer: Lilah Sturges, Lev Grossman
Artist: Pius Bak
Cover Artists:
Main Cover: Qistina Khalidah
    Variant Cover: Alexa Sharpe
Price: $3.99
Synopsis: As the true reason behind Brakebills welcoming Hedge Witches comes to light, the students realize that they are in even more danger than they realized. With their terrible secret bound in magic and blood, the students and adults are all heading blind into the coming storm.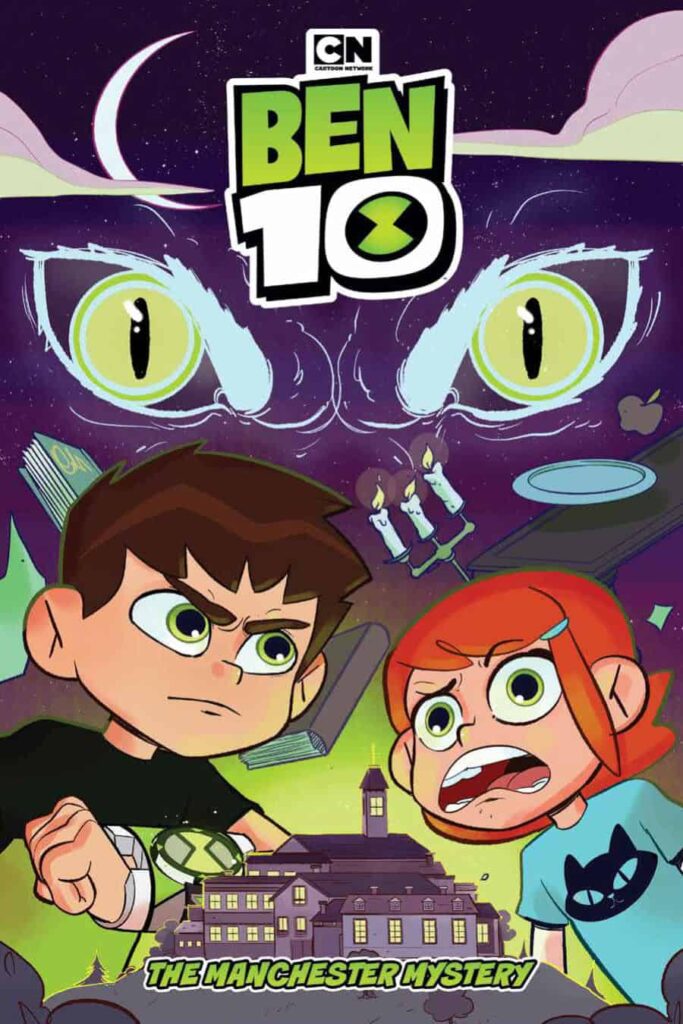 Ben 10: The Manchester Mystery OGN Vol. 4 SC
Publisher: KaBOOM!, an imprint of BOOM! Studios
Writer:  C.B. Lee
Artist: Francesca Perrone
Cover Artist: Mattia di Meo
Price: $7.99
Synopsis: Ben wants to be selected for his favorite supernatural reality show–and he's going to do it by solving the mystery of a famous haunted house!
Luckily, Ben Tennyson isn't your average 10-year-old…he's also the wielder of the Omnitrix, an alien device that allows Ben to shift into 10 different alien forms from around the galaxy. Together with his cousin Gwen and his Grandpa Max, they're going to dig into the truth behind the spirits haunting this house – and discover a few shocking surprises along the way!
Join Rainbow Award-winning writer CB Lee (Not Your Sidekick) and artist Francesca Perrone for the newest installment of original graphic novels based on Cartoon Network's hit Ben 10™ series.
Grass Kings Vol. 3 SC
Publisher: BOOM! Studios
Writer:  Matt Kindt
Artist: Tyler & Hilary Jenkins
Price: $17.99
Cover Artist: Tyler Jenkins
Synopsis: The final chapter for the Grass Kings is here, as the illegal trailer park kingdom wards off attacks from both outwards and within. To defend their kingdom, the three brothers must find a way to put their differences aside and defend the sacred land that's been passed down through generations.
From the lauded creative team of New York Times bestselling author Matt Kindt (Mind MGMT) and illustrators Tyler & Hilary Jenkins (Peter Panzerfaust), Grass Kings Volume Three concludes the multiple Eisner Award-nominated rural mystery series that examines the lengths man will go to protect their own.
Collects issues #9-12.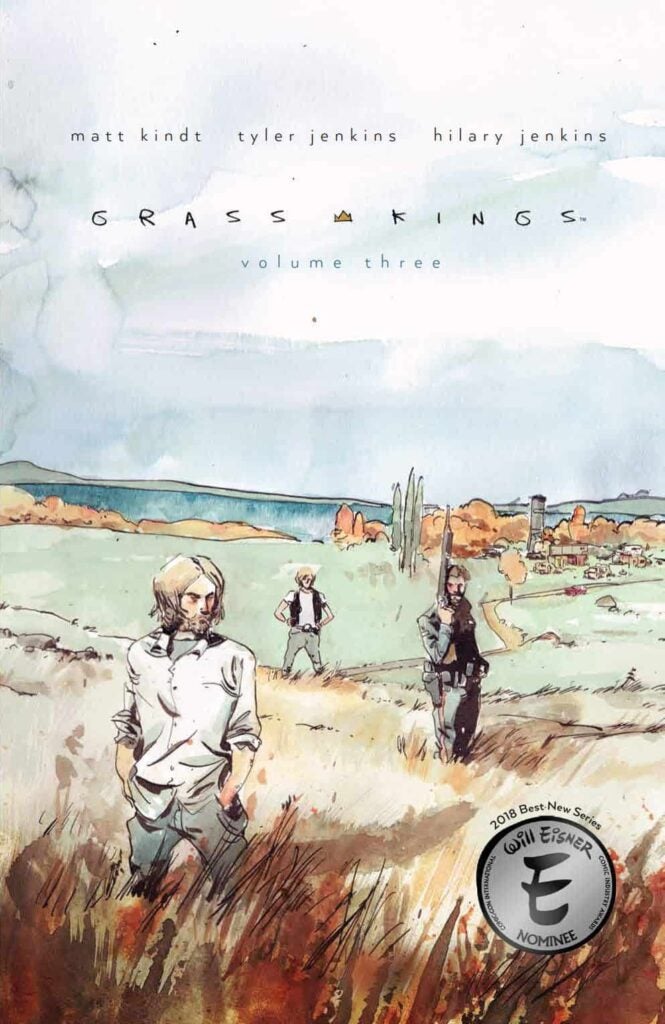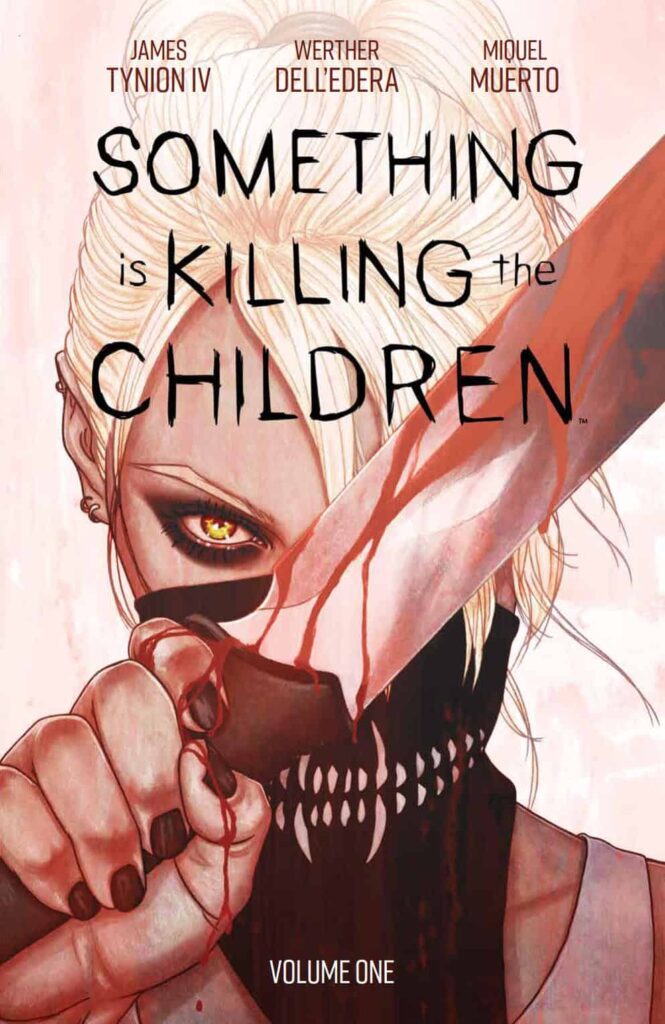 Something Is Killing The Children Vol. 1 Discover Now Edition
Publisher: BOOM! Studios
Writer: James Tynion IV
Artist: Werther Dell'Edera
Cover Artist: Jenny Frison
Price: $14.99
Synopsis: When the children of Archer's Peak begin to go missing, everything seems hopeless. The few children that return alive have terrible stories—impossible details of terrifying creatures that live in the shadows. Their only hope is the arrival of a mysterious stranger, one who believes the children and claims to be the only one who sees what they can see.
Her name is Erica Slaughter. She kills monsters. That is all she does, and she bears the cost because it must be done.
GLAAD Award-winning writer James Tynion IV (The Woods, Batman: Detective Comics) teams with artist Werther Dell'Edera (Briggs Land) for a haunting series about staring into the abyss… and what happens when the abyss stares back.
Collects issues #1-5 in a direct-market exclusive collection!