Set Out for Adventure in Captain Juuter's NOMADS, now at BOOM! Studios!
The Popular Webtoon Original Arrives to Print!
KaBOOM! brings Captain Juuter's hit Webtoon Original NOMADS to print at BOOM! Studios in NOMADS: THE SKY KINGDOM, collecting the first 23 episodes of the breakout series best described as One Piece meets Hooky!
All Lance wants to do is find his missing brother; but between a runaway prince, a magical genie, and a talking cat, he's getting swept up in much more than he bargained for!
In a world where five Kingdoms are isolated from each other, only a special group of people known as Nomads are allowed to travel between them. But there's a catch–becoming a Nomad means that you'll never have a homeland again. Lance never wanted to be a Nomad, but on his 19th birthday, he leaves his homeland in the Sea Kingdom behind while searching for his missing brother in the Sky Kingdom.
Lance's first steps into his journey get flipped upside down when he meets Satra, a wannabe Nomad with a mysterious past and Saber, a talking cat with magical powers. Soon, Lance is in for far more than he bargained for when wanted posters with his face start popping up and he begins to be chased down by bounty hunters!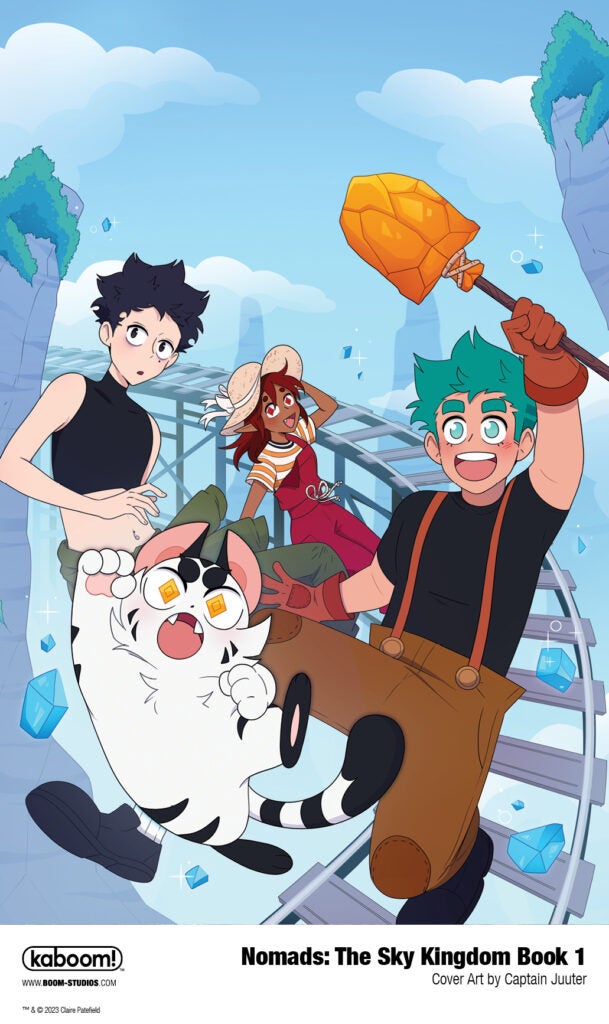 "Nothing's more fun than a ragtag group of friends coming together to traverse a fantasy world. It's been a dream telling their story so far, and an even bigger dream that it's being adapted into a book," said series creator Captain Juuter. "I hope my Nomads will be able to reach a greater audience and that you all enjoy journeying with them!"
"Captain Juuter's Nomads is one of the greatest new adventure stories told for all ages, following in the footsteps of seminal classics such as Avatar: The Last Airbender and One Piece," said editor Shantel LaRocque. "I'm beyond thrilled Captain Juuter wanted to bring the print editions to BOOM! and I am honored to bring their vision to the printed page."
NOMADS: THE SKY KINGDOM BOOK 1 will be available in comic shops May 8, 2024 and everywhere books are sold May 14, 2024. It is available for pre-order at your local comic shop, bookstore, Amazon, and Barnes & Noble. Digital copies can be purchased from content providers, including comiXology, iBooks, Google Play, and Kindle.
About Captain Juuter:
Captain Juuter is a webcomic and comic book creator based in Maryland. After graduating VCU with her BA in Business Management, she swore off the corporate lifestyle and followed her passion as a freelance artist. Her work, Nomads, started as a hobby posting through the Webtoon Canvas platform, which was later picked up as a Webtoon Originals, and now will be published in physical form through BOOM! Studios.
NOMADS: THE SKY KINGDOM is the latest release from BOOM! Studios' award-winning KaBOOM! imprint, home to comics for middle grade and younger readers including original series Just Beyond by R.L. Stine, Kelly & Nichole Matthews, and Irene Flores; ORCS! By Christine Larsen; The Princess Who Saved Herself by Greg Pak, Jonathan Coulton, and Takeshi Miyazawa; Forever Home by Jenna Ayoub; Jo & Rus by Audra Winslow, Hex Vet by Sam Davies; Drew and Jot by Art Baltazar; Hotel Dare by Terry Blas and Claudia Aguirre; and RuinWorld by Derek Laufman.