Come Face to Face with Destiny in Christine Larsen's ORCS! #5
Discover a Totally Not Dangerous, Definitely Safe Way Home in June 2021
BOOM! Studios today revealed a first look at ORCS! #5, the next issue in the delightfully riveting original six-issue comic book series, by cartoonist Christine Larsen (Adventure Time, By Night), about a band of misfit Orcs who set off into the great, wide Known World in search of glory and gold, but find that the real treasures were the friends they made along the way.
Whew! As Bog, Pez, Zep, Gurh, and Utzu catch their breath from their hijinks and misadventures, the Orcs hatch a plan to get back home. Except that Pez and Zep aren't sure it's even worth trying to go back. But the debate may be moot as they are literally swept away and brought face-to-face with… destiny?!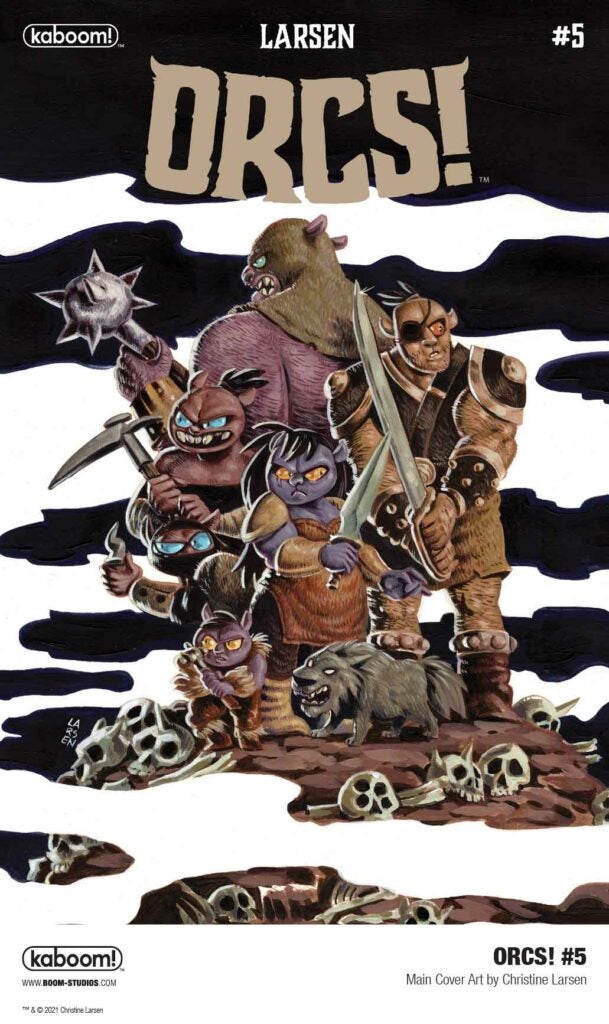 ORCS! is the latest release from BOOM! Studios' award-winning KaBOOM! imprint, home to comics for middle grade and younger readers including original series Just Beyond by R.L. Stine and Kelly & Nichole Matthews, Jo & Rus by Audra Winslow, Forever Home by Jenna Ayoub, Hex Vet by Sam Davies, Drew and Jot by Art Baltazar, Hotel Dare by Terry Blas and Claudia Aguirre, RuinWorld by Derek Laufman, and Pandora's Legacy by Bones Leopard and Kelly & Nichole Matthews.
Print copies of ORCS! #5 featuring main cover art by series artist Christine Larsen, as well as variant cover art by Sweeney Boo (Eat, And Love Yourself) and Andrew MacLean (Head Lopper), will be available for sale on June 9, 2021 exclusively at local comic book shops (use comicshoplocator.com to find the nearest one) or at the BOOM! Studios webstore. Digital copies can be purchased from content providers, including comiXology, iBooks, Google Play, and Kindle.