Return to the World of Christine Larsen's ORCS! in New Series
Discover Brand New Adventures with New Faces and Familiar Figures From Acclaimed Cartoonist in June 2022
BOOM! Studios today announced an all-new original four-issue comic book series, ORCS!: THE CURSE by cartoonist Christine Larsen (Adventure Time, By Night), about a band of misfit Orcs who set off into the great, wide Known World in search of glory and gold, but find that the real treasures were the friends they made along the way.
The fun and fantastical ORCS! return with a brand new adventure that's darker and more rambunctious than ever! After returning from their travels and celebrating with a dance party, a prank gone wrong inadvertently unleashes something ancient and evil. Even worse, in a tower in the middle of a dark forest, a wizard with grand, sinister plans needs a real army, and his sight turns toward the Orcish tribe…
A Harvey Award-nominated cartoonist, Christine Larsen has illustrated licensed comics for Adventure Time, Samurai Jack, Regular Show, and Kung Fu Panda; while creating the original series ORCS! and co-creating By Night with Boom Studios. A litany of independently published work also adorns her curriculum vitae. Her illustrations have been hung at the Society of Illustrators. Meanwhile, in the bowels of Philadelphia, she teaches classes in the mystic arts of comic making and illustration. Larsen resides with the rest of her small goblin clan in a north Philadelphia row home.
"As the second book of the series, THE CURSE introduces new allies (and reunites us with some old friends) as the tribe battles a wizard's wrath, unleashes an ancient evil, discovers horrible secrets, and fights for its future. Of course, along the way, there's plenty of guts and glory," said Larsen.
ORCS! is the latest release from BOOM! Studios' award-winning KaBOOM! imprint, home to comics for middle grade and younger readers including original series Just Beyond by R.L. Stine, The Princess Who Saved Herself by Greg Pak, Jonathan Coulton, and Takeshi Miyazawa, Forever Home by Jenna Ayoub, Jo & Rus by Audra Winslow, Hex Vet by Sam Davies, Drew and Jot by Art Baltazar, Hotel Dare by Terry Blas and Claudia Aguirre, RuinWorld by Derek Laufman, and Pandora's Legacy by Bones Leopard and Kelly & Nichole Matthews.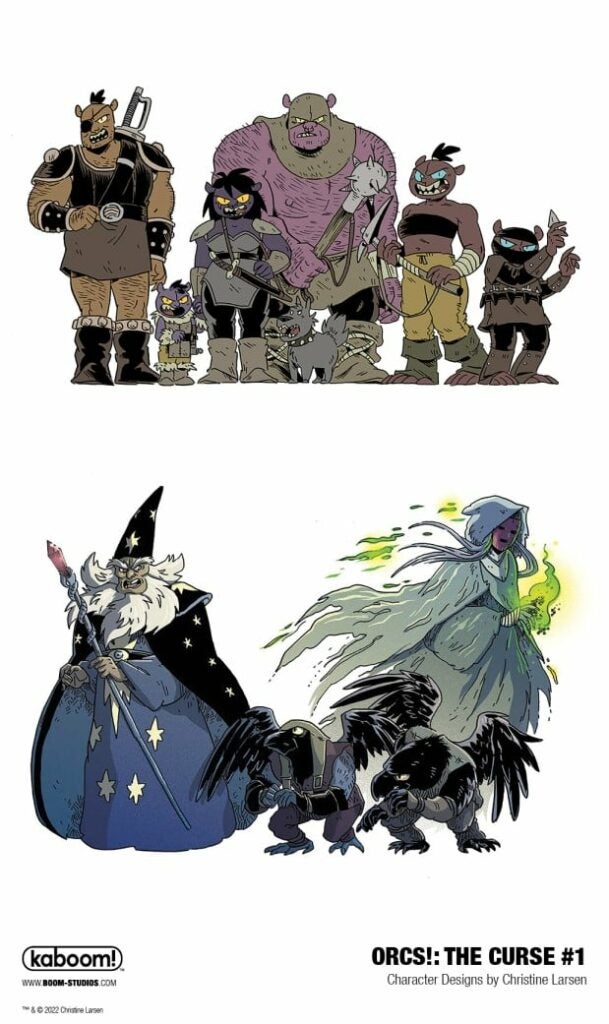 "Get ready for a brand new adventure back in the rambunctious, hilarious world of the ORCS! We're back to join our misunderstood gang of impromptu heroes for more trouble-making and misadventure across the Known World, but we'll also meet new, unfamiliar faces and creatures, and come up against new threats," said Sophie Philips-Roberts, Editor, BOOM! Studios. "If you thought you'd seen the worst trouble these orcs could get into before, it's nothing compared to what's facing them in . . . THE CURSE!"
Print copies of ORCS!: THE CURSE #1 will be available for sale in June 2022 at local comic book shops (use comicshoplocator.com to find the nearest one) or at the BOOM! Studios webstore. Digital copies can be purchased from content providers, including comiXology, iBooks, Google Play, and Kindle.