Christine Larsen and the ORCS! Are Back at KaBOOM!
High Stakes Magical Mayhem
Critically acclaimed creator Christine Larsen returns to the world of ORCS! for the third and final chapter with ORCS! THE GIFT, coming from the award-winning YA imprint, KaBOOM! this holiday season.
An alliance between Orcs, Crows, and Elves is the last thing anyone would expect, but times have changed since the defeat of the Wizard.
The party grows larger as two of the Crows join our lovely band of Orc miscreants on a mission to steal a dragon's hoard, but the fun can only last so long as the Wolf King's grudge against the Orcs threatens a second War of the Beasts!
ORCS! THE GIFT #1 features a main cover by Christine Larsen, with variants by Erica Henderson (The Unbeatable Squirrel Girl).
"I'm stoked to finally reach the culmination of this trilogy, where my characters are put to a true
test, and I can test my own ability to balance the dramatic moments and the comedy of this
series," said series creator Christine Larsen. "I hope everyone enjoys this final arc as much as I've enjoyed crafting it."
"Christine Larsen is such a wholly unique voice in the high fantasy world, and I am unbelievably proud to help shepherd in the final chapter of ORCS! for the world to read," said editor Sophie Philips-Roberts. "It is filled with heart, laughs, and magical misfits and is the perfect capstone to a perfect story."
ORCS! THE GIFT #1 will be available in comic shops December 6, 2023. It is available for pre-order at your local comic shop. Digital copies can be purchased from content providers, including comiXology, iBooks, Google Play, and Kindle.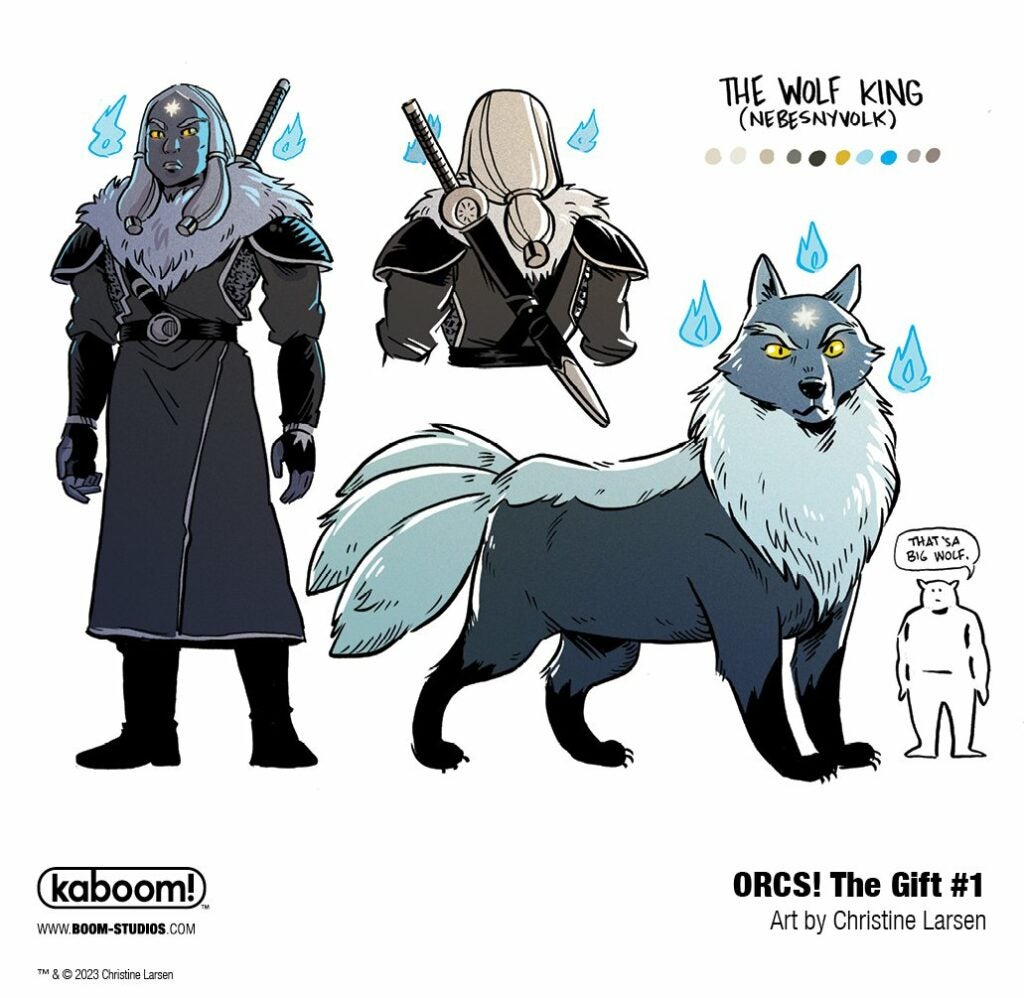 About Christine Larsen:
Larsen is an illustrator and cartoonist from Philadelphia with a Harvey Award nomination and honorable mention from the Society of Illustrators. They have created illustrations and comics for clients such as Dark Horse, Image, IDW, BOOM! Studios, Simon & Scheuster and Saatchi & Saatchi, and teaches courses in Comics and Traditional Media at the University of the Arts. You can find their portfolio at christinelarsenillustration.com and on IG @larsenproject
ORCS: THE GIFT #1 is the latest release from BOOM! Studios' award-winning KaBOOM! imprint, home to comics for middle grade and younger readers including original series Just Beyond by R.L. Stine, Kelly & Nichole Matthews, and Irene Flores; ORCS! By Christine Larsen; The Princess Who Saved Herself by Greg Pak, Jonathan Coulton, and Takeshi Miyazawa; Forever Home by Jenna Ayoub; Jo & Rus by Audra Winslow, Hex Vet by Sam Davies; Drew and Jot by Art Baltazar; Hotel Dare by Terry Blas and Claudia Aguirre; RuinWorld by Derek Laufman; and Pandora's Legacy by Bones Leopard and Kelly & Nichole Matthews.