Your First Look at OVER THE GARDEN WALL™: SOULFUL SYMPHONIES #1 From BOOM! Studios
Discover the Power of the Stage in August 2019
BOOM! Studios revealed today a first look at OVER THE GARDEN WALL™: SOULFUL SYMPHONIES #1 (OF 5), set in the world inspired by the Emmy® Award-winning Cartoon Network animated series, Over The Garden Wall, and written by Birdie Willis and illustrated by Rowan MacColl, available on August 7, 2019.
In their strange and rambling quest to find a way out of the mysterious woods and back home to their ordinary lives, brothers Wirt and Greg, along with their friend, a talking bird named Beatrice, stumble upon an odd town full of stages, musical shops, and theaters but not a single person in sight. When Greg breaks out into song on stage in the eerily silent village, he finds an audience of one who then draws them all into the performance to end all other performances …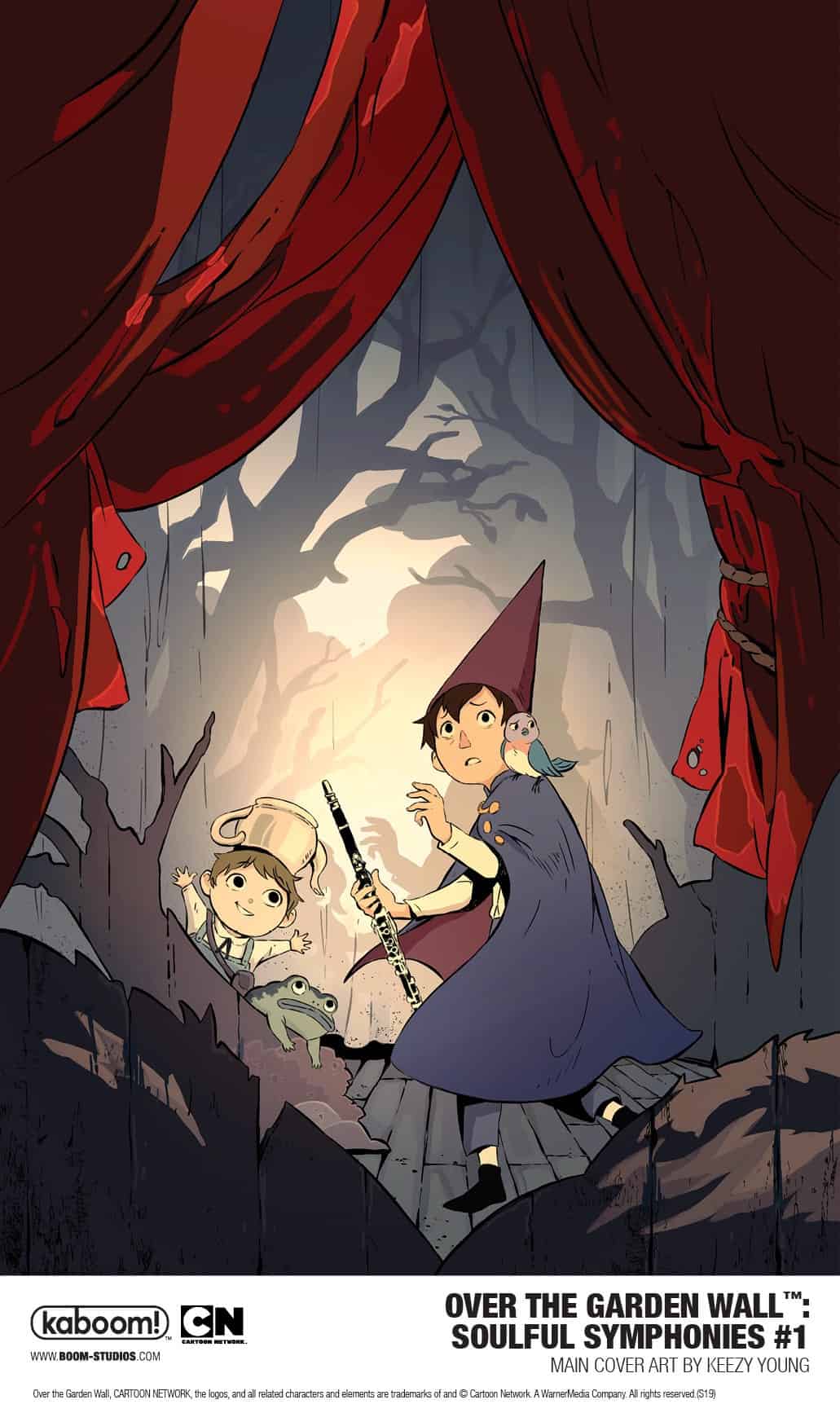 Over the Garden Wall is the hit animated television miniseries created by Pat McHale for Cartoon Network. The show follows two half-brothers as they journey through the strange and haunting Unknown, with Beatrice, a talking bird, as their companion as they search for a way home. The show is based on McHale's animated short film Tome of the Unknown, which was produced as part of Cartoon Network Studios' shorts development program. Over the Garden Wall was broadcast throughout the week of November 3, 2014 to November 7, 2014.
OVER THE GARDEN WALL™: SOULFUL SYMPHONIES is the latest release from BOOM! Studios' award-winning KaBOOM! imprint, home to comics for middle grade and younger readers including licensed series such as Adventure Time, Steven Universe, Regular Show, Ben 10, and Over The Garden Wall, along with original series like Just Beyond: The Scare School by R.L. Stine and Kelly & Nichole Matthews, Hex Vet by Sam Davies, RuinWorld by Derek Laufman, Hotel Dare by Terry Blas and Claudia Aguirre, and Pandora's Legacy by Kara Leopard and Kelly & Nichole Matthews.
Print copies of OVER THE GARDEN WALL™: SOULFUL SYMPHONIES #1 will be available for sale in August 7, 2019 exclusively at local comic book shops (use comicshoplocator.com to find the nearest one) or at the BOOM! Studios webstore. Digital copies can be purchased from content providers, including comiXology, iBooks, Google Play, and the BOOM! Studios app.