POWER RANGERS UNLIMITED: EDGE OF DARKNESS #1 Sells Out Week of Release and Returns with New Printing
Discover the Never Before Revealed Secrets of the Mysterious Fan Favorite Ranger in June 2021
BOOM! Studios, under license by Hasbro, Inc. (NASDAQ: HAS), announced today that the new oversized special issue, POWER RANGERS UNLIMITED: EDGE OF DARKNESS #1, from rising star writer Frank Gogol (Dead End Kids), acclaimed artist Simone Ragazzoni (Power Rangers: Drakkon New Dawn) colorist Igor Monti (Mighty Morphin Power Rangers), and letterer Ed Dukeshire (Once & Future) present the first full appearance of the Phantom Ranger in a story that will ripple through the Power Rangers franchise, has sold out at the distributor level the week of release!
In response to the overwhelming support from retailers and fans, BOOM! Studios has announced POWER RANGERS UNLIMITED: EDGE OF DARKNESS #1 SECOND PRINTING, featuring brand new cover art by series artist Simone Ragazzoni and available in stores July 28, 2021.
ENTER THE PHANTOM RANGER! Answering Zordon's call, the Phantom Ranger investigates the aftermath of an Empyreal attack. Only to discover their connection to an ancient evil he encountered long ago… which may have finally returned to threaten the entire universe.
Currently, Power Rangers is celebrating 28 continuous years on the air, making it one of the longest running kids' live-action series in television history with nearly 900 episodes aired to date. Created by Haim Saban and launched in 1993 with Mighty Morphin Power Rangers, the franchise celebrates its 28th season with, "Power Rangers Dino Fury" currently airing on Saturdays at 8 a.m. (ET/PT) on Nickelodeon and now streaming on Netflix in the U.S.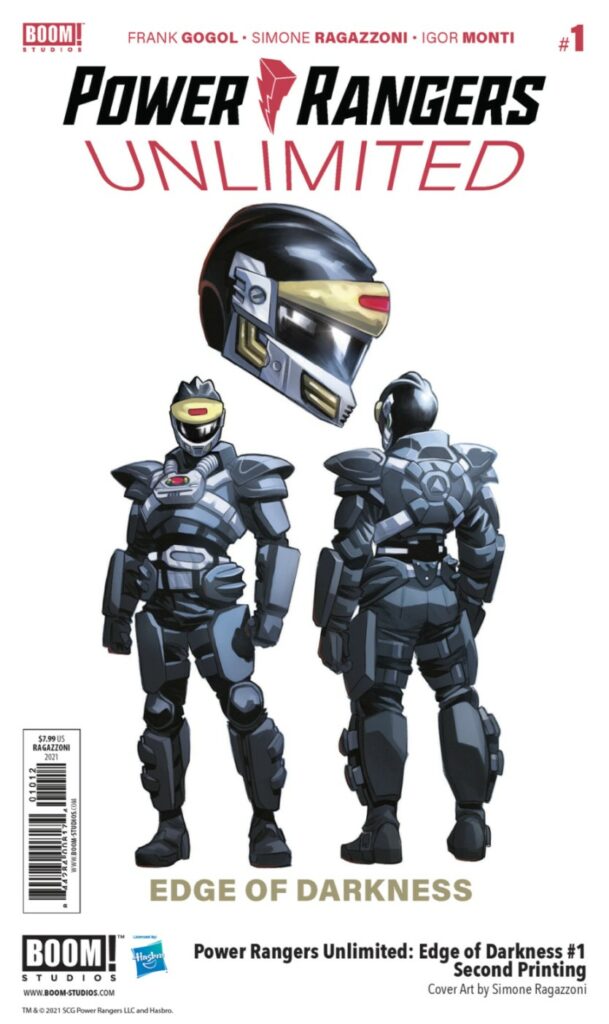 "We are all answering Zordon's call today thanks to the phenomenal support from Power Rangers fans everywhere," said Filip Sablik, President, Publishing & Sales, BOOM! Studios. "Frank, Simone, Igor, and Ed have brought another unique story expanding our understanding of the Power Rangers universe and we can't wait for even more fans to dive further into the mystery of the Phantom Ranger in EDGE OF DARKNESS!"
Print copies of POWER RANGERS UNLIMITED: EDGE OF DARKNESS #1 FIRST PRINTING may be available exclusively at local comic book shops (use comicshoplocator.com to find the one nearest you) or at the BOOM! Studios webstore. Digital copies can be purchased from content providers like comiXology, iBooks, Google Play, and Kindle.
Readers can purchase POWER RANGERS UNLIMITED: EDGE OF DARKNESS SC, collecting Power Rangers Unlimited: Heir to Darkness #1 and Power Rangers Unlimited: Edge of Darkness #1, in November 2021. Softcover collections of MIGHTY MORPHIN POWER RANGERS, and other Power Rangers releases from BOOM! Studios are available now, everywhere books are sold.