BOOM! Studios today revealed a first look at JUST BEYOND: THE SCARE SCHOOL, the first in a series of all-new original graphic novels debuting in September 2019 from R.L. Stine, the award-winning, bestselling horror author and creator of Goosebumps and Fear Street, artists Kelly & Nichole Matthews (Pandora's Legacy) and featuring a cover by Julian Totino Tedesco (Life of Captain Marvel). This middle grade supernatural horror series takes young readers Just Beyond the reality they know…Just Beyond their normal lives…Just Beyond the real world to an always-surprising place of fantasy and fright.
JUST BEYOND will be published through the company's award-winning KaBOOM! imprint, marking the first time R.L. Stine has originated new concepts in the comic book medium as part of his multi-book agreement with the publisher. With the release of his debut novel Blind Date in 1981, R.L. Stine established himself as one of the most important voices in horror for a new generation. This was followed up with the release of Fear Street in 1989, which remains the best-selling YA series in history with more than 100 books published thus far, and Goosebumps in 1992, which transformed Stine into a worldwide celebrity. The series was soon adapted as a hit TV series and recently returned as a blockbuster film starring Jack Black in 2015 from Sony/Columbia Pictures, with a sequel hitting theaters October 12, 2018. Stine has continued to create exciting new horror concepts for younger audiences each year, in turn becoming one of the most successful American novelists of all time.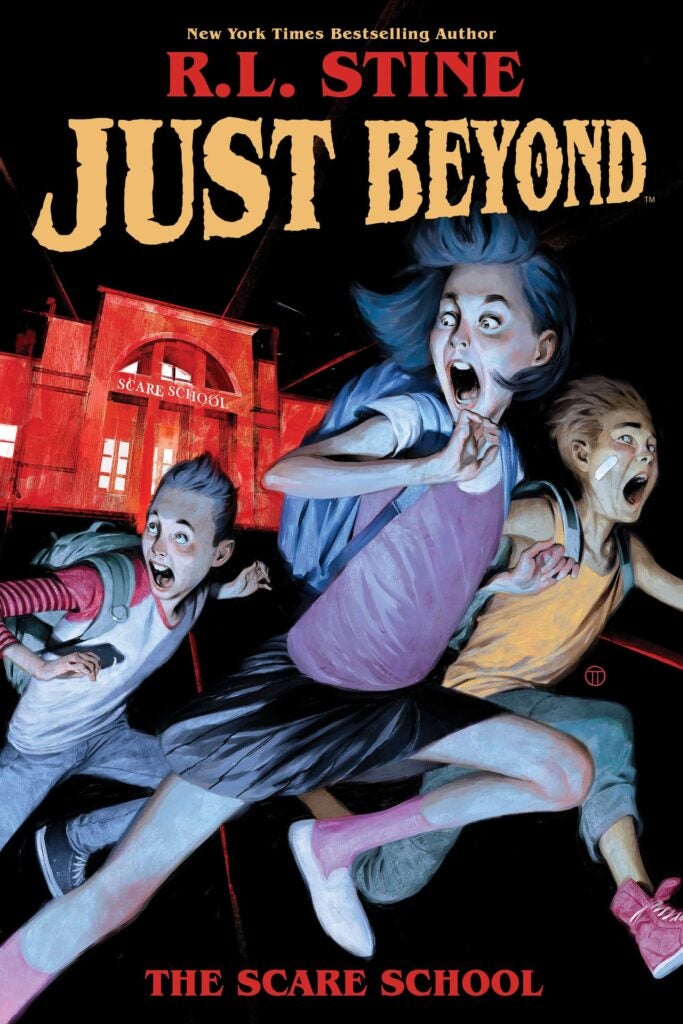 In JUST BEYOND: THE SCARE SCHOOL, the first original graphic novel in the series, something's not quite right as we meet three 12-year-olds in strangely old-fashioned clothing creeping through the halls of Scare Middle School and trying to blend in with the present-day students while evading a menacing cyborg creature, the Drogg. Where did they come from? And why is this scary mechanical monster hunting them down? Thrust into the middle of this terrifying mystery are three modern day students, Josh, Jess, and Marco, who end up fighting for their lives while trying to escape the very nightmare that the three kids in old-fashioned dress were fleeing from, a school of horrors that exists JUST BEYOND their very own.
BOOM! Studios' award-winning KaBOOM! imprint is home to comics for middle grade and younger readers including licensed series such as Adventure Time, Steven Universe, Rugrats, Peanuts, and Garfield, along with original series likeDodo by Felipe Nunes, Mega Princess by Kelly Thompson and Brianne Drouhard, Bodie Troll by Jay Fosgitt, Ruinworld by Derek Laufman, and The Deep by Tom Taylor and James Brouwer.
"Middle school is terrifying enough as it is but R.L. Stine takes that fear to a whole new level in JUST BEYOND: THE SCARE SCHOOL," said Bryce Carlson, Vice President, Editorial & Creative Strategy, BOOM! Studios. "I honestly couldn't imagine a better way to kick off a series of middle grade horror graphic novels. This book is every kid's nightmare come to life with chilling art by phenomenal illustrators Kelly and Nichole Matthews and a frightening story that only a modern master like Stine could tell."
Print copies of JUST BEYOND: THE SCARE SCHOOL will be available for sale September 4, 2019 at local comic book shops (use comicshoplocator.com to find the nearest one) or at the BOOM! Studios webstore, and September 10, 2019 at bookstores. Digital copies can be purchased from content providers, including comiXology, iBooks, Google Play, and the BOOM! Studios app.
For more news on R.L. Stine's JUST BEYOND and more from BOOM! Studios, stay tuned to www.boom-studios.com and follow @boomstudios on Twitter.