Greg Pak & Giannis Milonogiannis Launch A New Samurai Action Epic in March 2019
BOOM! Studios today revealed a first look at RONIN ISLAND #1, kicking off a new five-issue limited series from superstar writer Greg Pak (Firefly, Star Wars, Mech Cadet Yu) and fan favorite artist Giannis Milonogiannis (Old City Blues) about a group of people with divided loyalties and difficult pasts coming together in the face of danger to fend off enemies both human and not.
RONIN ISLAND #1 arrives in stores March 2019 and features a main cover by Milonogiannis, along with variant covers by David Lafuente (Ultimate Comics Spider-Man), award-winning artist Ethan Young (Tails), and fan favorite Kris Anka (Runaways).
After a mysterious attack devastates a great swath of 19th century Japan, Korea, and China, survivors from all three lands find refuge on a hidden island and build a new society. Hana, the orphaned daughter of Korean farmers, and Kenichi, son of a great samurai leader, have little in common except for a mutual disdain for each other. But these young warriors will have to work together when an army invades the island with shocking news: the Shogun has returned and the Island is expected to pay fealty in exchange for protection from a new threat…a mutated horde that threatens to wipe out all of humanity.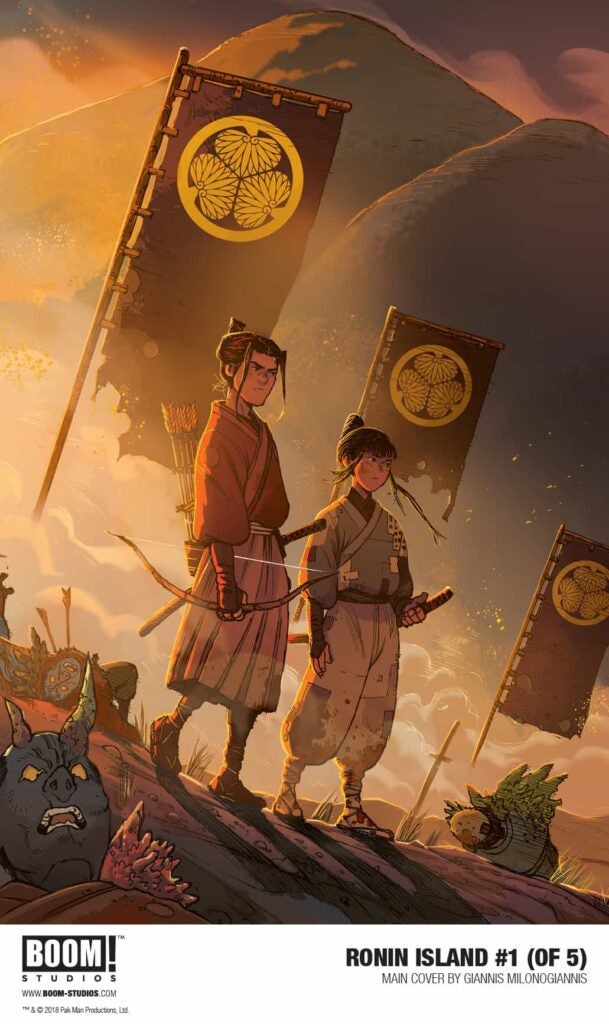 RONIN ISLAND is the latest release from BOOM! Studios' eponymous imprint, home to a world-class group of licensed comic book series and ambitious original series, including Joss Whedon's Firefly and Buffy The Vampire Slayer, Lev Grossman's The Magicians, Mighty Morphin Power Rangers, Planet of the Apes,Abbott, Mech Cadet Yu, Grass Kings, and Klaus.
"Greg and Giannis have blended iconic elements of the samurai genre with supernatural horror to explore the best and worst instincts of human nature." said Cameron Chittock, Editor, BOOM! Studios. "They've crafted an ambitious story, filled with stunning action set pieces as our two young heroes grapple with what they believe in the face of an unthinkable war."
Print copies of RONIN ISLAND #1 will be available for sale on March 6, 2019 exclusively at local comic book shops (use comicshoplocator.com to find the nearest one) or at the BOOM! Studios webstore. Digital copies can be purchased from content providers like comiXology, iBooks, Google Play, and the BOOM! Studios app.
For continuing news on RONIN ISLAND and more from BOOM! Studios, stay tuned to www.boom-studios.com and follow @boomstudios on Twitter.