"…an early contender for 2019 standout" – Paste Magazine
BOOM! Studios announced today that RONIN ISLAND, the critically acclaimed new series from the team of writer Greg Pak (Firefly, Star Wars) and artist Giannis Milonogiannis (Robotech, Old City Blues), has earned a full series order of twelve issues due to the overwhelming early support from retailers and fans, which led to an immediate sell out of the debut issue.
RONIN ISLAND, originally announced as a five issue limited series, invites readers to a secret island where, after a mysterious attack devastates a great swath of 19th century Japan, Korea, and China, survivors from all three lands find refuge and form a new society. The island has endured generations of strife by hiding away from the larger world, but that's no longer an option when an army of mainland soldiers, led by General Sato, lands on their shores with a terrifying warning: their arrival heralds a deadly invasion of mutants, and brings with it an offer of safety that comes at a cost.
Now, islanders Hana and Kenichi must not only fight for their survival against the mutant hordes but also for their freedom under the rule of this new army — which is difficult to do when they disagree on exactly who should be in charge and how best to save their people.
As part of this full series order, RONIN ISLAND #1 SECOND PRINTING VARIANT will arrive in comic shops on April 24th, featuring a new cover by Milonogiannis to meet demand from fans and retailers alike.
Additionally, in July, BOOM! Studios will release a comic shop exclusive RONIN ISLAND VOL.1 DISCOVER NOW EDITION collecting the first four issues of the acclaimed all-new series with an exclusive cover. This edition will be available exclusively to comic shops for five months before any other edition is made available.
Then in December, a standard edition of RONIN ISLAND VOL.1, featuring a different cover and including additional behind-the-scenes material, will be released to comic shops and bookstores worldwide, with the same MSRP of $14.99. While the standard edition will remain in print, RONIN ISLAND VOL.1 DISCOVER NOW EDITION will be strictly limited to its initial print run and never reprinted.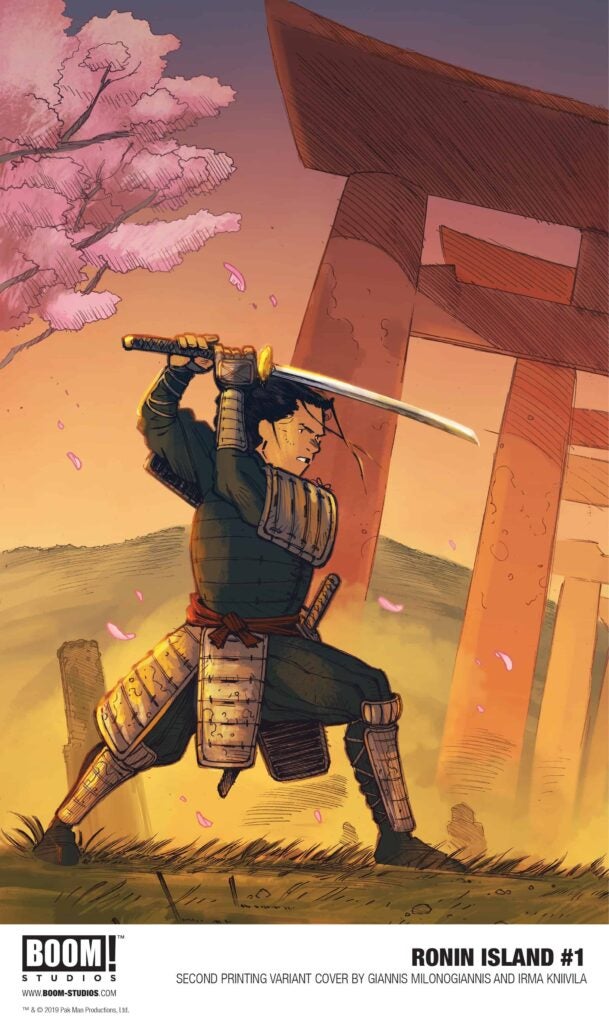 "I'm over the moon and so grateful to all the readers, retailers, and reviewers who have supported and spread the word about RONIN ISLAND," said writer Greg Pak. "This kind of thing only happens because of you — you're all our favorite! I'm particularly thrilled because as our brilliant art team started creating this world and making these characters come to life, I just didn't want to leave. Now we've got the real estate to explore this weird world even more and dig even deeper into the hearts of our heroes. It's a huge gift, and we're doing our very best to make the absolute most of it. Thank you!"
"I'm beyond excited to have twelve issues to explore the world of RONIN ISLAND," said artist Giannis Milonogiannis. "I've always loved telling longer stories, and this news has me daydreaming about the adventures our heroes will go on and the threats they'll face. Thanks to everyone who made this possible. I'm looking forward to all of us going on this journey together."
RONIN ISLAND is the newest release from BOOM! Studios' eponymous imprint, home to critically acclaimed original series including Abbott from Saladin Ahmed and Sami Kivelä; Bone Parish from Cullen Bunn and Jonas Scharf; Grass Kings from Matt Kindt and Tyler Jenkins; and Klaus from Grant Morrison and Dan Mora. The imprint is also home to popular licensed properties including Joss Whedon's Firefly from Greg Pak and Dan McDaid and Buffy The Vampire Slayer from Jordie Bellaire and Dan Mora.
"The world Greg, Giannis, Irma, and Simon have built with RONIN ISLAND is lush, deep, and ripe for further exploration, and we're all thrilled to be able to bring Hana & Kenichi's expanded adventures to readers," said Eric Harburn, Senior Editor, BOOM! Studios. "As we move into the story's second arc, expect more fantasy-tinged samurai drama, more mutant horde action, and more of the characters that have resonated so strongly with readers after just a single issue."
Print copies of RONIN ISLAND #1 may still be available at local comic book shops (use comicshoplocator.com to find the nearest one). Digital copies can be purchased from content providers, including comiXology, iBooks, Google Play, and the BOOM! Studios app.