Discover The Teen Victorian Fairy Fight Club from BOOM! Studios in October 2018
BOOM! Studios today unveiled a first look at SPARROWHAWK #1, the hotly-anticipated new five-issue limited series from acclaimed writer Delilah S. Dawson (Ladycastle, Star Wars: Forces of Destiny) and rising star artist Matias Basla (The Claw and Fang) debuting in stores on October 3rd.
Artemisia is the daughter of a Naval Captain born of two very different worlds and she's never fit in with her father's family, nor the high-class life to which they belong in the complicated time that is the Victorian Era of London, 1851. But Art's about to pulled into another realm with even deadlier threats courtesy of the Faerie Queen and now must find a way to save her home world that has always hated her.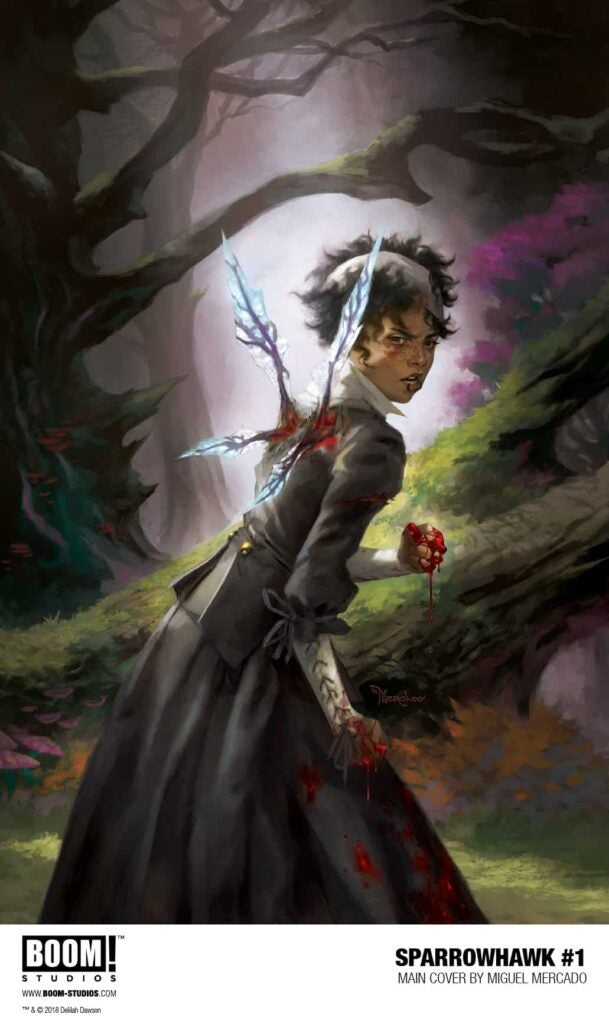 SPARROWHAWK #1 features a main cover by Miguel Mercado (Saban's Go Go Power Rangers) and a variant cover by Stephanie Hans (Star Wars).
"No matter how times change, one thing remains true – the world fears those who are different and makes it hard for them to feel like they ever have a home. But SPARROWHAWK explores another equally timeless truth – that those same people the world persecutes are often the ones who work the hardest to make it a better place," said Chris Rosa, Editor, BOOM! Studios. "This is a story about fighting back against the systems that seek to hold us down and the difference that one person can make…albeit with a whole lotta magic and whole lotta monsters!"
SPARROWHAWK is the latest release from BOOM! Studios' eponymous imprint, home to a world-class group of licensed comic book series and ambitious original series, including Mighty Morphin Power Rangers, WWE, Planet of the Apes, Big Trouble in Little China, Victor LaValle's Destroyer, Mech Cadet Yu, Grass Kings, and Klaus.
Print copies of SPARROWHAWK #1 will be available for sale in October 2018 at local comic book shops (use comicshoplocator.com to find the nearest one) or at the BOOM! Studios webstore. Digital copies can be purchased from content providers, including comiXology, iBooks, Google Play, and the BOOM! Studios app.