Step into an Afro-Futurist Adventure with All New Original Graphic Novel KUDZU: HEART OF THE MOUNTAIN from BOOM! Studios
Discover the Key to Saving Humanity and Living in Harmony with the World in July 2020
BOOM! Studios announced today KUDZU: HEART OF THE MOUNTAIN, a brand new original graphic novel from cartoonist Dustin Bolton, presents a stunning new vision of sci-fi and fantasy fused together in an unforgettable story about discovering your future by first understanding your past.
Years after a worldwide ecological disaster, a young boy named Kudzu uncovers his family history…which is tied to the terrible event that destroyed the world! But as he learns the truth, Kudzu is drawn into a clash of worlds that threatens all of mankind, but may also be the key to giving the planet a new start.
Dustin Alexander Bolton is an artist and writer from Memphis, TN. Bolton earned his Bachelor of Arts in Film and Animation from Rhode Island School of Design before beginning his professional career in Atlanta, GA. He forged his early career as an animator on several popular Adult Swim shows, including Harvey Birdman. Bolton's professional roles have since evolved through various advertising roles for major brands, including Disney, Warner Media, and AT&T. His debut graphic novel emerges from the high tech-fantasy in 80's pop culture and sci-fi films, the magical worlds crafted by Studio Ghibli's Hayao Miyazaki, and the rich cultural heritage of African American families across the American south.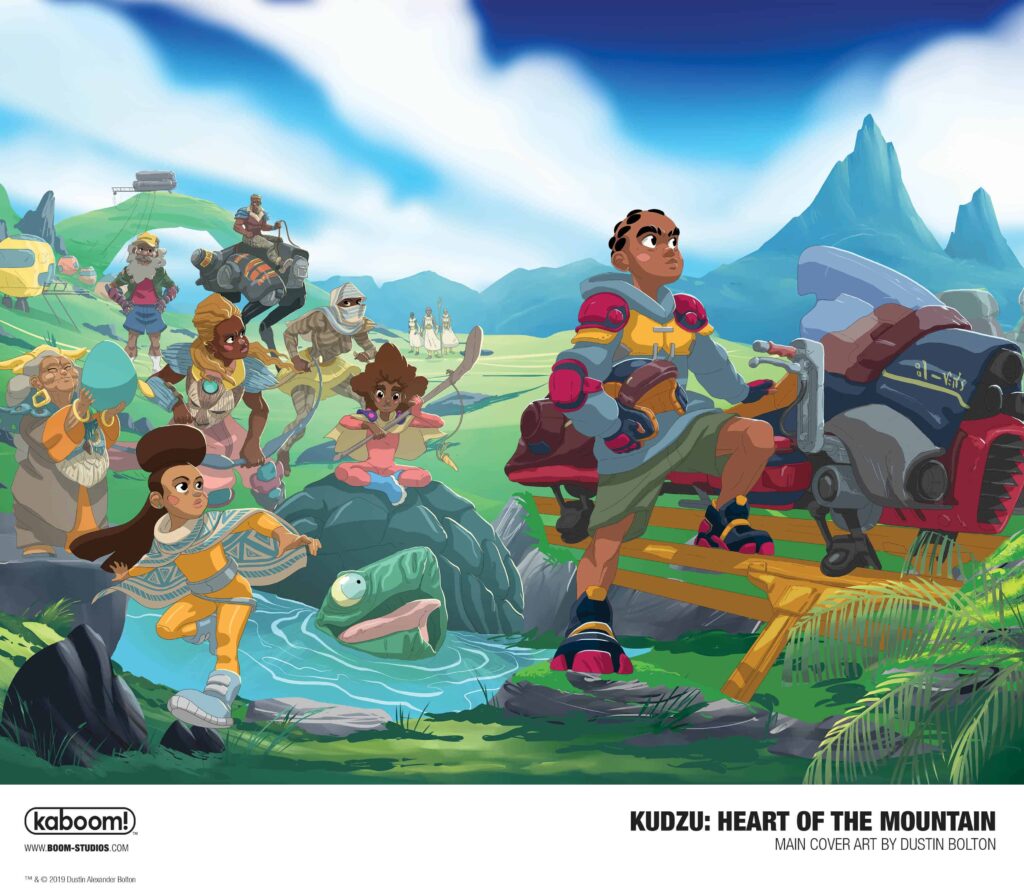 "I'm so excited to unveil the world of KUDZU with its mythic beasts, rusty mechs, and caverns full of a mysterious power called tama,"said cartoonist, Dustin Bolton. "I also can't wait for everyone to meet Kudzu, the boy who bonds with an ancient power to save his fragile homeland from the grips of a tyrant, and ultimately discovers the power that lies within himself.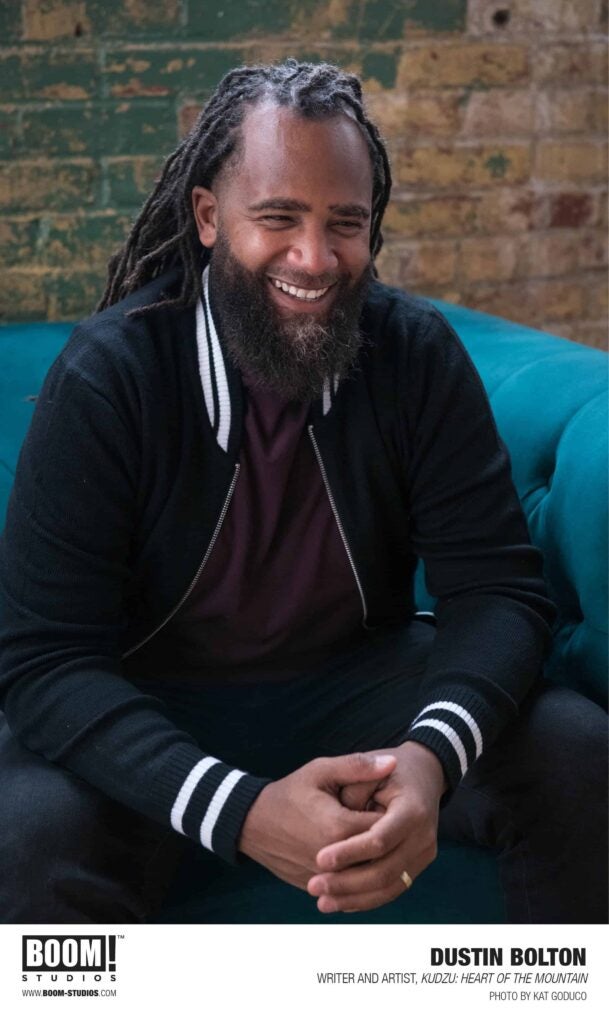 KUDZU: HEART OF THE MOUNTAIN is the latest release from BOOM! Studios' award-winning KaBOOM! imprint, home to comics for middle grade and younger readers including licensed series such as Adventure Time, Steven Universe, Regular Show, Ben 10, and Over The Garden Wall, along with original series like Just Beyond: The Scare School by R.L. Stine and Kelly & Nichole Matthews, Hex Vet by Sam Davies, RuinWorld by Derek Laufman, Hotel Dare by Terry Blas and Claudia Aguirre, and Pandora's Legacy by Kara Leopard and Kelly & Nichole Matthews.
"This is a truly excellent graphic novel for fans of adventure, science fiction, fantasy, and crazy heroics—so, a little bit of everything for everyone."said Chris Rosa, Editor, BOOM! Studios. "Dustin takes us on an adventure that spans across a magical world full of new discoveries, as well as new dangers, as young Kudzu and his friends set off to save the world."
Print copies of KUDZU: HEART OF THE MOUNTAIN will be available for sale in August 2020 at local comic book shops (use comicshoplocator.com to find the nearest one), bookstores, or at the BOOM! Studios webstore. Digital copies can be purchased from content providers, including comiXology, iBooks, Google Play, and Madefire.