A New Look at New York Times Best-Selling Author Roberto Saviano and Illustrator Asaf Hanuka's Graphic Memoir I'M STILL ALIVE
Discover The Shocking True Story of a Journalist's Mission to Expose and Survive the Mafia in October 2022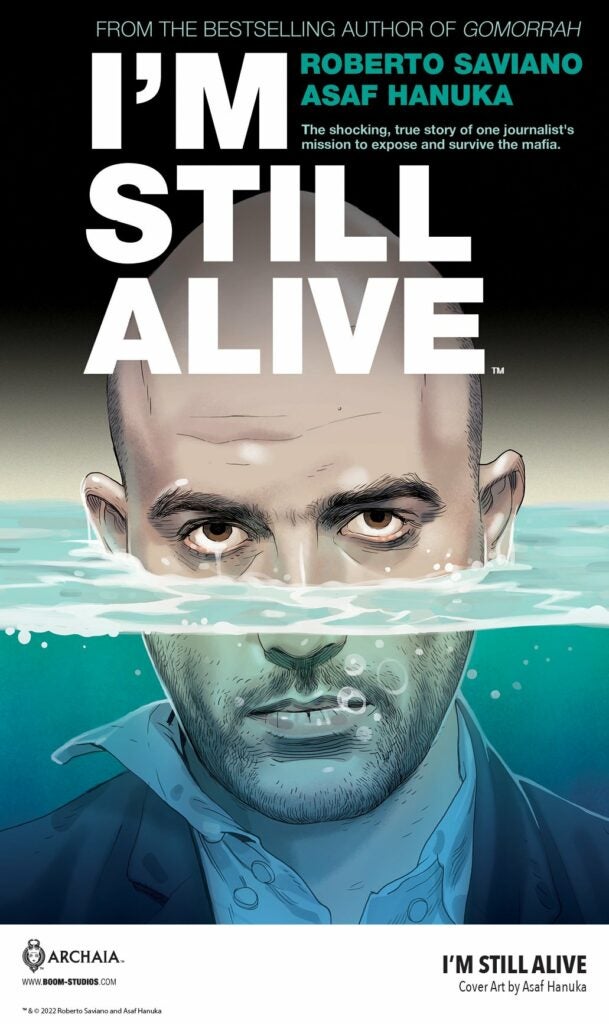 BOOM! Studios today revealed a new look at I'M STILL ALIVE, a new original graphic memoir from New York Times bestselling author Roberto Saviano (Gomorrah, ZeroZeroZero, The Piranhas) and Eisner Award-winning cartoonist Asaf Hanuka (The Realist, The Divine), detailing for the first time ever Saviano's personal account of his 15 year-long existence as the Italian mafia's greatest threat and his persistent will to survive, in stores October 2022.
When journalist Roberto Saviano wrote the groundbreaking international bestseller Gomorrah, he exposed the inner workings of the Naples mafia, resulting in real-world investigations into the corruption at the heart of the Camorra. But with the pursuit of justice and worldwide renown came violent death threats and the need for an isolated existence behind armed guards, which Saviano suffers to this day. Joined by award-winning cartoonist Asaf Hanuka, Saviano shares his deepest thoughts and experience of life in Naples, where he witnessed the power and violence of the mafia firsthand, as well as the unvarnished truth of his daily life after exposing the most ruthless and powerful criminal organizations of the 21st century.
I'M STILL ALIVE is the newest release from BOOM! Studios' award-winning Archaia imprint, home to inspiring graphic novels such as Slaughterhouse-Five by Kurt Vonnegut, Ryan North, and Albert Monteys; The Sacrifice of Darkness by Roxane Gay, Tracy Lynne-Oliver, and Rebecca Kirby; Big Black: Stand at Attica by Frank "Big Black" Smith, Jared Reinmuth, and Améziane; The Killer by Matz and Luc Jacamon; We Served the People by Emei Burell; New World by David Jesus Vignolli; Eighty Days by A.C. Esguerra; Better Angels: A Kate Warne Adventure by Jeff Jensen and George Schall; The Short While by Jeremy Sorese; About Betty's Boob by Vero Cazot and Julie Rocheleau; Flavor Girls by Loïc Locatelli-Kournwsky and licensed series including Sabaa Tahir's An Ember in the Ashes; Lev Grossman's The Magicians; and Jim Henson's The Dark Crystal: Age of Resistance, The Storyteller, and Labyrinth. 
Print copies of I'M STILL ALIVE will be available for sale on October 5, 2022 at local comic book shops (use comicshoplocator.com to find the nearest one) and October 11, 2022 at bookstores everywhere. Digital copies can be purchased from content providers, including comiXology, iBooks, Google Play, and Kindle.