Discover a Deeply Personal Story About the Magic of Learning to Accept and Love Yourself in April 2020
BOOM! Studios today announced a brand new original graphic novel, based on the successful Kickstarter campaign, from the creative duo of cartoonist Sweeney Boo (Love Is Love) and co-writer Lylian (Ellana), EAT, AND LOVE YOURSELF, about a young woman who struggles with society's image of her body and personhood then finds a magical item that takes her on an incredible journey of self-discovery and self-acceptance, available in stores April 2020.
Mindy is a young woman living with an eating disorder and trapped in a battle for her own self-worth. When she accidentally discovers something that will give her a chance to revisit her past—the relationships she's lost, the mistakes she's made, all of it— she thinks she has a chance to undo every wrong turn, to put her life back on track. But will she be able to find a way back to her present, and just as important, a way to treat herself with love and kindness, at any size?
Sweeney Boo is a comic artist and illustrator living in Montreal, Canada. She started working as a comic letterer and colorist for French publishers right after graduation, while pursuing her dream of being a comic artist. She made her comic debut during the summer 2016 when she created a cover and a short story for Image Comics' Rat Queens. In 2017, she worked on the costume designs of America Chavez, Inferno, and Patriot for the show "Marvel Rising," combining two of her favorite things, fashion and superheroes. Boo now does work for various publishers including BOOM! Studios, Archie Comics, IDW, Marvel, and Image Comics.
"Working on EAT, AND LOVE YOURSELF is a true healing experience for me. I suffered from an eating disorder in my early twenties, and while I was working on myself and getting better, I discovered how taboo and difficult of a subject it was to talk about." said writer and artist, Sweeney Boo. "This book is for everyone who has a difficult relationship with their body, or just themselves… I want to show everyone that they're beautiful the way they are."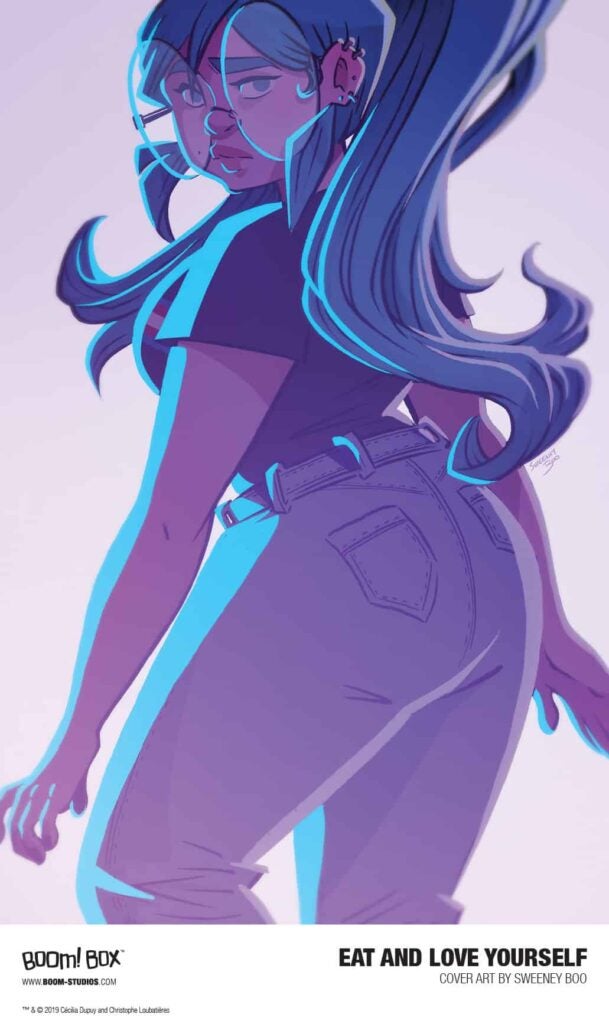 Lylian is a comic book writer from France. In 2004, Les Humanoids Associés published his first book, L'Éveil du Kurran, designed by Dune and co-written by Nori. In 2010, Lylian adapted novelist Pierre Bottero's The Quest of Ewilan whose first book is published in the Éditions Glénat in 2013. Passionate about comic books, literature, psychology and cinema, Lylian currently writes several comic book series, adaptations, and original stories that highlight his interest in psychology.
"Working on EAT, AND LOVE YOURSELF is first and foremost a human, sincere, profound encounter with Sweeney Boo, who has been carrying this story for years." said artist, Lylian. "I am honored to be a part of this book that holds such personal meaning for Sweeney."
EAT, AND LOVE YOURSELF is the latest release from BOOM! Studios' award-winning BOOM! Box imprint, home to groundbreaking original series such as Lumberjanes by Shannon Watters, Grace Ellis, Brooklyn Allen, and Noelle Stevenson; Giant Days by John Allison, Lissa Treiman, and Max Sarin; The Avant-Guards by Carly Usdin and Noah Hayes; Misfit City by Kiwi Smith, Kurt Lustgarten, and Naomi Franquiz; Fence by C.S. Pacat and Johanna The Mad; and Goldie Vance by Hope Larson and Brittney Williams.
"EAT, AND LOVE YOURSELF is a timely and deeply personal story about battling society's expectations and learning to unpack all the toxicity of impossible standards," said Shannon Watters, Senior Editor, BOOM! Studios. "Sweeney and Lylian bring Sweeney's own experiences to life in a story that's magical, moving, and a triumph for people everywhere who fight every day to love who they are."
Print copies of EAT, AND LOVE YOURSELF will be available for sale in April 2020 at local comic book shops (use comicshoplocator.com to find the nearest one), bookstores or at the BOOM! Studios webstore. Digital copies can be purchased from content providers, including comiXology, iBooks, Google Play, and the BOOM! Studios app.