The Amory Wars Returns with BOOM!'s First BOOM! Direct Reserve Campaign On BackerKit
Coheed and Cambria's Claudio Sanchez, Evil Ink Comics, and BOOM! Studios Announce Final 12-Issue Chapter of The Amory Wars Saga
BOOM! Studios, in partnership with Evil Ink Comics, celebrate the return of The Amory Wars to comics with the newest BOOM! Direct Reserve Campaign: THE AMORY WARS Returns With NO WORLD FOR TOMORROW.
It's been over five years since creator Claudio Sanchez, along with co-writer and wife Chondra Echert, last unleashed a new THE AMORY WARS comic series on the legions of fans of Sanchez's band, Coheed and Cambria. THE AMORY WARS, the companion graphic fiction series that accompany Coheed and Cambria's wildly popular concept albums, is also entering its 20th year of publishing in 2024. Sanchez's Evil Ink Comics and longtime publishing partner BOOM! Studios proudly present a direct-to-consumer BOOM! Direct Reserve campaign in celebration of this new series and landmark year in THE AMORY WARS history!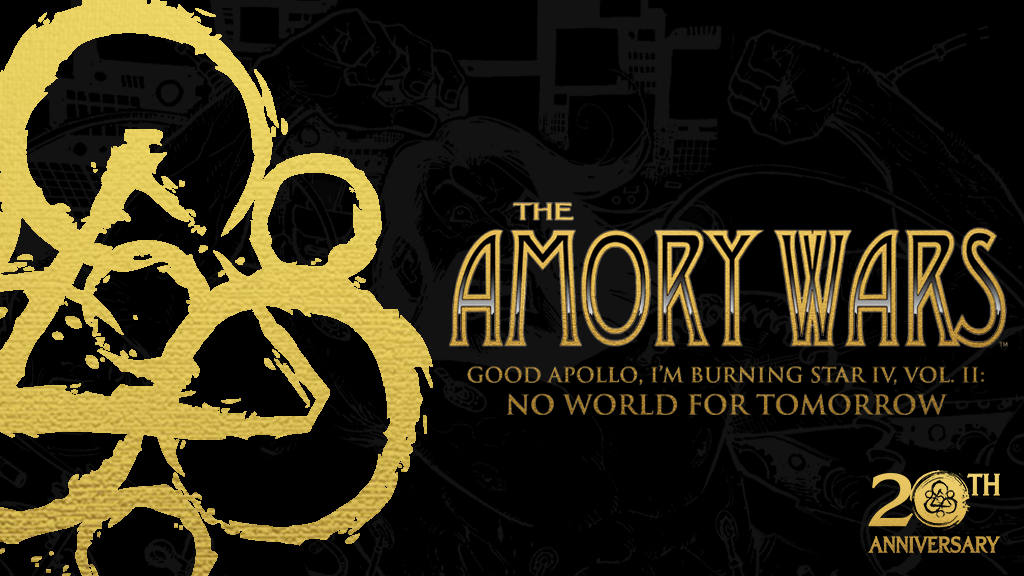 At the core of this BOOM! Direct Reserve Campaign is the launch of the new 12-issue series THE AMORY WARS: NO WORLD FOR TOMORROW, which fans can reserve in either 12-single issues or 3 collected editions, both of which will have unique and increasingly rare 20th Anniversary cover design and treatments as they go up in tiers.
Additional items exclusive to the campaign include a 20th Anniversary commemorative print by Riccardo Latina (Two Moons), an exclusive collectible metal poster, one-of-a-kind exclusive remarqued sketch cover editions, and additional limited edition items which can be unlocked through the campaign's Stretch Goals!
This BOOM! Direct Reserve Campaign also marks the publisher's first on the BackerKit platform, which launched in June 2022. BackerKit has long been a trusted back-end and marketing partner for campaigns on other platforms, including for all of BOOM! Studios' campaigns since 2022. BOOM! Studios is the first major comic book publisher to launch a campaign on the new platform.
"I've been living with this story for some time knowing its secrets and twists, and I'm beyond thrilled that they're finally going to be revealed…" said Coheed and Cambria frontman and The Amory Wars author, Claudio Sanchez.
"Anyone who has ever attended a Coheed and Cambria concert knows what an incredibly passionate and dedicated audience the band has cultivated through their incredible storytelling and music," said BOOM! Studios' President of Publishing & Marketing, Filip Sablik, "We are beyond thrilled to continue our long partnership with Evil Ink to bring fans the long-awaited final chapter of Claudio's The Amory Wars just in time for the series' landmark 20th anniversary!"
THE AMORY WARS Returns With NO WORLD FOR TOMORROW is live on BackerKit beginning 11:00 am PST Tuesday, November 7th and will continue for the next 30 days.