THE AVANT-GUARDS All New Original Graphic Novel Arrives From BOOM! Studios in 2020
Discover Team Spirit with Everyone's Favorite Group of Art School Basketball Champions in September 2020
BOOM! Studios is proud to announce the THE AVANT-GUARDS original graphic novel, concluding the story of the beloved group of misfit art students who band together to play for their school's first ever basketball team. The brand new original graphic novel, picking up after issue eight and available in stores September 2020, reunites the acclaimed team of filmmaker and writer Carly Usdin (Heavy Vinyl) and artist Noah Hayes (Wet Hot American Summer) for a brand-new adventure with their team of unlikely athletes brought together by friendship and sports shenanigans.
"I'm so excited that Noah and I get to finish telling the story of our beloved Avant-Guards. The stakes couldn't be higher — they're fighting for the championship AND the future of the league," said writer Carly Usdin. "The final installment will include teamwork, romance, lots of surprises and a dunk or two!"
THE AVANT-GUARDS graphic novel cover will feature art by series artist Noah Hayes.
"My favorite thing about the Avant-Guards is how unique all of them are- they each have their own special set of quirks and interests that materialized so quickly for me. I, of all people, should be aware that they're merely drawings, but part of me feels like Jay or Nicole (or any of them!) could totally be real friends that I have." said artist Noah Hayes.
THE AVANT-GUARDS is the latest release from BOOM! Studios' award-winning BOOM! Box imprint, home to groundbreaking original series such as Lumberjanes by Shannon Watters, Grace Ellis, Brooklyn Allen, and Noelle Stevenson; Giant Days by John Allison, Lissa Treiman, and Max Sarin; Heavy Vinyl by Carly Usdin and Nina Vakueva; Misfit City by Kirsten 'Kiwi' Smith, Kurt Lustgarten, and Naomi Franquiz; Fence by C.S. Pacat and Johanna The Mad; and Goldie Vance by Hope Larson and Brittney Williams.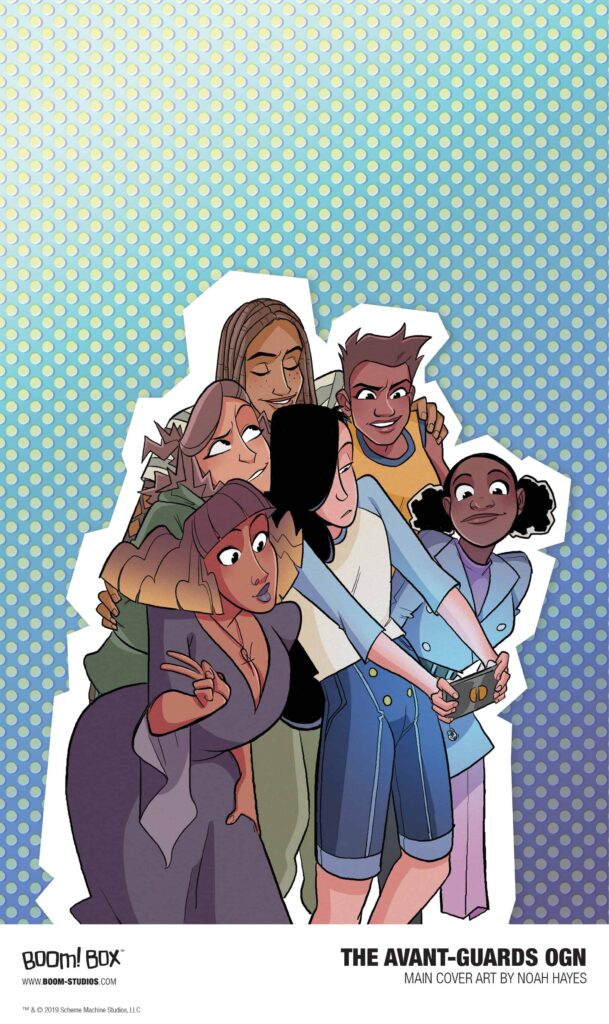 "It's been an absolute joy working with the dream team of writer Carly Usdin and artist Noah Hayes, so we can't wait to tell the rest of the Avant-Guards story in graphic novel form," said Shannon Watters, Senior Editor, BOOM! Studios. "Fans will get plenty of drama, romance, and competition as this team of misfit students continue to pursue love and basketball at their historic women's art college."
Print copies of THE AVANT-GUARDS graphic novel will be available in September 2020 at local comic book shops (use comicshoplocator.com to find the nearest one), bookstores, or at the BOOM! Studios webstore. Digital copies can be purchased from content providers, including comiXology, iBooks, Google Play, and the BOOM! Studios app.