BOOM! Rewards Fans (and Librarians!) with THE COMPLETE GIANT DAYS LIBRARY
John Allison's Eisner Award-Winning Comic Sensation Debuts New Hardcover Format First on Kickstarter…with Hundreds of Free Copies for Libraries, Too!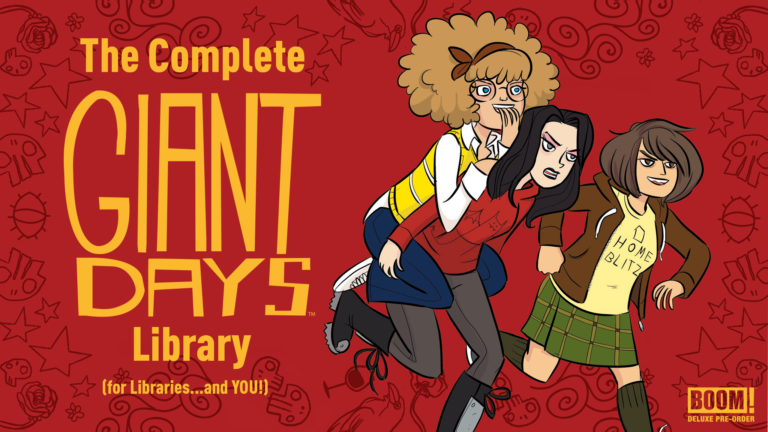 BOOM! Studios loves libraries, and the feeling is mutual… especially when it comes to GIANT DAYS, the multiple Eisner Award-winning series from creator John Allison (Wicked Things) and a rotating cast of acclaimed cartoonists, including Ruben Award-winner Max Sarin (Harley Quinn: The Eat Bang! Kill Tour), Disney animator Lissa Treiman (Wreck-It-Ralph), and more!
Beginning today on Kickstarter, BOOM! is proud to present THE COMPLETE GIANT DAYS LIBRARY – debuting a bigger, better, more resilient format for the complete GIANT DAYS series in hardcover for the very first time, along with a bevy of premium, limited-edition merchandise only available as part of the latest BOOM! DELUXE PRE-ORDER campaign!
How does something this awesome get even better, you say? As THE COMPLETE GIANT DAYS LIBRARY ratchets into high gear over the next 20 days with a series of escalating Stretch Goals, BOOM! Studios will be giving away hundreds upon hundreds of copies of brand-new GIANT DAYS LIBRARY EDITION VOL. 1 hardcovers to libraries across North America.
Any librarian wishing to participate can visit the campaign page here [URL] to get information, sign up, and find out how their library can qualify to participate in the giveaway. Better yet: Any campaign backer can add an extra $5 donation to their COMPLETE GIANT DAYS LIBRARY pre-order to add another free volume to the giveaway queue for a graphic novel-loving library!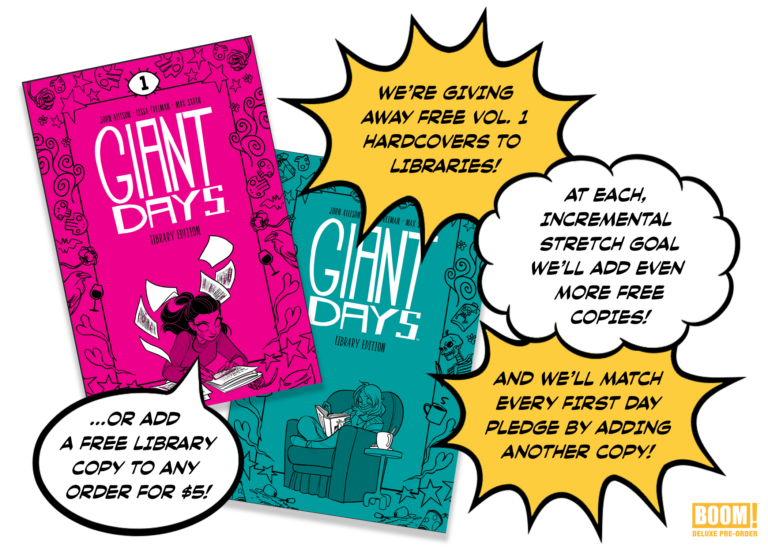 Why? Because librarians and their patrons really, really love GIANT DAYS. So much so, that in the three years since the series completed its final chapter, they literally can't keep GIANT DAYS on shelves – because the trade paperback collections have been checked out so many times, they're in figurative tatters.
That's where this BOOM! DELUXE PRE-ORDER campaign comes in: To remedy this problem, BOOM! Studios is collecting every page of the historic, award-winning GIANT DAYS in a new LIBRARY EDITION format – winsome, shelf-sturdy, deluxe hardcover tomes that'll package the whole series together in totality across seven volumes for the very first time.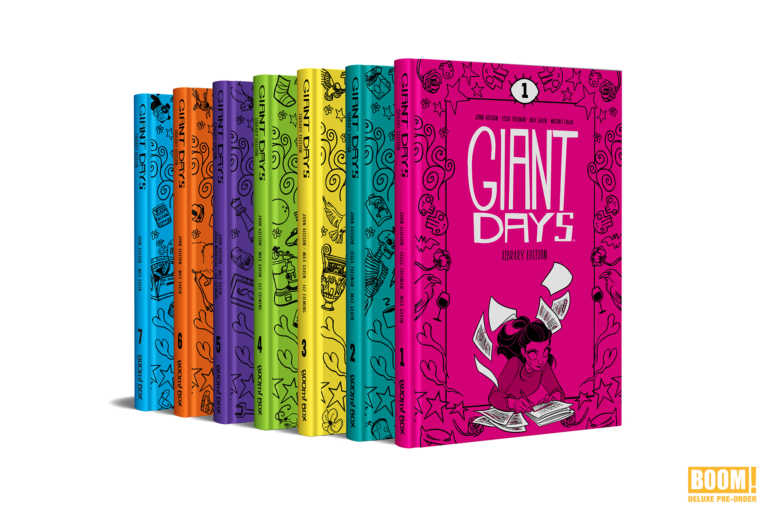 Birthed from the mind of webcomic pioneer and multiple Eisner Award-winner John Allison, GIANT DAYS first came to BOOM! Studios in 2015, where it would soon become one of the foundational titles behind the BOOM! Box imprint alongside LUMBERJANES…before quickly finding an adoring audience all its own, as it chronicled the lives, loves, and rivalries of three new friends: Susan, Esther, and Daisy, from their freshman year at a respectable English university through their graduation day with an ever-expanding cast of friends and unforgettable oddballs along the way.
Collecting every single issue of the GIANT DAYS ongoing series, all of its oversized specials, and each installment of Allison's original webcomic into seven, newly redesigned, full-color, 6.625″ x 10.1875 hardcover editions, THE COMPLETE GIANT DAYS LIBRARY is the most deluxe edition of this beloved series ever produced.
And there's more! Exclusively on Kickstarter, BOOM! Studios is excited to finally offer the complete set of limited-edition NOT ON THE TEST editions, completing the line of clothbound GIANT DAYS hardcovers originally introduced in 2017! Additionally, signed & numbered editions, featuring signatures by series creator John Allison and artist Max Sarin; merchandise, including foil-stamped art prints, high-quality enamel pins, GIANT DAYS football scarves, ruled journals; brand-new variant comics; collector's box sets; and so much more are available for pre-order through the Kickstarter campaign!

The GIANT DAYS LIBRARY EDITIONS are the latest release from BOOM! Studios' award-winning BOOM! Box imprint, home to groundbreaking original series such as Lumberjanes by Shannon Watters, Grace Ellis, ND Stevenson, and Gus Allen; Juliet Takes a Breath by Gabby Rivera and Celia Moscote; Buckhead by Shobo and George Kambadais; Mamo by Sas Milledge; Save Yourself! by Bones Leopard and Kelly and Nichole Matthews; Specter Inspectors by Bowen McCurdy and Kaitlyn Musto; The Last Witch by Conor McCreery and V.V. Glass; Ghosted in LA by Sina Grace and Siobhan Keenan; The Avant-Guards by Carly Usdin and Noah Hayes; Fence by C.S. Pacat and Johanna the Mad; Goldie Vance by Hope Larson and Brittney Williams; Misfit City by Kirsten 'Kiwi' Smith, Kurt Lustgarten, and Naomi Franquiz; and educational series Seen: True Stories of Marginalized Trailblazers.
---