THE EXPANSE Arrives on Kickstarter Today as a BOOM! DELUXE PRE-ORDER Campaign
Pre-order the new comic book series continuing the saga beyond Season 6's finale!
The epic, immersive universe of THE EXPANSE has captured the imaginations of science fiction fans around the globe for over a decade – first in the Hugo and Dragon Award winning novel series and then in a critically acclaimed, Hugo and Saturn Award winning television series (now streaming on Amazon Prime) – instantly entering the highest echelon of genre-defining sci-fi. But there is one chapter of THE EXPANSE saga that has never been chronicled or revealed… until now!
Under the direct supervision and creative guidance of THE EXPANSE creator James S.A. Corey, superstar writer Andy Diggle (The Losers, Green Arrow: Year One) and rising star artist Rubine (Voltron: Legendary Defender) bring you, THE EXPANSE: DRAGON TOOTH, the first new story since the stunning finale episode of THE EXPANSE Season 6 which will finally reveal the hidden history between Babylon's Ashes (Book 6) and Persepolis Rising (Book 7).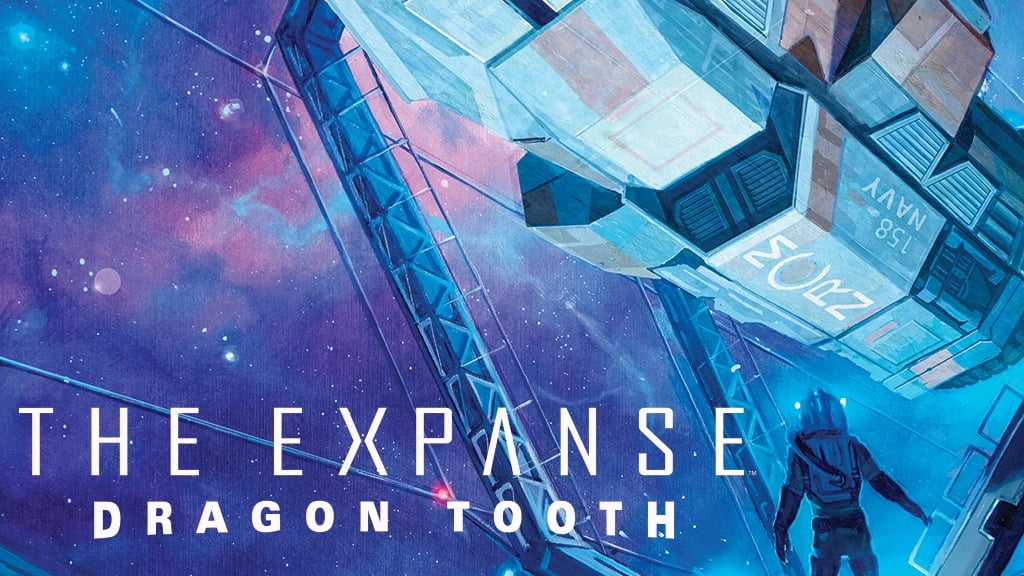 Beginning today on Kickstarter, BOOM! Studios is proud to present THE EXPANSE: DRAGON TOOTH DELUXE PRE-ORDER CAMPAIGN – giving fans the opportunity to experience the full epic, either as 12 individual comic book issues or through a trilogy of collected editions, with each volume collecting a distinctive chapter of the overall story.
The single issues available exclusively in this BOOM! DELUXE PRE-ORDER CAMPAIGN will feature a deluxe format with premium cardstock covers, each with spot varnish enhancement and showcasing a brand new variant cover by Hugo Award-winning illustrator (and THE EXPANSE superfan) Jamie McKelvie! McKelvie is best known for co-creating and illustrating the Eisner Award-nominated series, The Wicked + The Divine, and his iconic character designs for Captain Marvel, Ms. Marvel, and Loki which have been depicted in the Marvel Cinematic Universe.
Fans can also pre-order the entire set of the collected editions, with hardcovers featuring variant cover art by the iconic illustrator Miguel Mercado, exclusive to this BOOM! DELUXE PRE-ORDER CAMPAIGN. Mercado is best known for his stunning cover illustrations on series including Magic, Mighty Morphin Power Rangers, and Ice Cream Man.
Also exclusive to the BOOM! DELUXE PRE-ORDER CAMPAIGN are four metal box sets, each bearing the insignia of a different iconic group from THE EXPANSE universe (Inner, Belter, Protogen, and Rocinante). These highly limited edition collectible packages will include ultra-premium, exclusive items and merchandise including editions signed by Andy Diggle and James S.A. Corey, variant covers that will never be available anywhere else, a framable star map of the Sol System including sites of key events, and a ultra-limited, show authentic prop replica of THE EXPANSE hand terminal.
The ultra-limited "Rocinante" tier will also give 25 superfans the opportunity to join the BOOM! ELITE program and gain access to an exclusive virtual Q&A event with special guests to be announced.
All pre-orders of the physical tiers of this BOOM! DELUXE PRE-ORDER CAMPAIGN made in the first 24 hours will automatically receive an exclusive Rocinante Challenge Coin as a Day One Bonus!
THE EXPANSE: DRAGON TOOTH DELUXE PRE-ORDER CAMPAIGN will continue for 30 days, with special surprises and hidden stretch goals to be announced all month long.
THE EXPANSE is the newest release from BOOM! Studios' eponymous imprint, home to critically acclaimed original series, including BRZRKR by Keanu Reeves, Matt Kindt, and Ron Garney; Something is Killing the Children by James Tynion IV and Werther Dell'Edera; Once & Future by Kieron Gillen and Dan Mora; Eve by Victor LaValle and Jo Mi-Gyeong; The Many Deaths of Laila Starr by Ram V and Filipe Andrade; Wynd by James Tynion IV and Michael Dialynas; Grim by Stephanie Phillips and Flaviano; Briar by Christopher Cantwell and Germán García; Stuff of Nightmares by R.L. Stine and A.L. Kaplan; The Approach by Jeremy Haun, Jason A. Hurley, and Jesus Hervas; Damn Them All by Simon Spurrier and Charlie Adlard; Behold, Behemoth by Tate Brombal and Nick Robles; Specs by David M. Booher and Chris Shehan; Once Upon a Time at the End of the World by Jason Aaron, Alexandre Tefenkgi, Leila del Duca, and Nick Dragotta; Know Your Station by Sarah Gailey and Liana Kangas; A Vicious Circle by Mattson Tomlin and Lee Bermejo; Mosely by Rob Guillory and Sam Lotfi; and the upcoming Harrower by Justin Jordan and Brahm Revel; and The Neighbors by Jude Ellison S. Doyle and Letizia Cadonici. The imprint also publishes popular licensed properties, including Dune: House Harkonnen from Brian Herbert, Kevin J. Anderson, and Michael Shelfer; Mighty Morphin Power Rangers from Melissa Flores and Simona Di Gianfelice; and Magic from Jed McKay, Rich Douek, and Ig Guara.