BOOM! Studios announces an all-new story by franchise creator
James S. A. Corey
LOS ANGELES, CALIF. (September 20, 2017) – BOOM! Studios and Alcon Entertainment are excited to announce THE EXPANSE: ORIGINS original graphic novel (OGN), arriving in comic shops and bookstores in February 2018. This softcover features an all-new story by The Expanse creator and The New York Times bestselling author James S. A. Corey that officially ties into both the worlds of the hit novels and acclaimed television series on Syfy, with a spotlight on fan-favorite character Detective Miller (portrayed by Thomas Jane). Additionally, an edition of THE EXPANSE: ORIGINS OGN containing 16 extra pages of bonus material, including a writers' commentary and process art, will be available exclusively at Barnes & Noble.
THE EXPANSE: ORIGINS OGN also collects the digital-first, four-issue eponymous limited series, written by The Expanse television series writers Hallie Lambert and Georgia Lee, and illustrated by Huang Danlan (Venus), in print for the first time. This collection also officially ties into The Expanse canon and reveals the untold stories of James Holden (played by Steven Strait), Naomi Nagata (Dominique Tipper), Alex Kamal (Cas Anvar), and Amos Burton (Wes Chatham), the crew who commandeered the Martian navy vessel known as the Rocinante.
"We wanted to take a peek at who our beloved crew was before the Rocinante," says Lee. "The show hints that each has painful secrets. ORIGINS gives us clues as to what those might be, and why our heroes ultimately find home in each other."
"Writing comics exercises different creative muscles than writing for television," says Lambert. "I grew up reading and loving comics and graphic novels, but having this opportunity to write them has given me a whole new perspective and appreciation for the art form."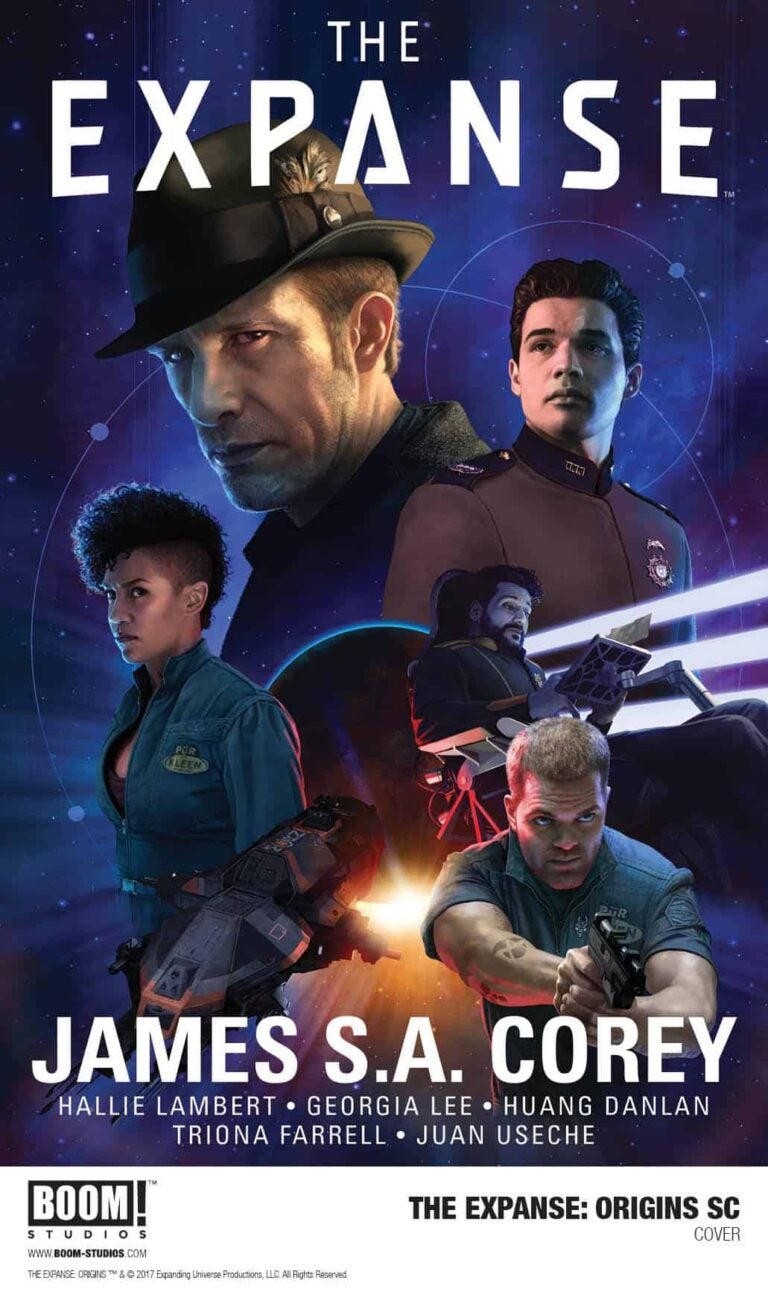 THE EXPANSE: ORIGINS OGN is the latest release from BOOM! Studios' eponymous imprint, home to a diverse group of original and licensed comic book series, including The Woods by James Tynion IV and Michael Dialynas, Klaus by Grant Morrison and Dan Mora, Grass Kings by Matt Kindt and Tyler Jenkins, Mighty Morphin Power Rangers, WWE, Big Trouble in Little China, and Planet of the Apes.
"Working with James S. A. Corey and the rest of the team to create meaningful new stories in the world of THE EXPANSE: ORIGINS was a thrill and privilege," says Cameron Chittock, series editor at BOOM! Studios. "I can't wait for fans to see what they've uncovered, particularly for everyone's favorite detective."
THE EXPANSE: ORIGINS OGN features a cover by The Rahzzah (Marvel's Luke Cage) and will be available for sale in February 2018 at local comic book shops (to find a shop near you, visit comicshoplocator.com); booksellers including Amazon, Barnes & Noble, and Books-A-Million; or through the BOOM! Studios webstore. Digital copies can be purchased from content providers including comiXology, iBooks, Google Play, and the BOOM! Studios app. The edition with bonus material will be available exclusively at Barnes & Noble.
For continuing news on THE EXPANSE: ORIGINS OGN and more from BOOM! Studios, visit www.boom-studios.com and follow @boomstudios on Twitter.
Visit www.syfy.com for more information on The Expanse television series and to catch up on recent episodes.