BOOM! Studios today revealed a first look at THE MAGICIANS: ALICE'S STORY, an all-new original graphic novel hardcover set in the world of the acclaimed book trilogy by Lev Grossman, from writer Lilah Sturges(Lumberjanes: The Infernal Compass, Jack of Fables), rising star artist Pius Bak and featuring a cover by Steve Morris (Buffy The Vampire Slayer).
THE MAGICIANS is an award-winning, New York Times bestselling adult fantasy novel series created by Lev Grossman, which has become a worldwide pop culture phenomenon and inspired a hit television series on Syfy, whose fourth season will premiere later this year. Originally published in 2009, The Magicians introduced readers to Brakebills College for Magical Pedagogy, which boasts a prestigious and dangerously difficult curriculum, famous and infamous alumni, and a record of only… a few deaths per graduating class.
Debuting in July 2019, THE MAGICIANS: ALICE'S STORY expands the mythology ofThe Magicians, the first novel in the series trilogy, through the perspective of the character Alice Quinn before she joins Brakebills and embarks on an epic journey into the magical land of Fillory.
Alice is a brilliant and naturally talented magician who grew up fully aware of the hidden world of magic but whose well-versed parents refused to teach her how to make use of it. So what is an insanely gifted young genius with no guidance or encouragement to do except teach herself? Which is how she winds up a top student at Brakebills College. Alice is at first meek and cripplingly shy until she breaks out of her shell to face deadly magical creatures, devastating heartbreak, and the hard lessons of a magical world where even well-intentioned actions can have brutal and deadly consequences.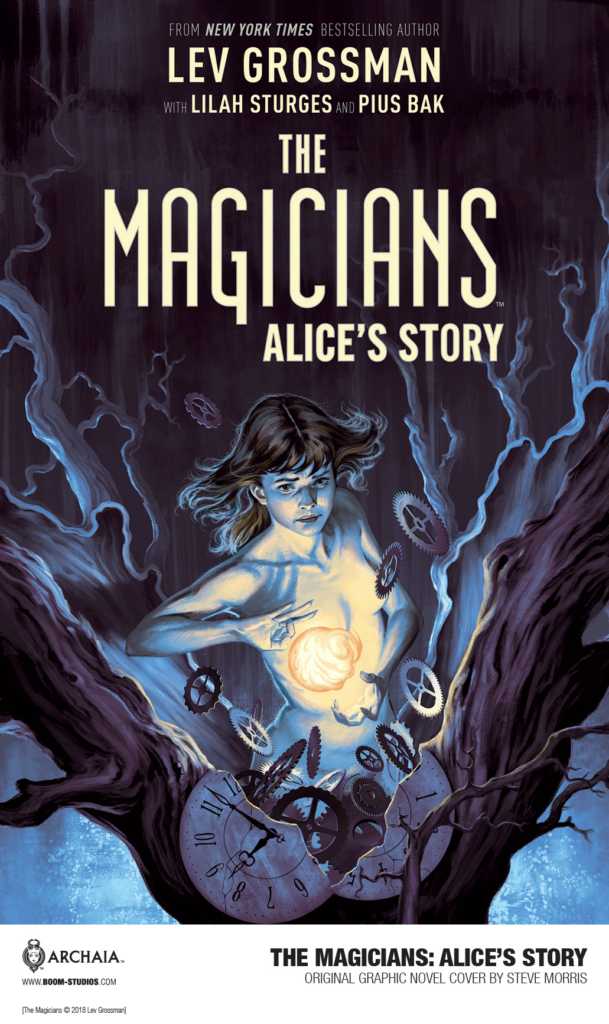 "Lilah and Pius peer into the events of The Magicians through the eyes of one of it's most intriguing and ultimately heroic characters, which opens up new secrets and hidden facets to the already hidden world of magic placed right beside our own." said Sierra Hahn, Executive Editor, BOOM! Studios. "The Alice Quinn we meet at Brakebills is a young woman forged by loss and isolation but there's no mistaking the strength of will and power at the core of this fan favorite character who eventually goes on to become the most surprising protagonist in the whole series."
Eisner Award-nominated writer Lilah Sturges will be in attendance as a guest of BOOM! Studios at ALA Midwinter 2019 in Seattle, Washington. She will be available for signings both Saturday and Sunday, 1/26-1/28, as well as a guest on the BOOM! Studios: Discover Yours panel on Monday, 1/28, where she will join some of the most acclaimed voices in graphic fiction today for a discussion on the diverse, award-winning imprints of BOOM! Studios, Archaia, BOOM! Box and KaBOOM!.
THE MAGICIANS: ALICE'S STORY is the latest release from BOOM! Studios' ambitious Archaia imprint, home to graphic novels such as Mouse Guard by David Petersen; New World by David Jesus Vignolli; Jane by Aline Brosh McKenna and Ramón Pérez; About Betty's Boob by Vero Cazot and Julie Rocheleau; and licensed series like Jim Henson's The Power of the Dark Crystal and Jim Henson's Labyrinth: Coronation.
Print copies of THE MAGICIANS: ALICE'S STORY will be available for sale on July 10, 2019 at local comic book shops (use comicshoplocator.com to find the nearest one), July 16th at bookstores, and at the BOOM! Studios webstore. Digital copies can be purchased from content providers, including comiXology, iBooks, Google Play, and the BOOM! Studios app.
WHERE TO BUY:
Check out a list of dedicated retail partners carrying the BOOM! books you love HERE.
To find these and other comic shops near you, enter your zip code below: