Discover the Terrifying Horrors Waiting Just Out of Sight in December 2019
BOOM! Studios is proud to announce THE RED MOTHER, an all-new original comic book series from acclaimed writer Jeremy Haun (The Beauty, The Realm) and artist Danny Luckert (Regression) about a young woman who survives a tragedy, only to be cursed with the ability to see the dangers that hide in plain sight and forced to deal with the terrible consequences.
There are dark things just beyond this reality. Horrors that we cannot quite see. Things wanting to get in. After losing her eye and the man she loves during a brutal attack in an alley, Daisy McDonough is left trying to put the pieces of her life back together. Just when she thinks she can start the process of healing and moving on, she begins to see strange things through her new prosthetic eye.
She can see the Red Mother. And the Red Mother can see her right back!
THE RED MOTHER #1 features a main cover illustrated by series writer Jeremy Haun and a variant cover by series artist Danny Luckert.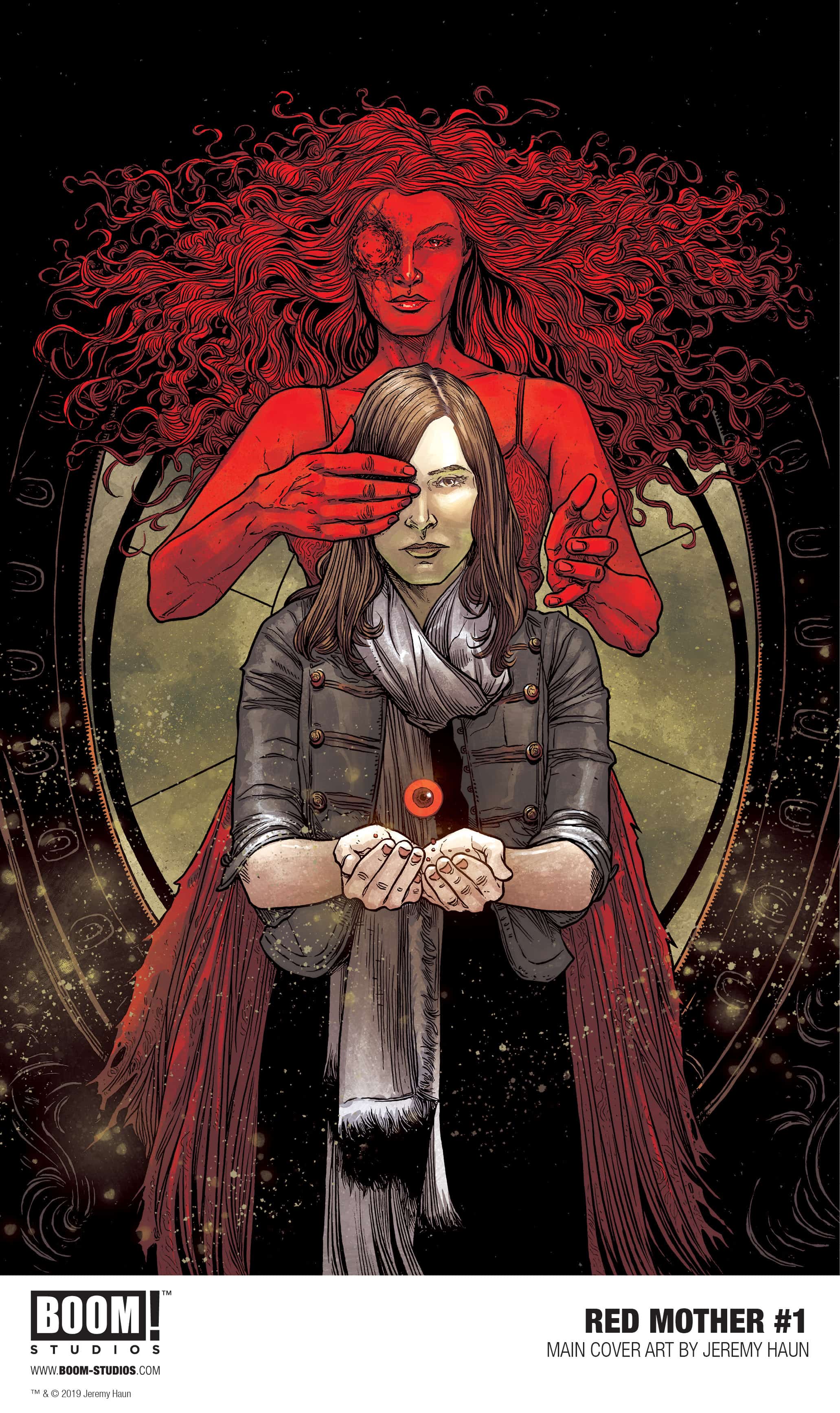 Jeremy Haun is the creator and artist for The Realm from Image Comics. He is also the writer and occasional artist for acclaimed series The Beauty from Image Comics. Haun has worked on Batwoman, Constantine, and Wolf Moon with DC Comics, RWBY with Viz Media, Iron Man: Civil War with Marvel Comics, The Darkness with Top Cow and more.
"I've worked in nearly every genre out there–fantasy, sci-fi, superhero, crime. Somehow I keep coming back to horror. I love telling horror stories in comics. It works differently than just about any other medium. There are no jump scares. It's all about building tension from page to page," said writer Jeremy Haun. "THE RED MOTHER is me telling my favorite kind of story in the best possible way. I'm lucky to have Danny Luckert as my partner on this project. His art perfectly captures this story. His ability to convey real world emotion, day-to-day life, and absolute otherworldly horror just gives me chills."
Danny Luckert studied illustration and cartooning at the School of Visual Arts in NYC and upon graduating, Luckert immediately went to work in the comic book industry. He has worked on several miniseries with Red 5 Comics, such as Haunted Vol. 1 & 2 and Riptide Vol. 1 & 2. Luckert has also worked on self-published zombie graphic novel Tethered with writer/co-creator David Pretch, as well as the creator-owned comic Regression with writer Cullen Bunn and colorist Marie Enger from Image Comics.
"I'm really excited to return to the horror genre and can't wait for people to see what creepiness the RED MOTHER team has cooked up," said artist Danny Luckert. "It's gonna be a wild story with a lot of red ink."
THE RED MOTHER is the newest release from BOOM! Studios' eponymous imprint, home to critically acclaimed original series, including Once & Future by Kieron Gillen and Dan Mora; Faithless by Brian Azzarello and Maria Llovet; Abbott by Saladin Ahmed and Sami Kivelä; Bury The Lede by Gaby Dunn and Claire Roe; Klaus by Grant Morrison and Dan Mora; as well as the upcoming Something is Killing The Children by James Tynion IV and Werther Dell'Edera and Folklords by Matt Kindt and Matt Smith. The imprint also publishes popular licensed properties including Joss Whedon's Firefly from Greg Pak and Dan McDaid; Buffy The Vampire Slayer from Jordie Bellaire and David Lopez; and Mighty Morphin Power Rangers from Ryan Parrott and Daniele Di Nicuolo.
"What's scarier than the horrors that we can't see? Jeremy and Danny dive right into the territory of invisible terrors to create a chilling vision of what lies just beyond our reality," said Eric Harburn, Senior Editor, BOOM! Studios. "THE RED MOTHER is the story of what happens when those horrors manifest, and we belatedly realize that ignorance truly was bliss."
Print copies of THE RED MOTHER #1 will be available for sale December 11, 2019 exclusively at local comic book shops (use comicshoplocator.com to find the nearest one) or at the BOOM! Studios webstore. Digital copies can be purchased from content providers, including comiXology, iBooks, Google Play, and the BOOM! Studios app.