Discover The Sequel To The Groundbreaking Film in December 2018
BOOM! Studios today unveiled a first look at THE SONS OF EL TOPO VOLUME ONE: CAIN, a hardcover original graphic novel, available in December 2018, from legendary filmmaker Alejandro Jodorowsky (The Holy Mountain) and virtuosic illustrator José Ladrönn (Incredible Hulk) that continues the 1970 Mexican Acid Western film written, scored, directed by and starring Alejandro Jodorowsky himself.
The merciless gunslinger El Topo has abandoned his pursuit of ultimate gun mastery to find enlightenment in the unlikeliest of places and is forever transformed, becoming a holy vessel imbued with the power to perform miracles and cheat death. But just as he gains sainthood, tragedy strikes as his community of outcasts is murdered before his eyes and his long-abandoned Hijo, Cain, returns to kill the father who discarded him many years ago.
Fueled by resentment but unable to strike his saintly father, Cain instead vows to hunt down his half-brother Abel, leading to an astonishing quest in THE SONS OF EL TOPO VOLUME ONE: CAIN, featuring a haunting cover by José Ladrönn, and continuing the legend in graphic novel format.
"The son becomes the father in this new chapter of El Topo's saga as we follow Cain's journey through the same desert wastelands and twisted mental landscapes that Jodorowsky built for us in the original film. Longtime devotees and new fans alike will love to explore this world with Jodorowsky and Ladrönn at the helm," said Sierra Hahn, Executive Editor, BOOM! Studios.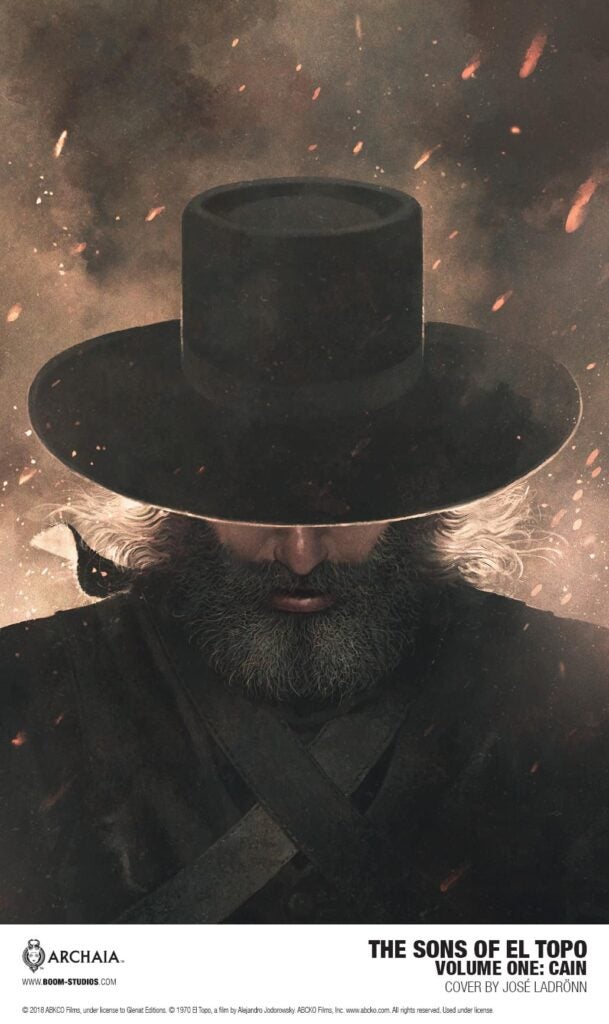 THE SONS OF EL TOPO VOLUME ONE: CAIN is the latest release from BOOM! Studios' ambitious Archaia imprint, home to graphic novels such as the Eisner Award-winning Mouse Guard by David Petersen; the Eisner Award-winning The Realist by Asaf Hanuka; the Eisner Award-nominated The Killer by Matz and Luc Jacamon; and licensed series like Jim Henson's The Power of the Dark Crystal and Jim Henson's Labyrinth: Coronation.
Print copies of THE SONS OF EL TOPO VOLUME ONE: CAIN will be available for sale on December 19th at local comic book shops (use comicshoplocator.com to find the nearest one), at bookstores on December 25th, or at the BOOM! Studios webstore. Digital copies can be purchased from content providers, including comiXology, iBooks, Google Play, and the BOOM! Studios app.
WHERE TO BUY:
Check out a list of dedicated retail partners carrying the BOOM! books you love HERE.
To find these and other comic shops near you, enter your zip code below: