"Ronin Island #1 is a devastating strong opener of an issue. No panel is wasted, no narrative beat feels unused."—Black Nerd Problems
"When their homeland comes under a supernatural threat, this apparent samurai story transforms into something more, and fans will be left eager to pick up a new issue to flesh out this debut's big cliffhanger."—ComicBook.com
"Beyond the excitement of Pak creating a new world tied to Asian culture, Ronin Island should land on readers' radar thanks to artist Giannis Milonogiannis, a fan-favorite for his manga-inspired work."—Paste Magazine
BOOM! Studios today revealed a first look at RONIN ISLAND #4, a heart-wrenching turn of events where terrible secrets are revealed and sacrifices are made in the exciting original series from acclaimed writer Greg Pak (Firefly, Star Wars, Mech Cadet Yu) and fan-favorite artist Giannis Milonogiannis (Old City Blues), available in June 2019.
When Hana and Kenichi come face-to-face at last with the great and mighty Shogun in his palace, Kenichi finds himself embraced and gifted a full set of golden armor while Hana is relegated to the servants' corridors. But both of the islanders have a hidden agenda to find out exactly what the Shogun and his forces are up to in their enormous stronghold. What they discover will change everything they've ever known and end in someone making the ultimate sacrifice to save the lives of their people.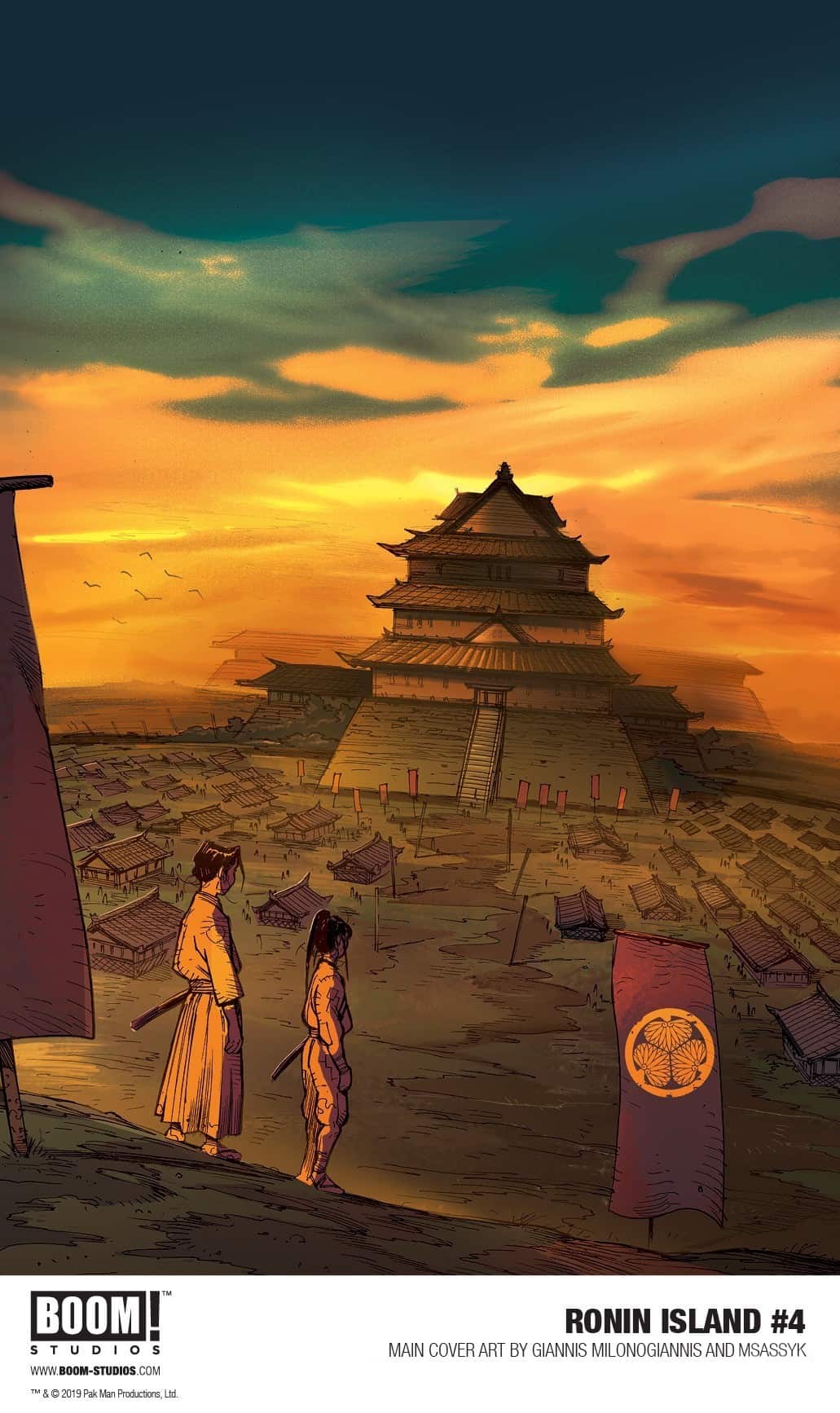 RONIN ISLAND #4 features a main cover by Milonogiannis and colorist MSASSYK, along with variant covers by acclaimed artists Ethan Young (Nanjing: The Burning City) and Kris Anka (Runaways).
RONIN ISLAND is the newest release from BOOM! Studios' eponymous imprint, home to critically acclaimed original series, including Abbott from Saladin Ahmed and Sami Kivelä; Bone Parish from Cullen Bunn and Jonas Scharf; Grass Kings from Matt Kindt and Tyler Jenkins; and Klaus from Grant Morrison and Dan Mora. The imprint is also home to popular licensed properties including Joss Whedon's Firefly from Greg Pak and Dan McDaid and Buffy The Vampire Slayer from Jordie Bellaire and David Lopez.
Print copies of RONIN ISLAND #4 will be available for sale on June 5, 2019 exclusively at local comic book shops (use comicshoplocator.com to find the nearest one) or at the BOOM! Studios webstore. Digital copies can be purchased from content providers, including comiXology, iBooks, Google Play, and the BOOM! Studios app.