"Fast-paced and well told, this story really made me think I was watching it on TV."—Major Spoilers
BOOM! Studios today announced BEN 10™: THE CREATURE FROM SERENITY SHORE, the newest middle grade original graphic novel based on Cartoon Network's global hit series Ben 10, with Rainbow Award-winning writer CB Lee (Not Your Sidekick) and artist Mattia di Meo (Adventure Time™/Regular Show™), in stores July 2020.
Ben, Gwen and Grandpa Max head to a beautiful seaside resort for some much-needed relaxation – but they'll need to use all their abilities to defeat the terrifying monster ruining everyone's good time! Luckily, Ben Tennyson isn't your average 10-year-old…he's also the wielder of the Omnitrix, an alien device that allows Ben to shift into 10 different alien forms from around the galaxy. Together with his cousin Gwen and his Grandpa Max, they're going defeat the Sharktopus and discover just who would want to ruin a good summer's day!
"Ben, Gwen and Grandpa Max head to Serenity Shore looking forward to sand, surf and the promised serenity–but what they find is a mysterious tentacled creature prowling in the deep and secrets to uncover from the mysterious lab overlooking the cliffs." said writer, CB Lee. "THE CREATURE FROM SERENITY SHORE is all about working with your fears and doing your best in the face of challenges, and I had such a blast working on this summer adventure! "
BEN 10™: THE CREATURE FROM SERENITY SHORE features cover art by di Meo.
"This is my second time on a BEN 10™ adventure, and I'm so glad of it! Drawing monsters and aliens is never boring and I really love the Tennyson family! In this story we have the sea, summer, friends, tentacles, fangs and aliens, of course," said artist, Mattia di Meo. "It was amazing to draw! And working again with the team made up of C. B. Lee as writer and Eleonora Bruni as colorist was the icing on the cake."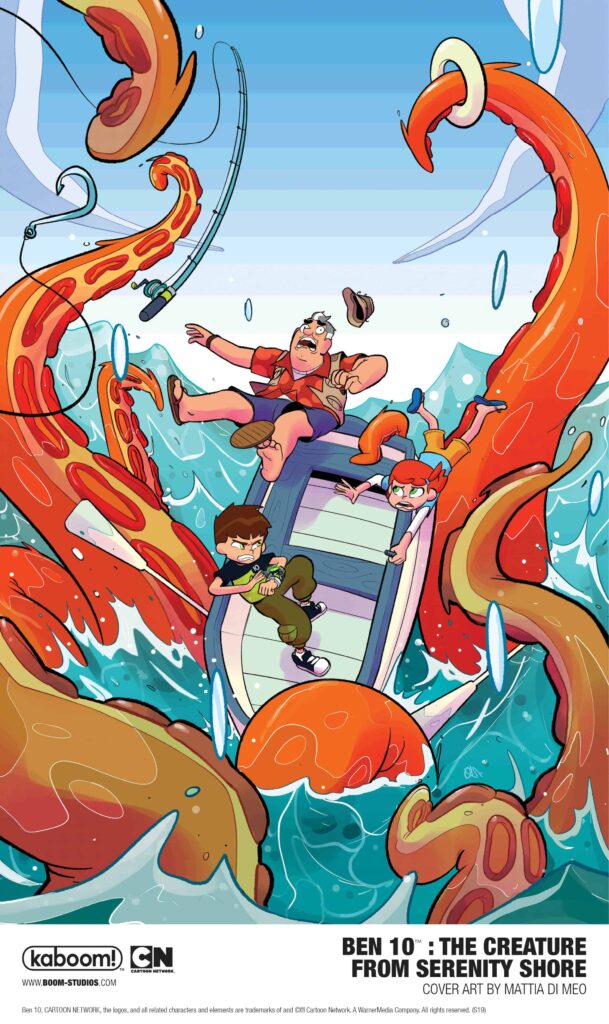 This is the newest original graphic novel release from the partnership between BOOM! Studios and Cartoon Network, featuring cover art by artist Mattia di Meo (Adventure Time). Fans can currently find BEN 10™: THE TRUTH IS OUT THERE from CB Lee and Lidan Chen and BEN 10™: FOR SCIENCE! from CB Lee and artist Mattia di Meo in bookstores everywhere.
"Sunny skies, hot sand, and . . . a rampaging sea creature make for a typical beach day with Ben and his monster-fighting family." said Matthew Levine, Editor, BOOM! Studios. "So of course we're excited to have writer CB Lee and artist Mattia di Meo back for a seaside adventure that's got Ben, Gwen, and Grandpa Max facing a tsunami of trouble just in time for summer vacation!"
BEN 10™: THE CREATURE FROM SERENITY SHORE is the latest release from BOOM! Studios' award-winning KaBOOM! imprint, home to comics for middle grade and younger readers including licensed series such as Adventure Time, Steven Universe, Ben 10, and Over The Garden Wall, along with original series like Just Beyond: The Scare School by R.L. Stine and Kelly & Nichole Matthews, Hex Vet by Sam Davies, RuinWorld by Derek Laufman, and Pandora's Legacy by Kara Leopard, Kelly & Nichole Matthews.
Cartoon Network's Ben 10 was recently greenlit for season four and is expected to premiere globally beginning 2020. The new season will follow Ben, his cousin Gwen and Grandpa Max on adventures to some of the world's most popular destinations including Italy, Japan and Mexico. Season four will continue to empower its worldwide fanbase through new alien transformations, action-packed battles with villains and more. Ben 10 is produced by Cartoon Network Studios and created and executive produced by Man of Action Entertainment.
Print copies of BEN 10™: THE CREATURE FROM SERENITY SHORE will be available for sale in July 2020 at local comic book shops (use comicshoplocator.com to find the nearest one), bookstores and the BOOM! Studios webstore. Digital copies can be purchased from content providers, including comiXology, iBooks, Google Play, and the BOOM! Studios app.