"Ronin Island #1 is a devastating strong opener of an issue. No panel is wasted, no narrative beat feels unused."—Black Nerd Problems
"When their homeland comes under a supernatural threat, this apparent samurai story transforms into something more, and fans will be left eager to pick up a new issue to flesh out this debut's big cliffhanger."—ComicBook.com
"Beyond the excitement of Pak creating a new world tied to Asian culture, Ronin Island should land on readers' radar thanks to artist Giannis Milonogiannis, a fan-favorite for his manga-inspired work."—Paste Magazine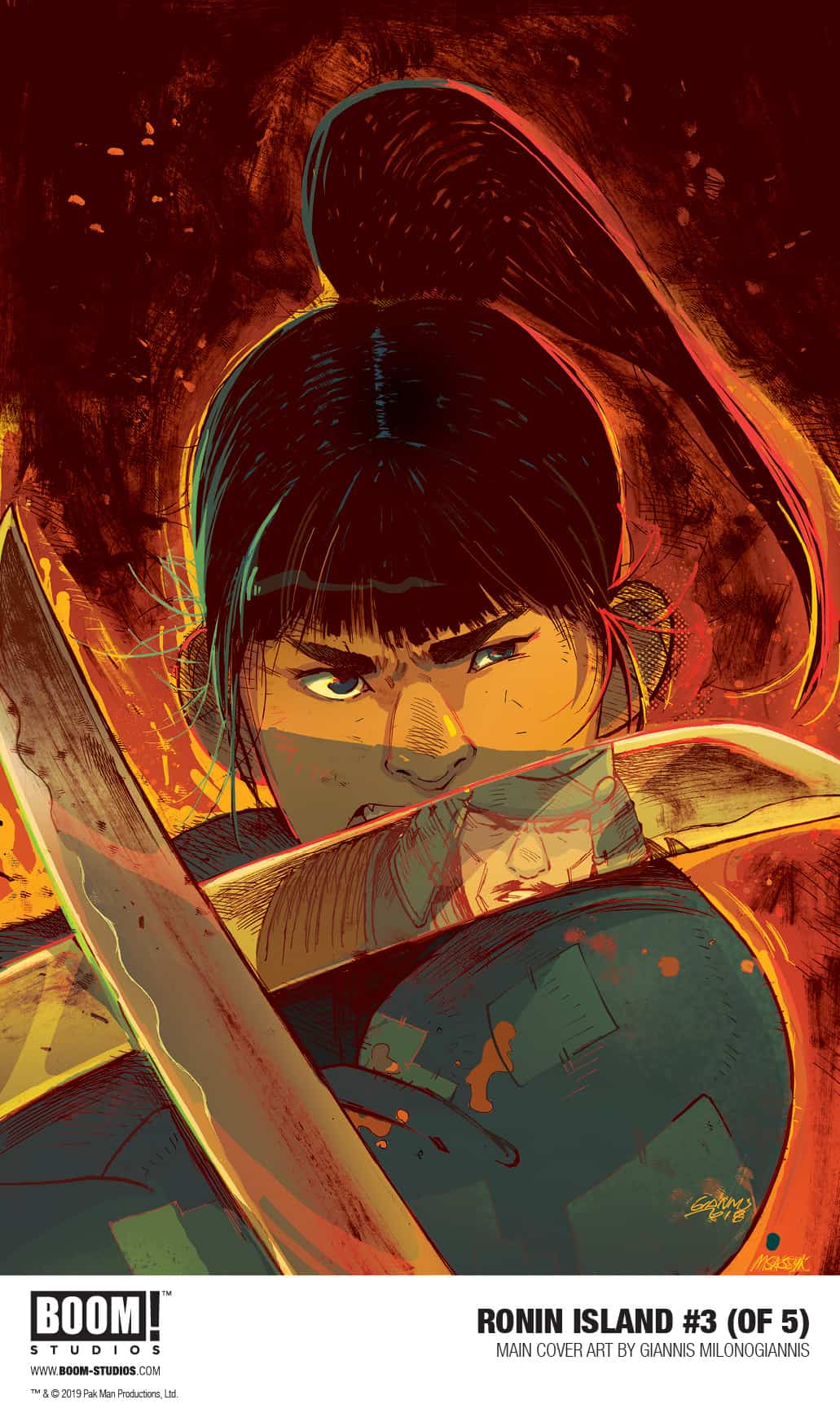 BOOM! Studios today revealed a first look at RONIN ISLAND #3, the latest chapter in the exciting original series from superstar writer Greg Pak (Firefly, Star Wars, Mech Cadet Yu) and fan-favorite artist Giannis Milonogiannis (Old City Blues) that recently announced a full series order for twelve issues.
Although the island has survived in isolation since the widespread devastation of the mysterious Great Wind, the arrival of General Sato and a horde of mutants from the mainland signal a major change for the newest generation of island warriors. Hana and Kenichi must decide if they will leave everything they've ever known behind to journey into the mutant-riddled mainland to meet a distant ruler or if they'll remain in the relative safety of the island they call home. What they each decide will determine not only their own fates but also the future of their people forever.
RONIN ISLAND #3 arrives in stores May 8, 2019 and features a main cover by Milonogiannis and colorist MSASSYK, along with variant covers by acclaimed artists Ethan Young (Nanjing: The Burning City) and Kris Anka (Runaways).
"Hana and Kenichi are at a crucial crossroads in their lives. The island having once been all they'd ever known, they now have the chance to choose a completely different path and forge ahead into an uncertain future," said Eric Harburn, Senior Editor, BOOM! Studios. "Greg, Giannis, Irma, and Simon bring action, comedy, and incredible drama to this issue, as our characters embark on the next leg of their epic fantasy journey."
RONIN ISLAND is the newest release from BOOM! Studios' eponymous imprint, home to critically acclaimed original series, including Abbott from Saladin Ahmed and Sami Kivelä; Bone Parish from Cullen Bunn and Jonas Scharf; Grass Kings from Matt Kindt and Tyler Jenkins; and Klaus from Grant Morrison and Dan Mora. The imprint is also home to popular licensed properties including Joss Whedon's Firefly from Greg Pak and Dan McDaid and Buffy The Vampire Slayer from Jordie Bellaire and David Lopez.
Print copies of RONIN ISLAND #3 will be available for sale on May 8, 2019 exclusively at local comic book shops (use comicshoplocator.com to find the nearest one) or at the BOOM! Studios webstore. Digital copies can be purchased from content providers, including comiXology, iBooks, Google Play, and the BOOM! Studios app.