Sunny skies and relaxing days ahead for these beach wizards in December 2018
OOM! Studios is proud to reveal a first look at WIZARD BEACH #1, a new five-issue limited series available in December 2018 from writer Shaun Simon (The True Lives of the Fabulous Killjoys) and artist Conor Nolan (Jim Henson's The Storyteller: Giants).
What happens when a secret, reclusive community of mountain witches and forest wizards comes out of hiding and reveals itself to the world? A magical beach town with a boardwalk of magic shops and chill spots becomes the go-to location for those just looking to get away from it all. Enter Hexley Daggard Ragbottom, a young wizard who, against his father's wishes, escapes the solitary confines of his isolated magical community to seek out the greatest wizard of all time, his Uncle Salazar, in an attempt to get his aid in fighting the life-threatening freeze killing their people.
But turns out, his Uncle "Sally" has other plans. Namely, napping and hanging out at his boardwalk magic shop "Wands and Such."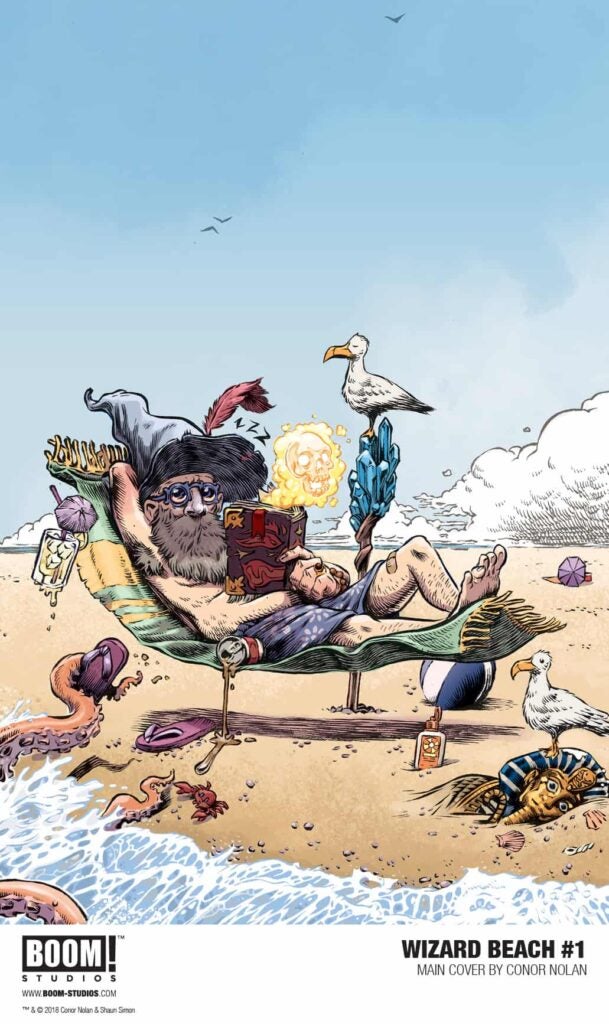 "No beach vacation is complete without family drama, weird boardwalk shops, and that magical feeling of being miles from all your real life worries and woes. It's just that in this case, Hex's real life is full of magical creatures and two wizarding worlds at odds," said Sierra Hahn, Executive Editor, BOOM! Studios.
WIZARD BEACH is the latest release from BOOM! Studios' eponymous imprint, home to a world-class group of licensed comic book series and ambitious original series, including Joss Whedon's Firefly, Lev Grossman's The Magicians, Mighty Morphin Power Rangers, Planet of the Apes, Abbott, Mech Cadet Yu, Grass Kings, and Klaus.
Print copies of WIZARD BEACH #1 will be available for sale on December 5, 2018 at local comic book shops (use comicshoplocator.com to find the nearest one) or at the BOOM! Studios webstore. Digital copies can be purchased from content providers, including comiXology, iBooks, Google Play, and the BOOM! Studios app.