WWE Superstar AJ Styles Makes His
WWE Comics Writing Debut in
WWE Royal Rumble 2018 Special
Oversized one-shot coming from BOOM! Studios in January 2018
LOS ANGELES, CALIF. (September 21, 2017) – BOOM! Studios and WWE are excited to announce the WWE ROYAL RUMBLE 2018 SPECIAL, arriving in stores January 2018 and featuring some of the biggest WWE Superstars in history! In this oversized special, WWE Superstar AJ Styles makes his WWE comics writing debut in the "phenomenal" story of his first WWE appearance. He is joined by co-writer Michael Kingston (Headlocked) in this special celebration of the titular pop-culture phenomenon, which also includes new stories from acclaimed talent such as Ryan Ferrier (Kong on the Planet of the Apes), Kevin Panetta (Regular Show), Kendall Goode (The Doorman), and Daniel Bayliss (WWE: Then. Now. Forever.).
"I've performed in arenas all over the world, but the most special debut was in front of the WWE Universe at Royal Rumble," says AJ Styles.
"AJ and I are friends and we have similar creative mindsets, so working with him is a breeze," says Michael Kingston. "We collaborated on a story for Headlocked that was a lot of fun, so when the opportunity to work together again arose, it was really a no-brainer."
WWE ROYAL RUMBLE 2018 SPECIAL features other untold stories behind some of the greatest Royal Rumble matches in history. From Ric Flair winning his first rumble to Shawn Michaels going the distance after teetering on the edge, this special showcases the greatest Superstars in sports entertainment history!
The main cover for WWE ROYAL RUMBLE 2018 SPECIAL is illustrated by Xermánico (Injustice: Gods Among Us), with a special cover by Juan Doe (American Monster, John Carter: The End) featuring "The Beast" Brock Lesnar and his advocate Paul Heyman.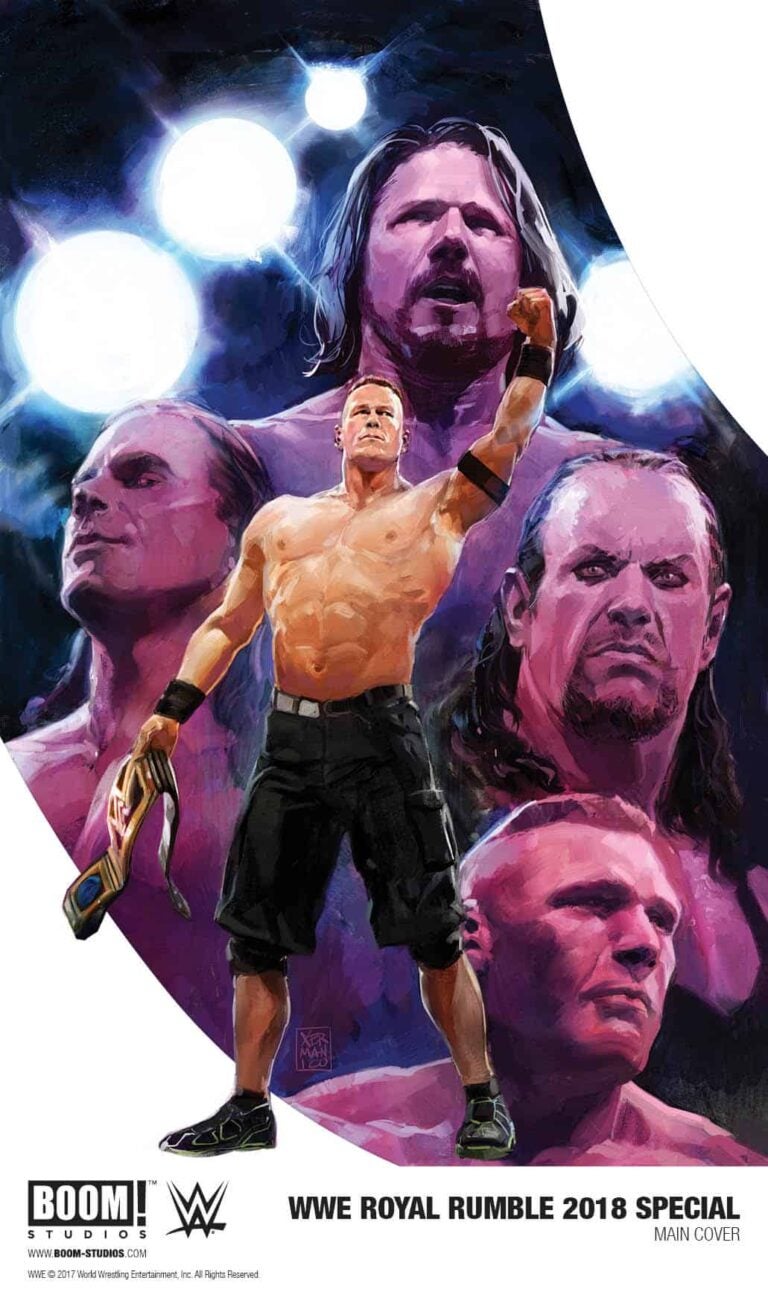 Print copies of WWE ROYAL RUMBLE 2018 SPECIAL will be available for sale in January 2018 at local comic book shops (use comicshoplocator.com to find the nearest one) or at the BOOM! Studios webstore. Digital copies can be purchased from content providers, including comiXology, iBooks, Google Play, and the BOOM! Studios app.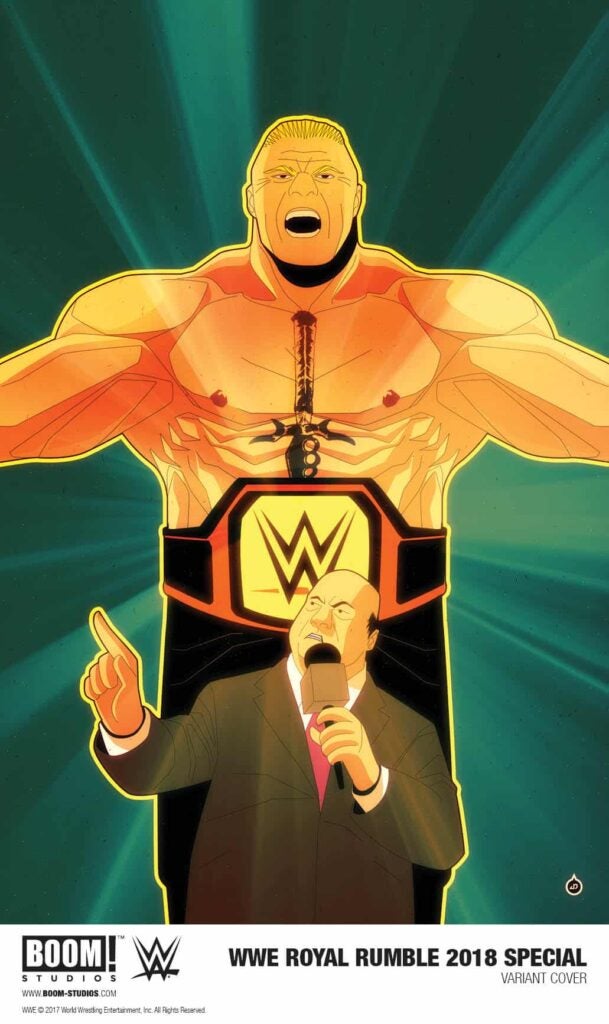 "The WWE Specials provide an all-star team of creators the opportunity to explore WWE's greatest moments, and WWE ROYAL RUMBLE 2018 SPECIAL will take things to a phenomenal level with the addition of a story written by AJ Styles," says Chris Rosa, Associate Editor, BOOM! Studios.
BOOM! Studios launched its WWE comic book line in November 2016 with theWWE: Then. Now. Forever. Special, followed by the debut of the ongoing WWEcomic series in January 2017. In addition, the WWE WrestleMania Special 2017 Special was released in March 2017, followed by the recent debuts of WWE Vol. 1Redesign. Rebuild. Reclaim. (collecting WWE: Then. Now. Forever. and WWE #1-4) and the WWE SummerSlam 2017 Special. WWE Survivor Series 2017 Specialdebuts in November before the annual event in Houston, TX.
WWE Royal Rumble 2018 will be held at the Wells Fargo Center in Philadelphia, PA on Sunday, January 28. Along with WrestleMania, SummerSlam, and Survivor Series, Royal Rumble is one of WWE's original "Big Four" pay-per-view events. For ticket information, visit wwe.com.
For continuing news on WWE ROYAL RUMBLE 2018 SPECIAL and more from BOOM! Studios, stay tuned to www.boom-studios.com and follow @boomstudios on Twitter.