BOOM! Studios, in partnership with WWE surprised fans today with a video from WWE Superstars The New Day announcing writers Evan Narcisse and Austin Walker and artist Daniel Bayliss as the creative team for new graphic novel, WWE: THE NEW DAY, starring WWE Champion Kofi Kingston and WWE Superstars Big E and Xavier Woods of The New Day, releasing in 2020.
The New Day debuted as a tag team in 2014 and have gone on to become six-time Tag Team Champions, including the longest reigning champions in WWE history. Kingston also made headlines this past April after his historic win against Daniel Bryan for the WWE Championship at WrestleMania 35 in front of a sold-out crowd of 82,265 fans at MetLife Stadium.
Evan Narcisse is a journalist and critic who writes about video games, comic books, movies and TV. He is a senior staff writer at io9, having previously written for The Atlantic, Time Magazine, and Kotaku. He's taught a course on video game journalism at New York University and appeared as an expert guest on CNN and NPR. Narcisse is also the author of the Rise of the Black Panther graphic novel for Marvel Comics. A native New Yorker, he now lives in Austin, Texas.
"I grew up loving and watching the Superstars of yesteryear but it wasn't until I first saw The New Day that I felt like I finally got the sports entertainment that I'd been waiting for my whole life. The wit, charisma, and energy that Kofi, Xavier, and Big E show in the ring is incredibly infectious and I can't wait to translate all that to the medium of comics." said Evan Narcisse.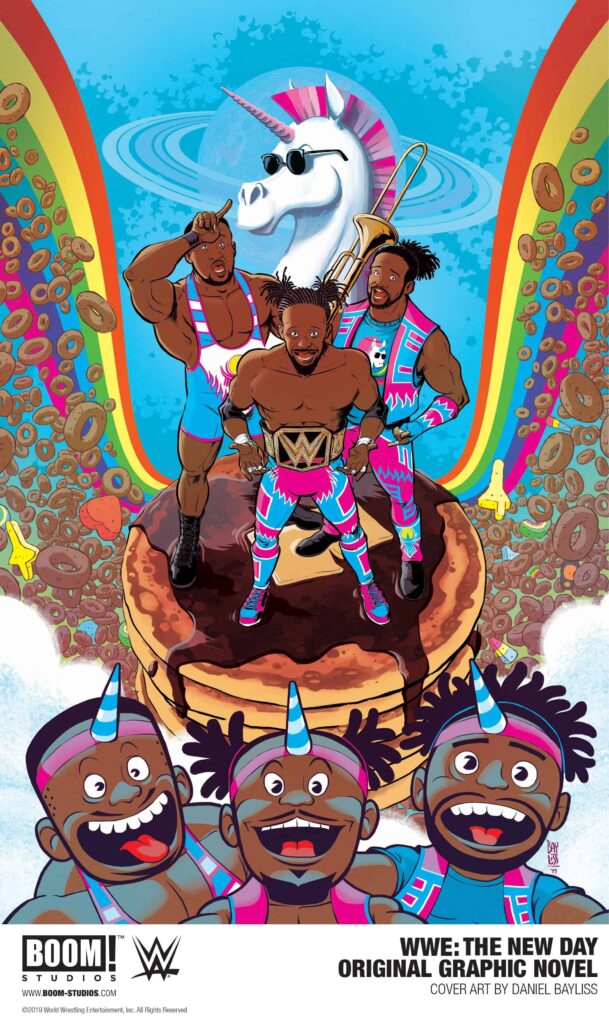 Austin Walker is an award-winning games journalist, critic, and podcaster whose words and voice have appeared at Paste Magazine, the New Statesman, Giant Bomb, and VICE, where he launched Waypoint (now VICE Games). He is also the host and lead storyteller of the actual play podcast Friends at the Table. Previously, he was an academic studying the intersection of games and labor as part of the University of Western Ontario's Digital Labour Group. He currently lives in Queens.
"Watching the rise of the New Day has been an absolute dream, so bringing their story to comics is a dream come true. The trio of Big E, Kofi, and Xavier have entertained millions around the world not only by being incredible performers in the ring, but by unapologetically being their authentic selves outside the ring," said Austin Walker. "If we can capture even a little bit of their brilliance and humor, we'll have a great comic on our hands."
Daniel Bayliss is a Mexican cartoonist, illustrator and co-creator of Moonhead Press. He has worked on titles such as Big Trouble in Little China/Escape from New York, Jim Henson's Labyrinth: Coronation, Jim Henson's The Storyteller: Dragons, Mighty Morphin Power Rangers as well as on original series Translucid and Kennel Block Blues for BOOM! Studios. He was nominated for The Russ Manning Award in 2016.
"The New Day is the most fun and entertaining tag team in WWE today! I just want to bring the same kind of excitement and joy they transmit in the ring back into the pages of this book." said artist Daniel Bayliss.
WWE: THE NEW DAY graphic novel features a cover by Daniel Bayliss.
"A book about WWE Champions The New Day deserves an all-star creative team, and luckily, Evan Narcisse, Austin Walker, and Daniel Bayliss were more than happy to take on the incredible task of charting The New Day's rise to the top," said Chris Rosa, Editor, BOOM! Studios. "Fans will get the chance to learn all the behind-the-scenes details of Kofi, Big E, and Xavier Woods personal journeys. "
WWE: THE NEW DAY is the newest release from BOOM! Studios' eponymous imprint, home to critically acclaimed original series, including Once & Future by Kieron Gillen and Dan Mora; Faithless by Brian Azzarello and Maria Llovet; Abbott by Saladin Ahmed and Sami Kivelä; Bury The Lede by Gaby Dunn and Claire Roe; Something is Killing the Children by James Tynion IV and Werther Dell 'Edera; Klaus by Grant Morrison and Dan Mora; and the upcoming Folklords by Matt Kindt and Matt Smith. The imprint also publishes popular licensed properties including Joss Whedon's Buffy The Vampire Slayer from Jordie Bellaire and David López; Angel from Bryan Edward Hill and Gleb Melnikov; and Mighty Morphin Power Rangers from Ryan Parrott and Daniele Di Nicuolo.
Print copies of WWE: THE NEW DAY graphic novel will be available for sale in 2020 at local comic book shops (use comicshoplocator.com to find the nearest one), bookstores, or at the BOOM! Studios webstore. Digital copies can be purchased from content providers, including comiXology, iBooks, Google Play, and the BOOM! Studios app.