Discover The Future of Your Favorite Vampire Queen & Former Ice King in May 2019
BOOM! Studios and Cartoon Network today revealed a first look at ADVENTURE TIME™: MARCY & SIMON #5 (of 6). Writer Olivia Olson (voice of Marceline, Cartoon Network's Adventure Time™) and artist Slimm Fabert (Adventure Time™ comic series) bring fans the exciting official comic book continuation by revealing what's next for the once immortal Simon and the still immortal Vampire Queen Marceline in comic book form.
Marcy and Simon's friendship has endured over 900 years and through bouts of insanity and amnesia so there's no way that friendship ends now, right? Not if Marcy, Jake, and Finn have got anything to say about it! Looks like saving Betty from the Golb is the key to saving Simon's memories and his sanity but they'll have to search the centers of chaos in each dimension to find her. It's time to travel to the farthest outer reaches of space and the deepest recesses of the universe to save Betty and Simon once more.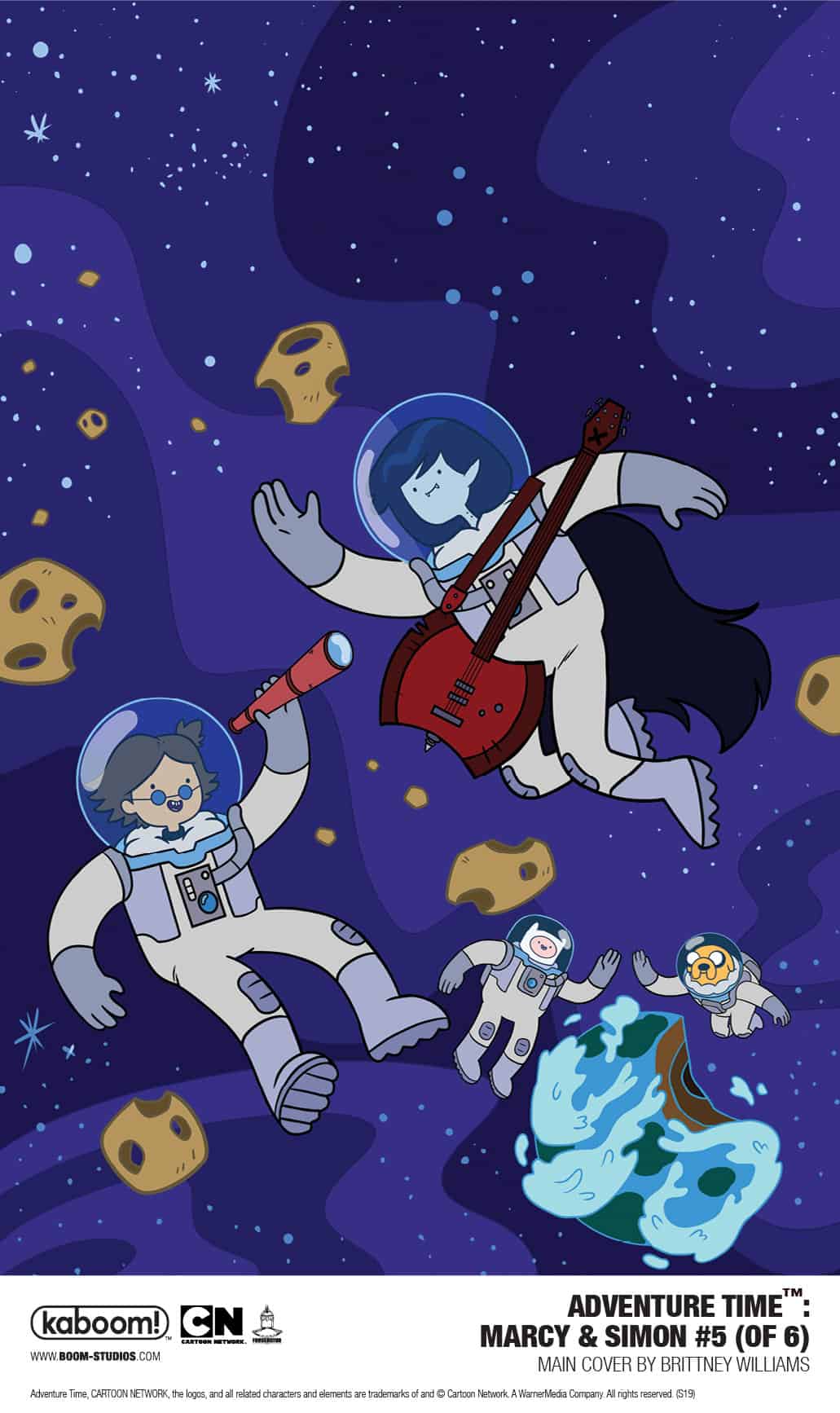 A modern-day fable, the critically-acclaimed Adventure Time became a global success, attracting adult and kid viewers alike over the course of 10 seasons. It follows unlikely heroes Finn and Jake, buddies who traverse the mystical Land of Ooo and encounter its colorful inhabitants. The best of friends, our heroes always find themselves in the middle of heart-pounding escapades. Finn, a silly kid with an awesome hat and Jake, a brassy dog with a big kind heart, depend on each other through thick and thin. Adventure Time™ was created by Pendleton Ward and produced at Cartoon Network Studios.
BOOM! Studios has been publishing the New York Times bestselling Adventure Time comic books and graphic novels through their KaBOOM! imprint for middle grade readers since 2012 and been honored with Eisner, Harvey, and Diamond Gem Awards for the series.
ADVENTURE TIME™: MARCY & SIMON is Olson's third writing contribution to the expanded literary world of the eponymous franchise, previously collaborating with her father Martin Olson (the voice of "Hunson Abadeer") on The Adventure Time™ Encyclopedia. The two also co-authored Adventure Time™: The Enchiridion & Marcy's Super Secret Scrapbook, written from a first-person perspective through Marceline's diary entries about when she and Simon first met. Both Adventure Time books, published in partnership between Abrams and Cartoon Network, are available now everywhere books are sold.
"Simon's life has been tragic in many ways but the brightest spots have always been the love he has for his chosen family of Marceline and Betty, and hopefully that'll be what saves him in the end." said Matthew Levine, Editor, BOOM! Studios. "Olivia and Slimm raise the stakes impossibly high in this penultimate issue by taking us all the way across time and space to confront Simon's final regret: losing the love of his life to the Golb."
ADVENTURE TIME™: MARCY & SIMON #5 features a main cover by Brittney Williams (Goldie Vance), along with variant covers by artist Amelia Vidal (Buffy the Vampire Slayer) and illustrator Ray Tonga.
ADVENTURE TIME™: MARCY & SIMON is the latest release from BOOM! Studios' award-winning KaBOOM! imprint, home to comics for middle grade and younger readers including licensed series such as Adventure Time, Steven Universe, Regular Show, Ben 10, and Over The Garden Wall, along with original series like Just Beyond: The Scare School by R.L. Stine and Kelly & Nichole Matthews, Hex Vet by Sam Davies, RuinWorld by Derek Laufman, Hotel Dare by Terry Blas and Claudia Aguirre, and Pandora's Legacy by Kara Leopard, Kelly & Nichole Matthews.
Print copies of ADVENTURE TIME™: MARCY & SIMON #5 will be available on May 15, 2019 at local comic book shops (use comicshoplocator.com to find the one nearest you), or at the BOOM! Studios webstore. Digital copies can be purchased from content providers like comiXology, iBooks, Google Play, and the BOOM! Studios app.