"5/5… The worldbuilding in just two short issues is incredible and Bergara's art matches the world they've built to a T" – ComicBook.com
"The inventive premise, flawless narrative execution, and eye-popping visuals may even win over the most ardent fantasy-phobes" – Multiversity Comics
"This first issue is fantastic, creating a world that is begging to be explored and characters that make it entertaining" – Graphic Policy
BOOM! Studios today unveiled a first look at CODA #4, the newest chapter of the critically-acclaimed broken fantasy epic from Eisner-nominated writer Simon Spurrier (Sandman, The Spire) and Matías Bergara (Cannibal, Supergirl), on-sale in August.
This all-new series, which sold out at a distributor level before the release of the first issue, reveals the aftermath of an apocalypse which wiped out nearly all magic from a once-wondrous fantasy world, in which an antisocial former bard named Hum seeks a way to save the soul of his wife with nothing but a foul-tempered mutant unicorn and his wits to protect him…but is unwillingly drawn into a brutal power struggle which will decide forever who rules the weird wasteland.
In CODA #4, featuring a main cover by Bergara, along with variant covers by the award-winning team of Michael & Laura Allred (Silver Surfer) and artist Jay Shaw (Big Trouble in Little China), Hum has successfully warded off Thundervale from its assault on Ridgetown for at least one more day, and now turns his attention to the Urken soldier who turned the tides of the battle…
"The reveal at the end of Issue #3 is a status quo shaker, and you won't want to miss what happens next for Hum," said Eric Harburn, Senior Editor, BOOM! Studios. "CODA #4 may be the end of our first arc, but it's just the beginning of the epic Si and Matías are crafting."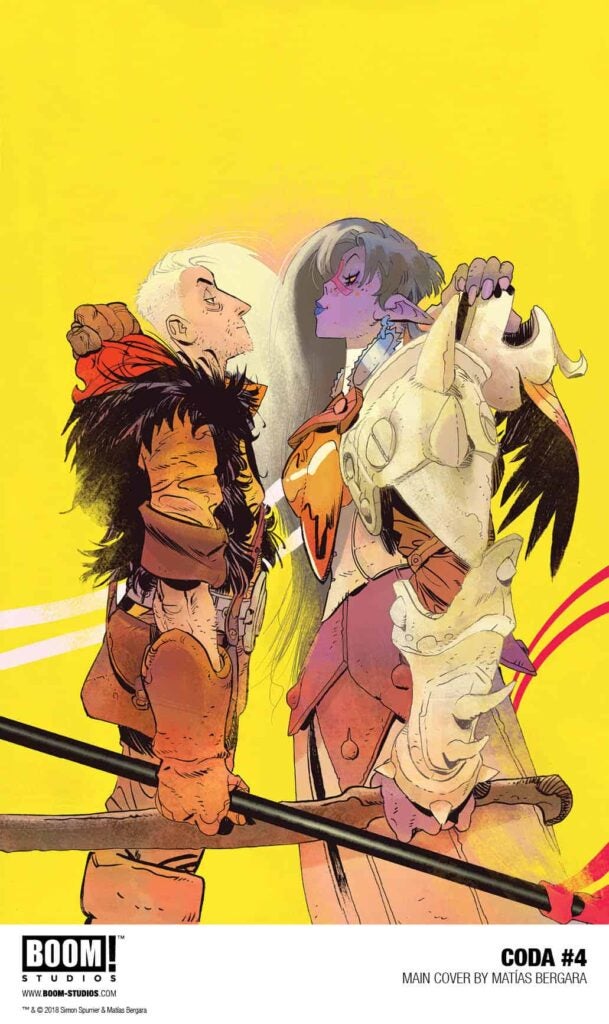 CODA is the latest release from BOOM! Studios' eponymous imprint, home to a world-class group of licensed comic book series and ambitious original series, including Mighty Morphin Power Rangers, Planet of the Apes, WWE, Abbott, Mech Cadet Yu, Klaus and Grass Kings, which was recently nominated for two 2018 Eisner Awards.
Print copies of CODA #4 will available for sale on August 15, 2018 at local comic book shops (use comicshoplocator.com to find the nearest one) or at the BOOM! Studios webstore, though quantities may be limited. Digital copies can be purchased from content providers, including comiXology, iBooks, Google Play, and the BOOM! Studios app.