"This is definitely a series you won't want to miss out on" – ComicBook.com
"… a comic series that will absolutely make 'best of' lists come year end" – Graphic Policy
"…equal parts intriguing, creepy, and intense" – Multiversity Comics
BOOM! Studios unveiled today a first look at BONE PARISH #3, continuing the critically acclaimed twelve-issue necromantic horror series from superstar writer Cullen Bunn (Harrow County, The Unsound) and artist Jonas Scharf (Mighty Morphin Power Rangers) that follows the proliferation of a new drug sweeping through the streets of New Orleans—one made from the ashes of the dead.
The Winters knew making a drug from the ashes of the dead could have fatal consequences—but now that drug may be the only thing that can help them save their family from the Cartel. As war threatens everything they hold dear, will they survive this deadly gambit?
"As Cullen, Jonas, Alex, and Ed continue to document the sordid past, present, and future of the Winters family tree, readers of BONE PARISH will soon see just how deep those roots extend into the murky waters of New Orleans," said Eric Harburn, Senior Editor, BOOM! Studios.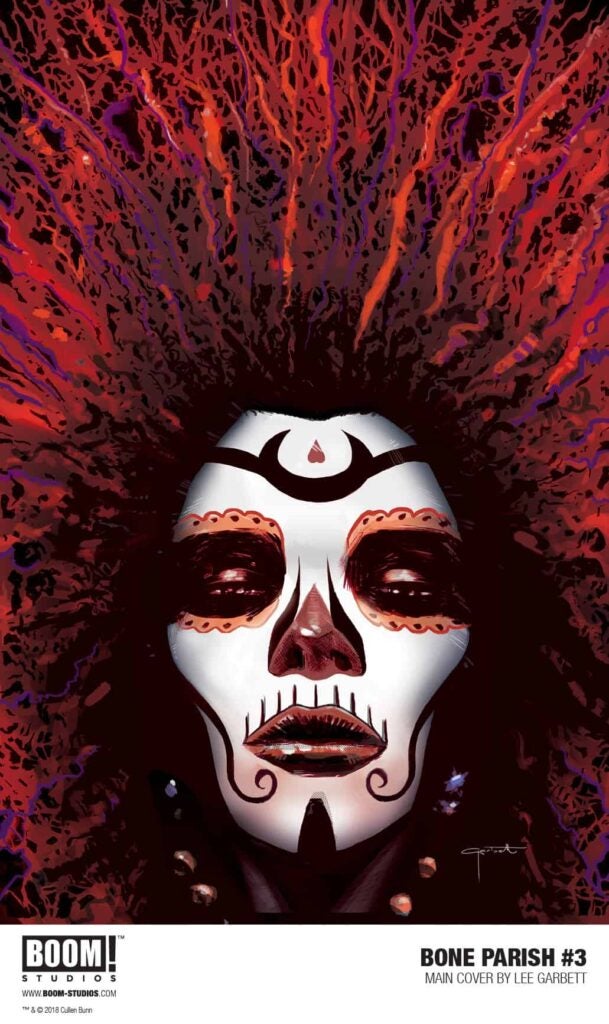 BONE PARISH is the latest release from BOOM! Studios' eponymous imprint, home to the critically-acclaimed licensed comic book series and ambitious original series, including Joss Whedon's Firefly, Mighty Morphin Power Rangers, Abbott, Coda, Mech Cadet Yu, WWE and Klaus.
Print copies of BONE PARISH #3 featuring a main cover by Lee Garbett (Firefly) and variant cover by Tyler Crook (Harrow County), will be available for sale on September 26th, exclusively at local comic book shops (use comicshoplocator.com to find the nearest one). Digital copies can be purchased from content providers, including comiXology, iBooks, Google Play, and the BOOM! Studios app.