Discover Just What The (Supernatural) Doctor Ordered in December 2018
BOOM! Studios today revealed a first look at HEX VET: WITCHES IN TRAINING, an all-new hardcover original graphic novel from cartoonist Sam Davies (Stutterhug), on-sale in December everywhere books are sold.
In a world where magic is a part of daily life, Nan and Clarion are determined to be the best veterinarian witches of all time. Between life, animals, and magic, these two witches will soon realize that they have a lot to learn—and not just about how to help a ghost cat have kittens. This story will take Nan and Clarion on fun adventures where they will get to learn more about each other, their strengths as veterinarians, and their equal passion for magical animals. Hopefully they'll be up to the challenge of running a clinic, saving lives, and staying on their boss' good side!
"Do you love animals? Magic? Young students who work hard because they are determined to be the best? HEX VET has it all," said Whitney Leopard, Editor, BOOM! Studios. "Sam has created a world full of love, laughs and magical surprises around every corner as Nan and Clarion study to become the best witches possible. If they get to help some magical creatures along the way? Even better. It's a fun-filled adventure with two very different people who might learn that they have more in common than they think."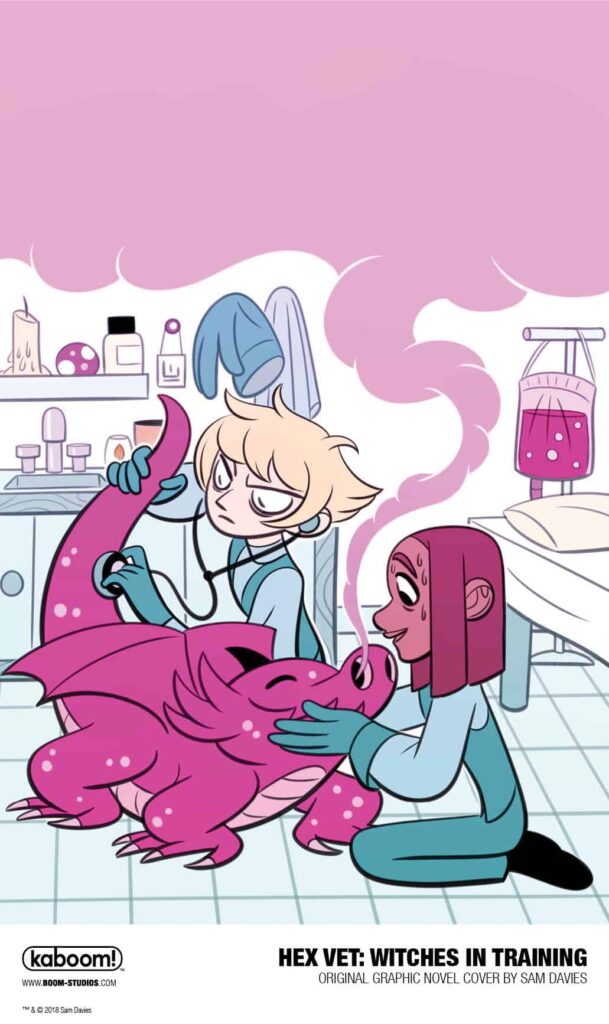 HEX VET: WITCHES IN TRAINING is the latest release from BOOM! Studios' award-winning KaBOOM! imprint, home to comics for middle grade and younger readers including licensed series such as Adventure Time, Steven Universe, Peanuts, and Garfield, along with original series like Mega Princess by Kelly Thompson and  Brianne Drouhard, Bodie Troll by Jay Fosgitt, Ruinworld by Derek Laufman, and The Deep by Tom Taylor and James Brouwer.
Print copies of HEX VET: WITCHES IN TRAINING will be available for sale in December 2018 at local comic book shops (use comicshoplocator.com to find the nearest one), bookstores or at the BOOM! Studios webstore. Digital copies can be purchased from content providers, including comiXology, iBooks, Google Play, and the BOOM! Studios app.