Fear the Walking Bigheads of O-Town in May 2019
BOOM! Studios today revealed a first look at ROCKO'S MODERN AFTERLIFE #2, available in stores May 2019. In this exciting next chapter of the five issue comic book series from writer Anthony Burch (Borderlands 2) and artist Mattia Di Meo (Adventure Time/Regular Show), everyone's favorite wallaby, Rocko, is trying to survive the zombie outbreak that has taken over his home of O-Town!
Don't open the doors! There are zombies outside! Rocko's been holed up in his home, trying to ride out the frightening wave of mutated O-Town citizens who have overrun the city with their madness and mayhem. But his best friend, Heffer, is in trouble, and there's only one wallaby left in town who can save the day. Rocko and Spunky will have to gear up and head out into the perilous streets of an infested O-Town but will they survive the journey or will they get turned into mindless zombies? And what does the vast and all-powerful Conglom-O have to do with this horrifying crisis?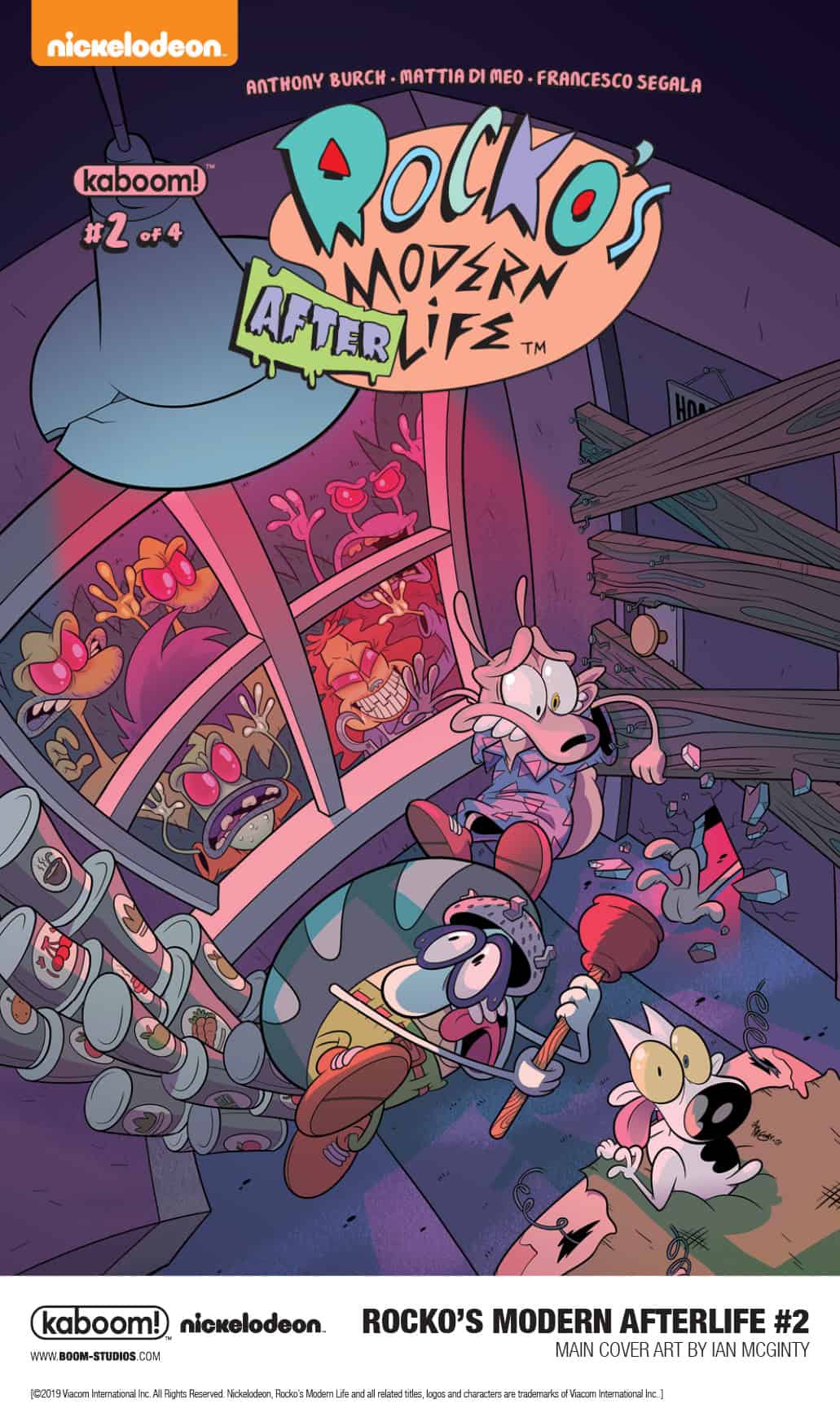 "While Rocko isn't the bravest wallaby around, even the most anxious modern marsupial will step up when his friends' lives are on the line. Or so we hope." said Matthew Levine, Editor. "Anthony and Mattia take on the modern craze for zombie apocalypses by dropping Rocko straight into the middle of a homegrown outbreak and bringing new readers and longtime fans along for the ride!"
ROCKO'S MODERN AFTERLIFE #2, featuring a main cover by Ian McGinty (Glint) and a variant cover by illustrator and artist Joey McCormick (Teen Titans Go To The Movies), is the latest release from BOOM! Studios' award-winning KaBOOM! imprint, home to comics for middle grade and younger readers including licensed series such as Adventure Time, Steven Universe, Regular Show, Ben 10, and Over The Garden Wall, along with original series like Just Beyond: The Scare School by R.L. Stine and Kelly & Nichole Matthews, Hex Vet by Sam Davies, RuinWorld by Derek Laufman, Hotel Dare by Terry Blas and Claudia Aguirre, and Pandora's Legacy by Kara Leopard, Kelly & Nichole Matthews.
Print copies of ROCKO'S MODERN AFTERLIFE #2 will be available on May 1, 2019 at local comic book shops (use comicshoplocator.com to find the one nearest you), or at the BOOM! Studios webstore. Digital copies can be purchased from content providers like comiXology, iBooks, Google Play, and the BOOM! Studios app.