Discover a Young Mother's Fear of the Relentless Horror That Haunts Her Home in September 2019
BOOM! Studios today revealed a first look at THE MAN WHO CAME DOWN THE ATTIC STAIRS, a new original graphic novel in stores September 2019, inspired by the works of Shirley Jackson and Ira Levin, in which acclaimed comics creator Celine Loup weaves a tale of horror and suspense that captures the isolation of postpartum depression, while exploring the very real fears associated with new motherhood.
Emma is madly in love with her husband, has just moved into a beautiful new home, and is absolutely glowing in anticipation of her new life as a mother. But when the baby arrives, things quickly take a dark turn as Emma loses days and nights to the infant's never ending screams and her husband turns into a stranger before her very eyes. Something is scaring her newborn daughter and causing Emma to see strange things in the shadows as fear takes over the once warm household. But is this terrifying presence real or just imagination? And why doesn't her husband, who isn't quite himself, seem to notice that anything is wrong?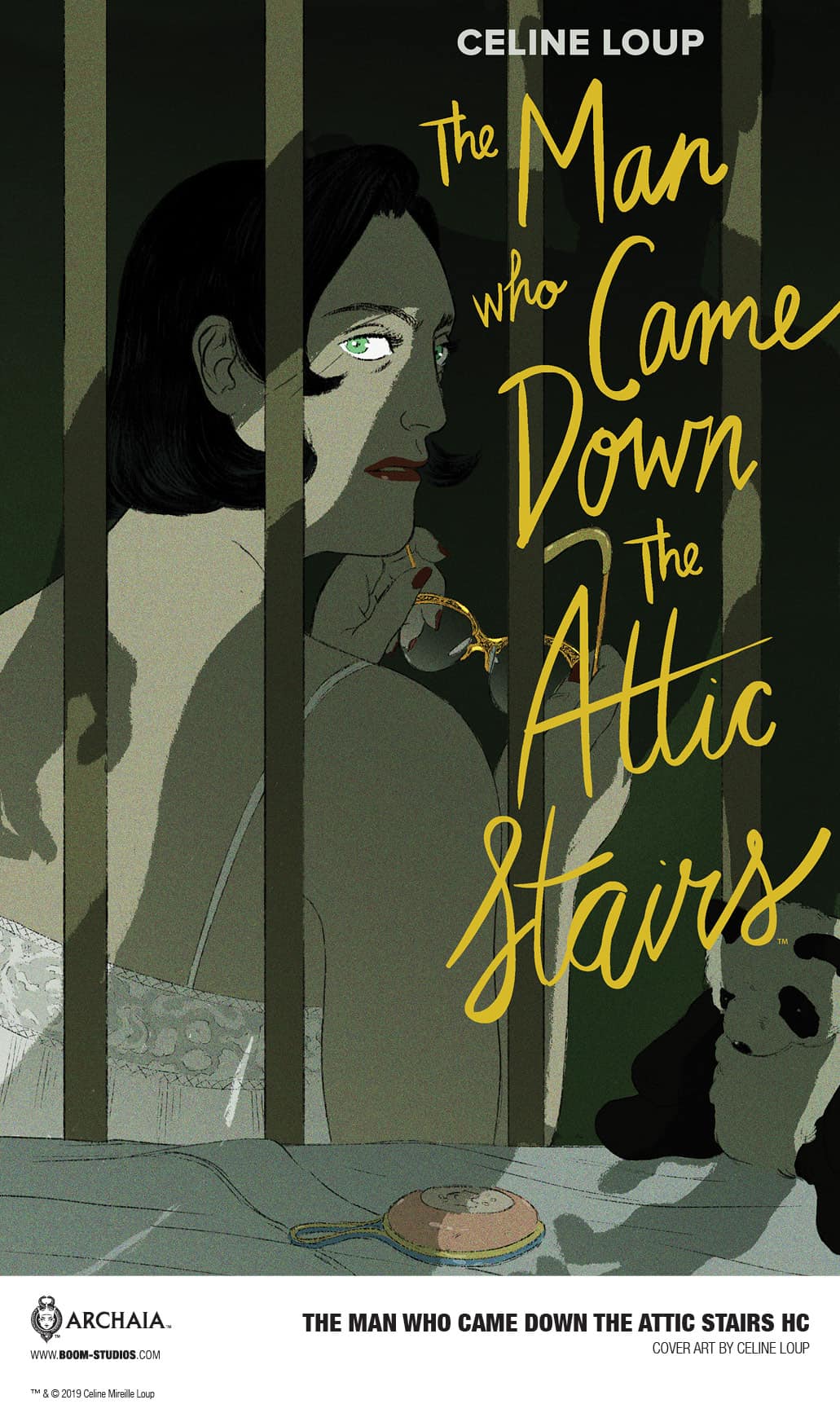 THE MAN WHO CAME DOWN THE ATTIC STAIRS is the latest release from BOOM! Studios' ambitious Archaia imprint, home to graphic novels such as Mouse Guard by David Petersen; New World by David Jesus Vignolli; Jane by Aline Brosh McKenna and Ramón Pérez; About Betty's Boob by Vero Cazot and Julie Rocheleau; Bolivar by Sean Rubin; and licensed series including Lev Grossman's The Magicians: Alice's Story by Lilah Sturges and Pius Bak; Jim Henson's The Power of the Dark Crystal and Jim Henson's Labyrinth: Coronation.
Print copies of THE MAN WHO CAME DOWN THE ATTIC STAIRS will be available for sale September 18, 2019 at local comic book shops (use comicshoplocator.com to find the nearest one), September 24, 2019 at bookstores, or at the BOOM! Studios webstore. Digital copies can be purchased from content providers, including comiXology, iBooks, Google Play, and the BOOM! Studios app.