Michael Dialynas' ZAWA + THE BELLY OF THE BEAST #1 SELLS OUT & Returns With Second Printing
Princess Mononoke meets Twig when a hungry mountain deity discovers the magic of friendship and a home-cooked meal in ZAWA + THE BELLY OF THE BEAST!
BOOM! Studios today announced that ZAWA + THE BELLY OF THE BEAST #1, the premier issue of the brand new series from GLAAD Award-winning and Eisner Award-nominated cartoonist Micahel Dialynas (Wynd, Teenage Mutant Ninja Turtles) has sold out at the distributor level! 
Trapped for eternity inside her mountain by pollution-spewing factories, the ancient guardian spirit Zawa only has industrial run-off to eat, leading her to a bitter existence of paranoia and destruction. But when two siblings from a nearby village, Bandit and Thatcher, help her escape, they'll quickly learn that the way to calm Zawa's heart is through a well nourished stomach!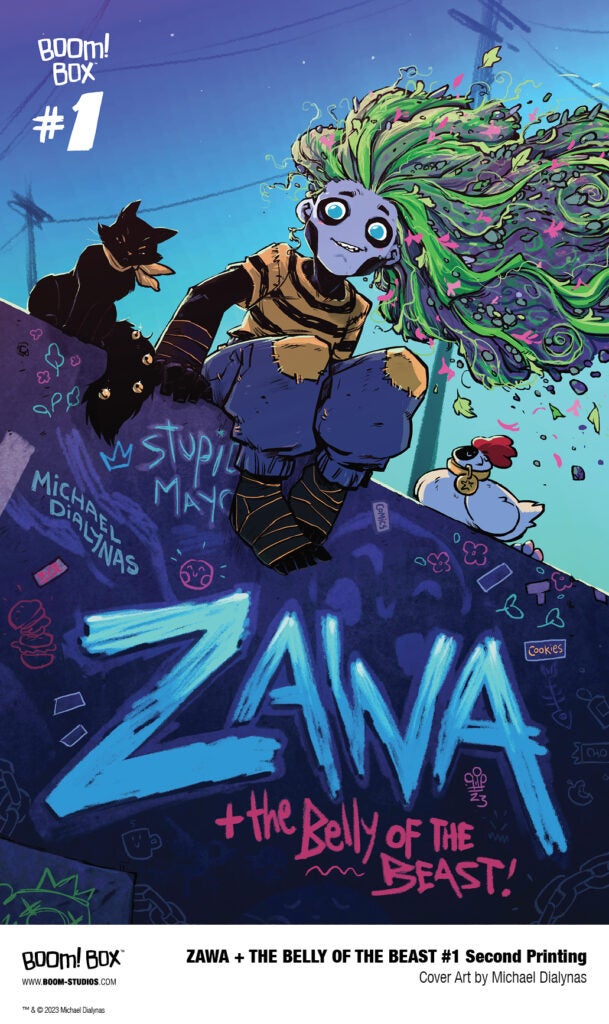 In response to the overwhelming support from retailers and fans, BOOM! Studios has announced ZAWA + THE BELLY OF THE BEAST #1 SECOND PRINTING (SEP239713), featuring brand new cover art by series creator Michael Dialynas, available in stores December 6, 2023.
"Fans everywhere are hungry for more ZAWA!" said Filip Sablik, President, Publishing & Sales, BOOM! Studios. "Michael has been one of our favorite artists to work with for years, and it's been a joy to see him unleash his pure creative vision in his first solo series. It's no surprise that fans whole-heartedly embraced the whimsical world and quirky characters of ZAWA + THE BELLY OF THE BEAST!"
ZAWA + THE BELLY OF THE BEAST is the latest release from BOOM! Studios' award-winning BOOM! Box imprint, home to groundbreaking original series such as Lumberjanes by Shannon Watters, Grace Ellis, Brooklyn Allen, and ND Stevenson; Juliet Takes a Breath by Gabby Rivera and Celia Moscote; Giant Days by John Allison, Lissa Treiman, and Max Sarin; Mamo by Sas Milledge; Save Yourself! by Bones Leopard and Kelly and Nichole Matthews; Specter Inspectors by Bowen McCurdy and Kaitlyn Musto; The Last Witch by Conor McCreery and V.V. Glass; Ghosted in LA by Sina Grace and Siobhan Keenan; The Avant-Guards by Carly Usdin and Noah Hayes; Fence by C.S. Pacat and Johanna the Mad; Goldie Vance by Hope Larson and Brittney Williams; Hollow by Shannon Watters, Branden Boyer-White, and Berenice Nelle; Getting Dizzy by Shea Fontana and Celia Moscote; and the educational series Seen: True Stories of Marginalized Trailblazers.
Print copies of ZAWA + THE BELLY OF THE BEAST #1 FIRST PRINTING may be available in comic shops now. Digital copies can be purchased from content providers, including comiXology, iBooks, Google Play, and Kindle.
For continuing news on ZAWA + THE BELLY OF THE BEAST and more from BOOM! Studios, stay tuned to www.boom-studios.com and follow @boomstudios on Twitter.