Discover a New Adventure with Fan-Favorite Hup from the Netflix Series in January 2020
BOOM! Studios announced today a brand new creative team for the next story arc of JIM HENSON'S THE DARK CRYSTAL: AGE OF RESISTANCE, a twelve-issue comic book series based on stories from Netflix series The Dark Crystal: Age of Resistance writers Jeffrey Addis and Will Matthews, introducing the untold histories of key characters from the show, and featuring explosive events tying into the critically acclaimed Netflix series from The Jim Henson Company, The Dark Crystal: Age of Resistance.
In JIM HENSON'S THE DARK CRYSTAL: AGE OF RESISTANCE #5, available in January 2020, writer Adam Cesare and artist French Carlomagno present a story of fan favorite Podling Hup and brand new character Barfinnious. Hup is a Podling cook who dreams of being a Paladin. When the chivalrous bard Barfinnious comes to Hup's village with tales of former glory, Hup leaves his small town to follow him. But the longer they travel, the more Hup begins to doubt that Barfinnious is truly who he says he is. Can he trust the smooth-talking bard to help him realize his dreams or will his future as a noble knight end before it ever really began?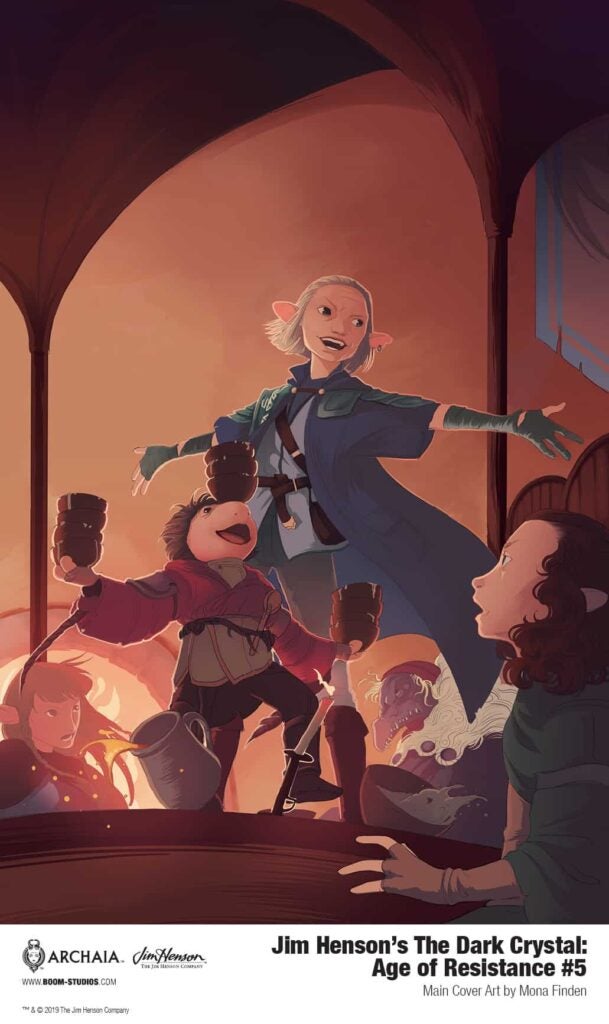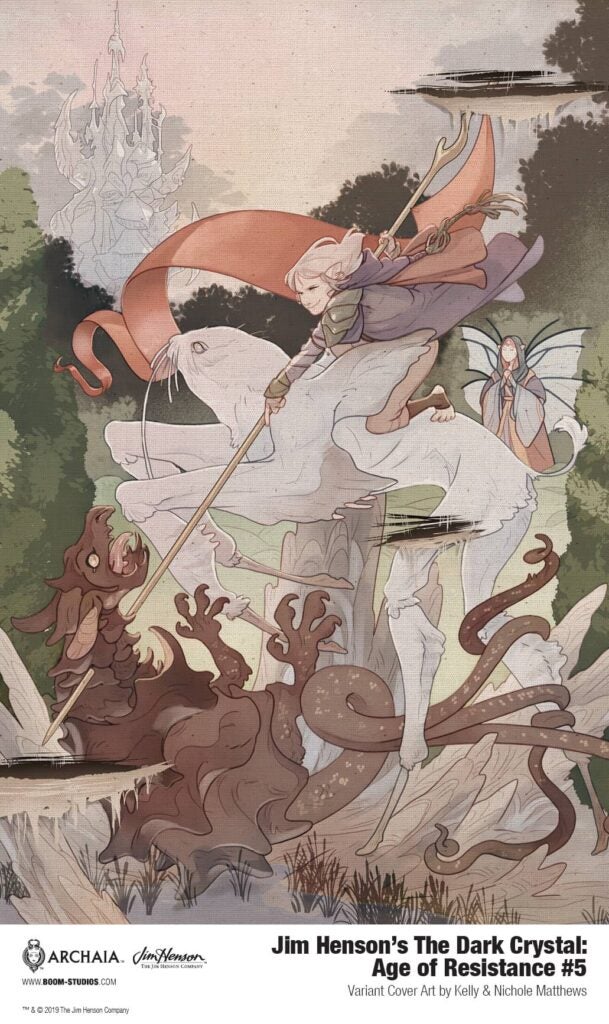 The Dark Crystal is the groundbreaking 1982 film directed by Jim Henson and Frank Oz, featuring never-before-seen puppetry in a fantasy adventure about a young Gelfling who embarks on a quest to save his world from the vicious Skeksis by restoring the lost shard of the broken dark crystal. A prequel television series, The Dark Crystal: Age of Resistance, premiered on Netflix on August 30, 2019.
Adam Cesare's novels include Video Night, The Summer Job, and Clown in a Cornfield, which will be out in 2020 from HarperTeen. He's an avid horror fan and talks about movies, books, and comics non-stop on Twitter (@Adam_Cesare) and YouTube.
"I watched The Dark Crystal so many times as a kid that our VHS player ate the tape. To get to help tell a story in that world is beyond humbling," said writer Adam Cesare. "This brand new story about Barfinnious and Hup is one that I don't think fans of The Dark Crystal: Age of Resistance will be expecting. It's full of swashbuckling heart and humor, but struck through with that tiny hint of darkness that draws fans to Thra."
French Carlomagno is an Italian comic book artist. He published his first graphic novel with writer Jacopo Paliaga, Come Quando Eravamo Piccoli, as well has the comic book spin-off of the Italian sci-fi comedy, Addio Fottuti Musi Verdi with Bao Publishing. Along with Jacopo, he is the co-founder of the online self-publishing label Wilder. Carlomagno is also currently publishing his award-winning webcomic Aqualung with Bao.
"I'm super excited to work on The Dark Crystal: Age of Resistance. Each character is so beautiful and deeply realized, and I really love the atmosphere of the series!" said artist French Carolomagno.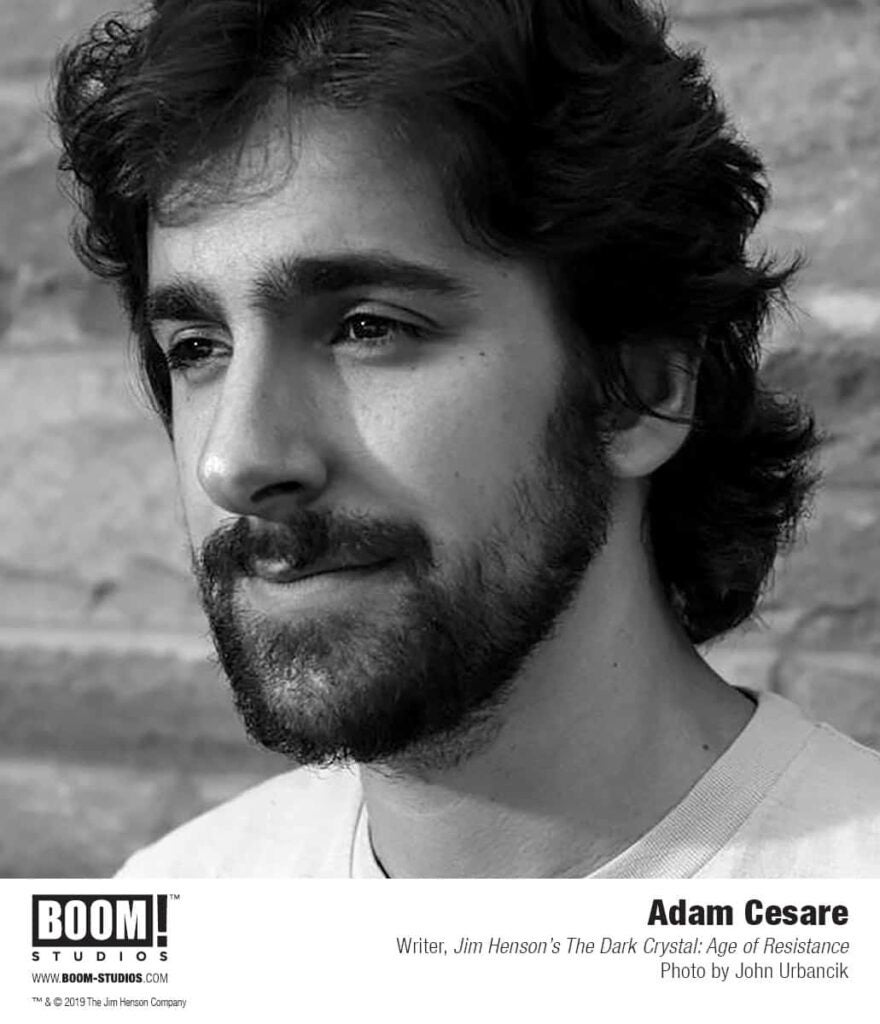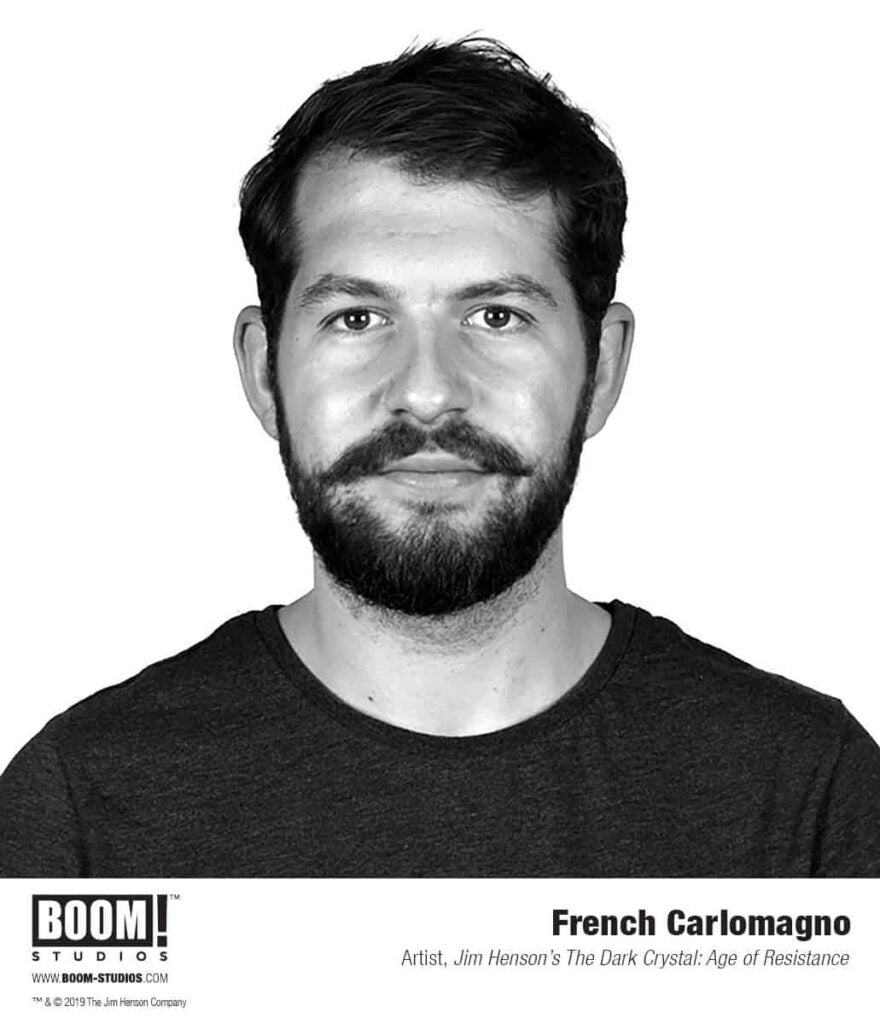 JIM HENSON'S THE DARK CRYSTAL: AGE OF RESISTANCE #5 (OF 12) features a main cover by illustrator Mona Finden and a variant connecting cover by artists Kelly and Nichole Matthews (R.L. Stine's Just Beyond).
"A brand new story arc starts right here, featuring Age of Resistance's breakout Podling star, Hup!" said Matthew Levine, Editor, BOOM! Studios. "The creative team has put together a heartwarming adventure that revels in what it means to be a hero. Readers will experience the world of The Dark Crystal like never before."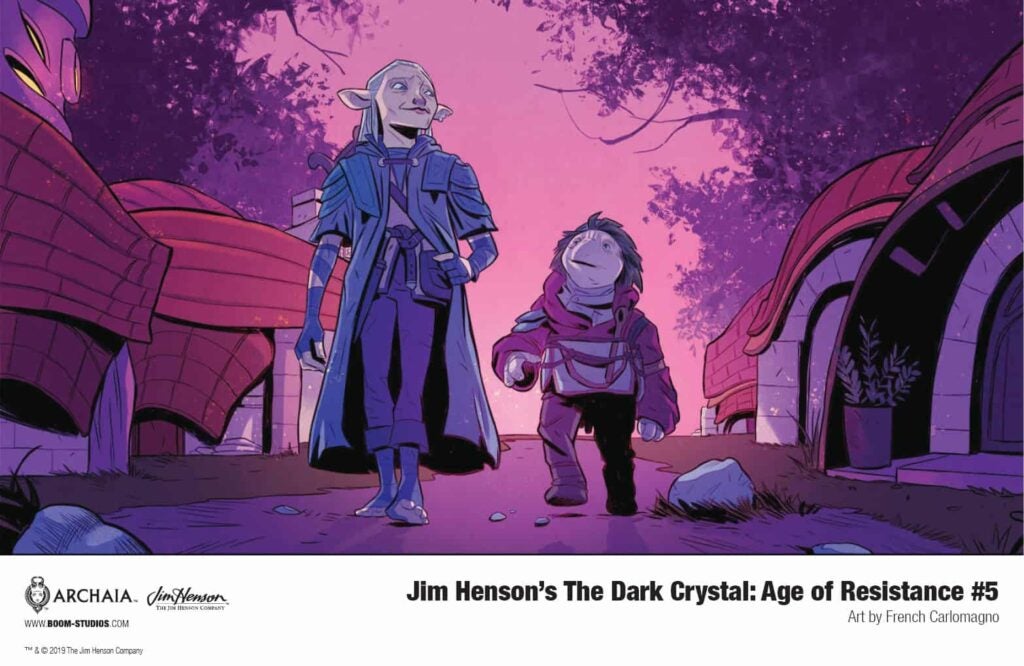 JIM HENSON'S THE DARK CRYSTAL: AGE OF RESISTANCE is the latest release from BOOM! Studios' ambitious Archaia imprint, home to graphic novels such as Bolivar by Sean Rubin; Mouse Guard by David Petersen; Girl in the Himalayas and New World by David Jesus Vignolli; Jane by Aline Brosh McKenna and Ramón Pérez; Persephone by Loïc Locatelli-Kournwsky and licensed series including Lev Grossman's The Magicians by Lilah Sturges and Pius Bak; Jim Henson's The Power of the Dark Crystal and Jim Henson's Labyrinth: Coronation.
Print copies of JIM HENSON'S THE DARK CRYSTAL: AGE OF RESISTANCE #5 (OF 12) will be available for sale on January 15, 2019 at local comic book shops (use comicshoplocator.com to find the nearest one) or at the BOOM! Studios webstore. Digital copies can be purchased from content providers, including comiXology, iBooks, Google Play, and the Madefire. A softcover edition of JIM HENSON'S THE DARK CRYSTAL CREATION MYTHS: THE COMPLETE COLLECTION will be available on November 19, 2019, in bookstores everywhere.