The COMPLETE GIANT DAYS LIBRARY Pre–Order Campaign Crosses $125,000 (and Counting) in First Week on Kickstarter!
To Celebrate, We're Giving Away GIANT DAYS #1 for Free!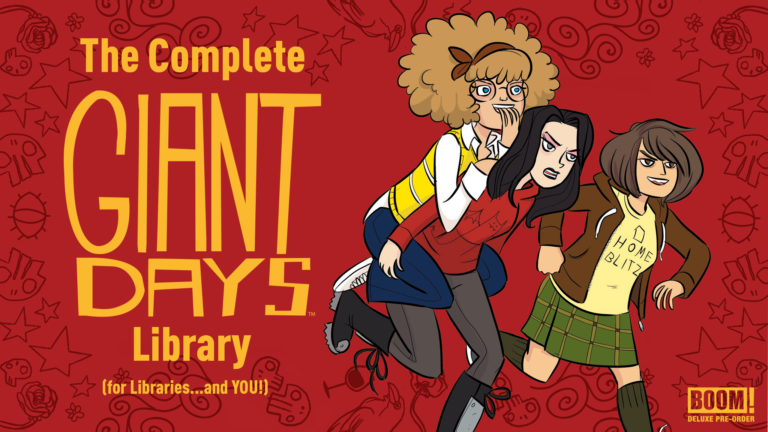 In its first week, the latest BOOM! DELUXE PRE-ORDER campaign – collecting all of Eisner Award-winning creator John Allison's beloved series into THE COMPLETE GIANT DAYS LIBRARY – has raised a monumental $125,000 on Kickstarter, while simultaneously securing hundreds of free hardcovers for public libraries across North America!
To mark this momentous occasion, BOOM! Studios is proud to release a FREE DIGITAL PDF of GIANT DAYS #1 – the first issue of the fan-favorite comics phenomenon from creator/writer John Allison (By Night) with Disney animator and cartoonist Lissa Treiman (Tangled, Wreck-It-Ralph) and colorist Whitney Cogar (Steven Universe)! Whether you're a longtime fan or first-time reader, this self-contained first issue is the pitch-perfect reminder of why WIRED calls GIANT DAYS "glorious…like a classic British sitcom that you wish could run forever."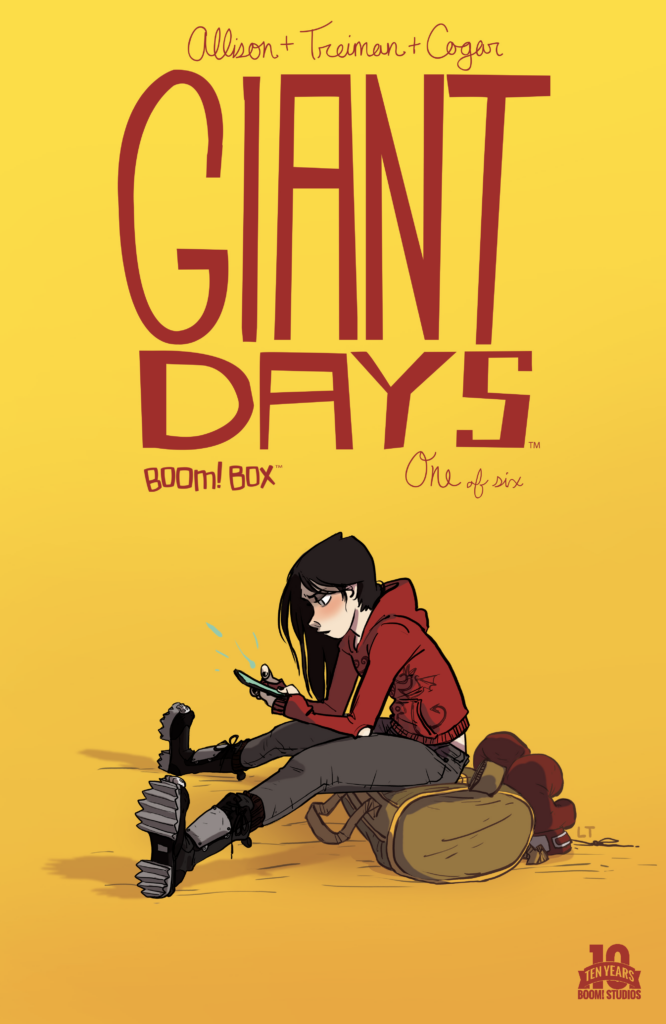 With just 16 days left to go, now's the time to discover why GIANT DAYS' historic, award-winning run at BOOM! Studios is continuing to win over fans and readers with its new LIBRARY EDITION format – winsome, shelf-sturdy, deluxe hardcover tomes that'll package the whole series together in totality across seven volumes for the very first time.
Plus: Not only is BOOM! Studios building a bigger, better, more resilient format for the complete GIANT DAYS series, we're also giving away hundreds of free GIANT DAYS LIBRARY EDITION VOL. 1 books to actual libraries as we hit various upcoming Stretch Goals over the course of the campaign…with more than 500 pledged thus far!
Fans who want to help reach even more libraries can add an extra $5 donation to any purchase with this campaign, and BOOM! Studios will add another free GIANT DAYS LIBRARY EDITION VOL. 1 to the queue.
Exclusively on Kickstarter, BOOM! Studios is also finally offering the complete run of NOT ON THE TEST editions, completing the line of clothbound GIANT DAYS hardcovers originally introduced in 2017! Additionally, signed & numbered editions, featuring signatures by series creator John Allison and artist Max Sarin; merchandise, including foil-stamped art prints, high-quality enamel pins, GIANT DAYS football scarves, ruled journals; brand-new variant comics; collector's box sets; and so much more are available for pre-order through the Kickstarter campaign!
The GIANT DAYS LIBRARY EDITIONS are the latest release from BOOM! Studios' award-winning BOOM! Box imprint, home to groundbreaking original series such as Lumberjanes by Shannon Watters, Grace Ellis, ND Stevenson, and Gus Allen; Juliet Takes a Breath by Gabby Rivera and Celia Moscote; Buckhead by Shobo and George Kambadais; Mamo by Sas Milledge; Save Yourself! by Bones Leopard and Kelly and Nichole Matthews; Specter Inspectors by Bowen McCurdy and Kaitlyn Musto; The Last Witch by Conor McCreery and V.V. Glass; Ghosted in LA by Sina Grace and Siobhan Keenan; The Avant-Guards by Carly Usdin and Noah Hayes; Fence by C.S. Pacat and Johanna the Mad; Goldie Vance by Hope Larson and Brittney Williams; Misfit City by Kirsten 'Kiwi' Smith, Kurt Lustgarten, and Naomi Franquiz; and educational series Seen: True Stories of Marginalized Trailblazers.
---